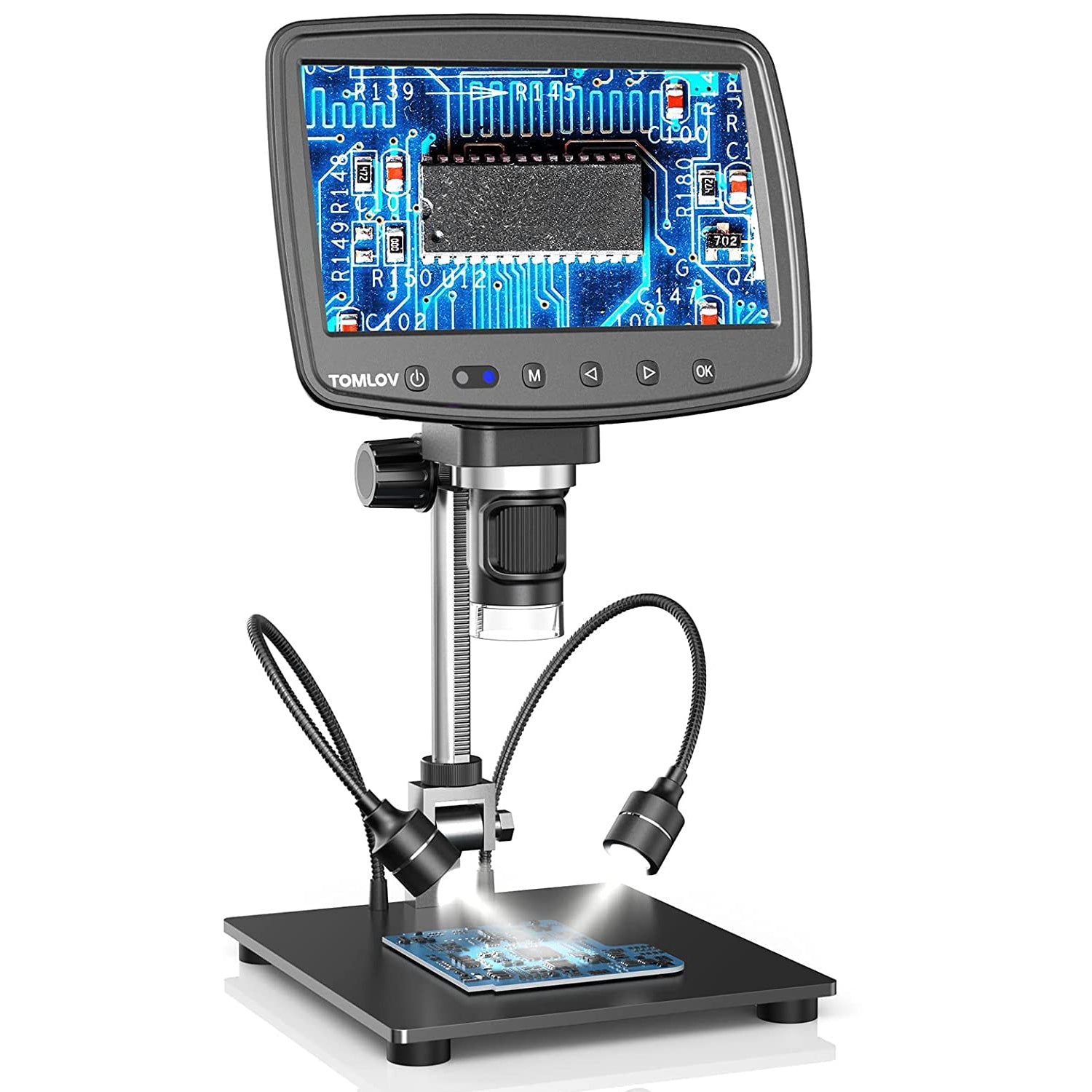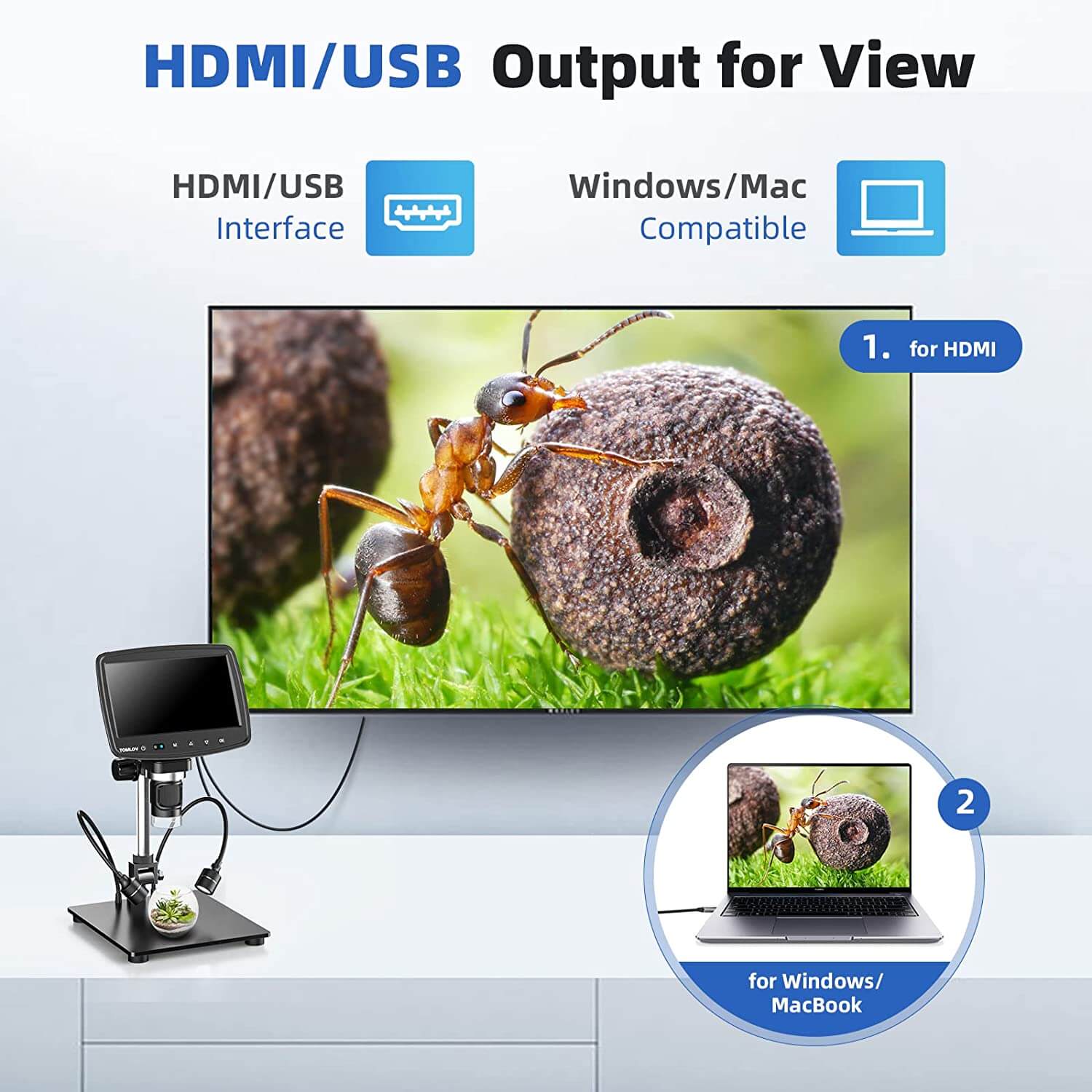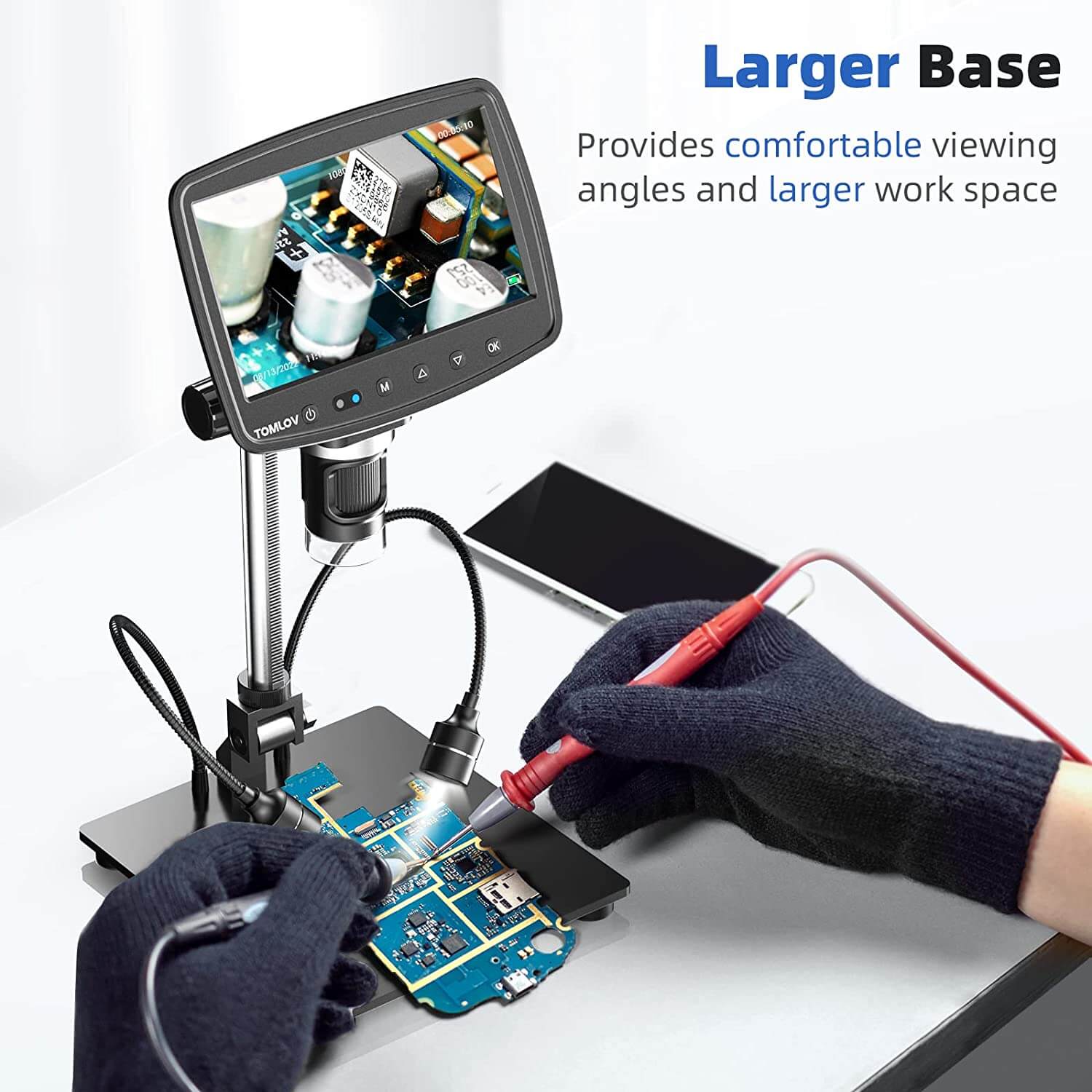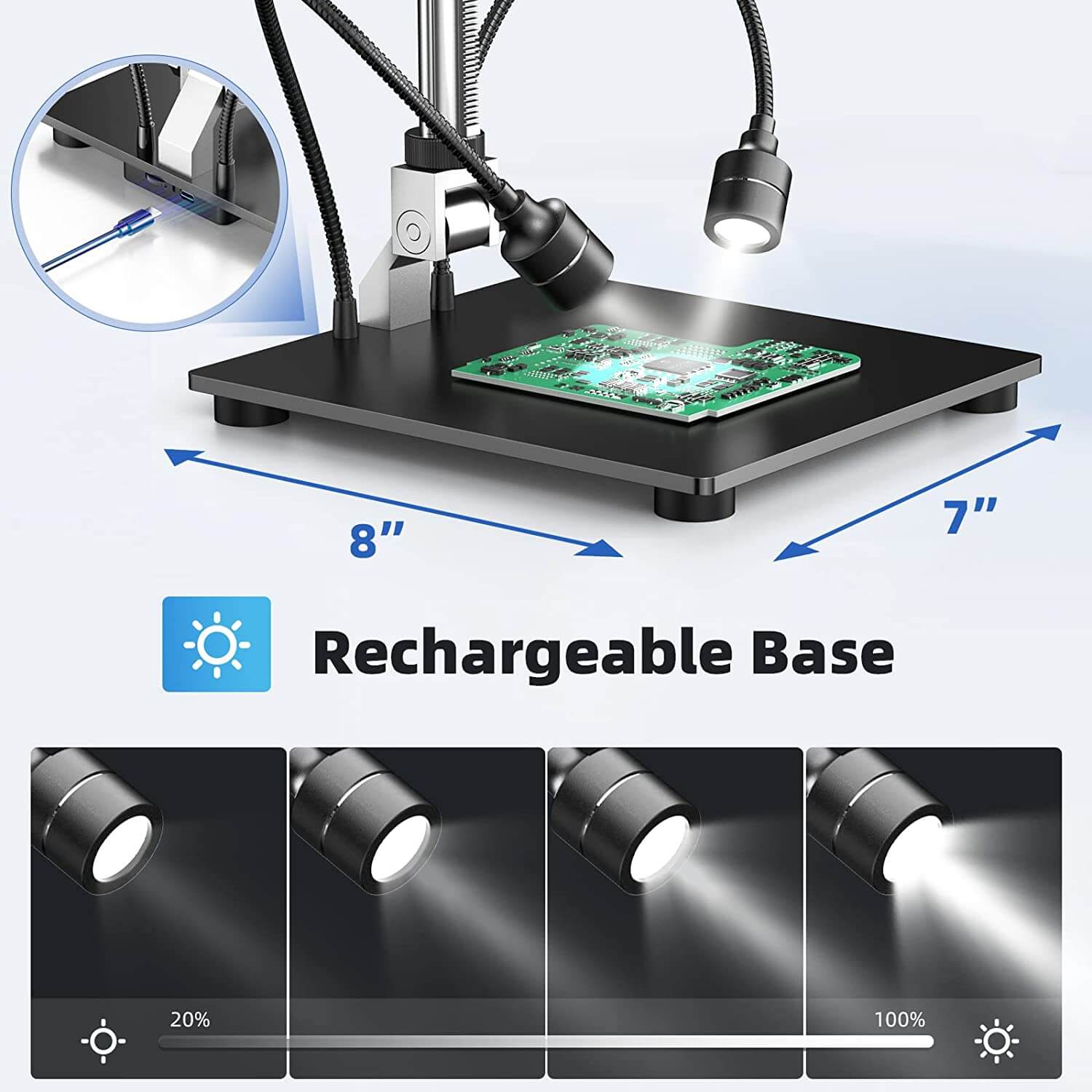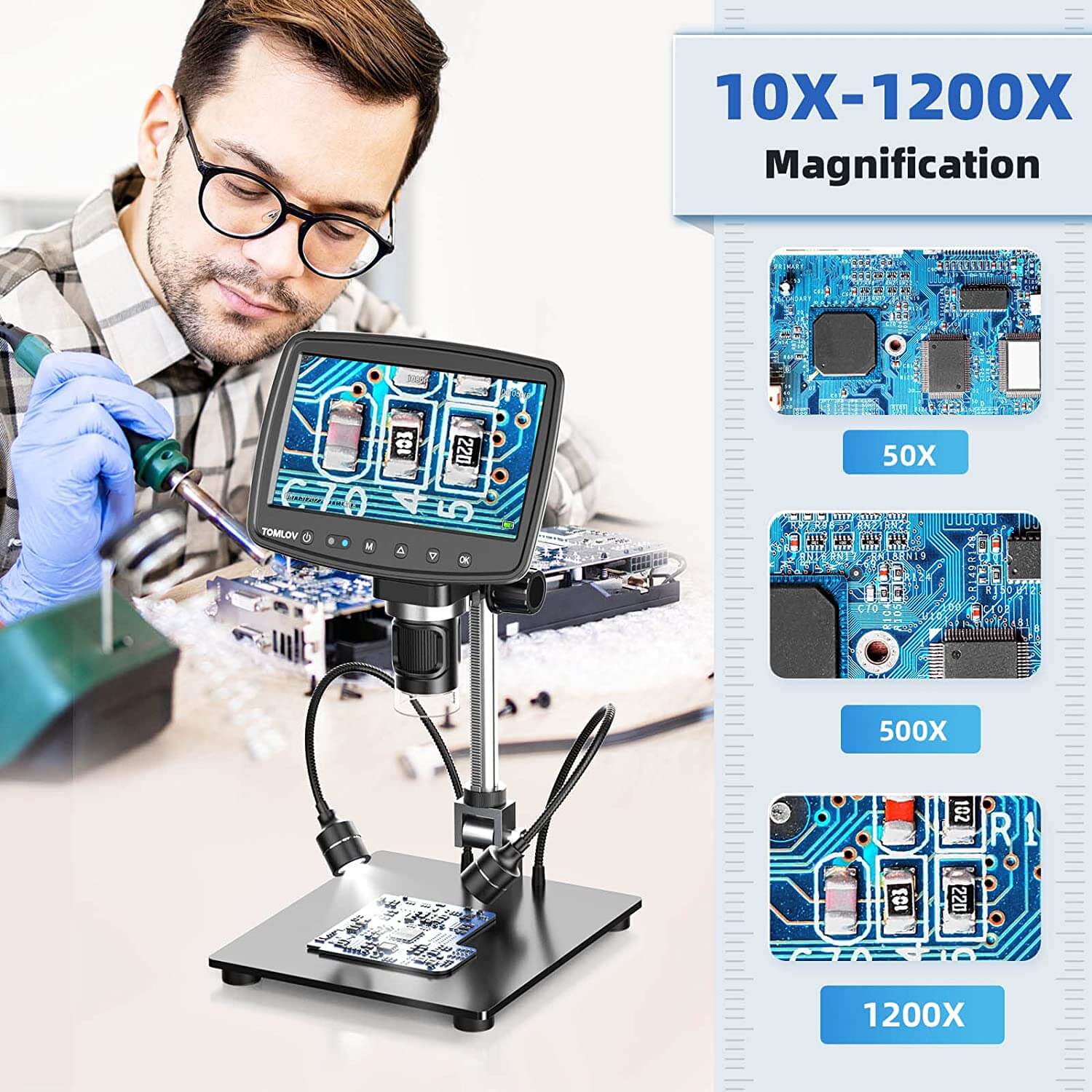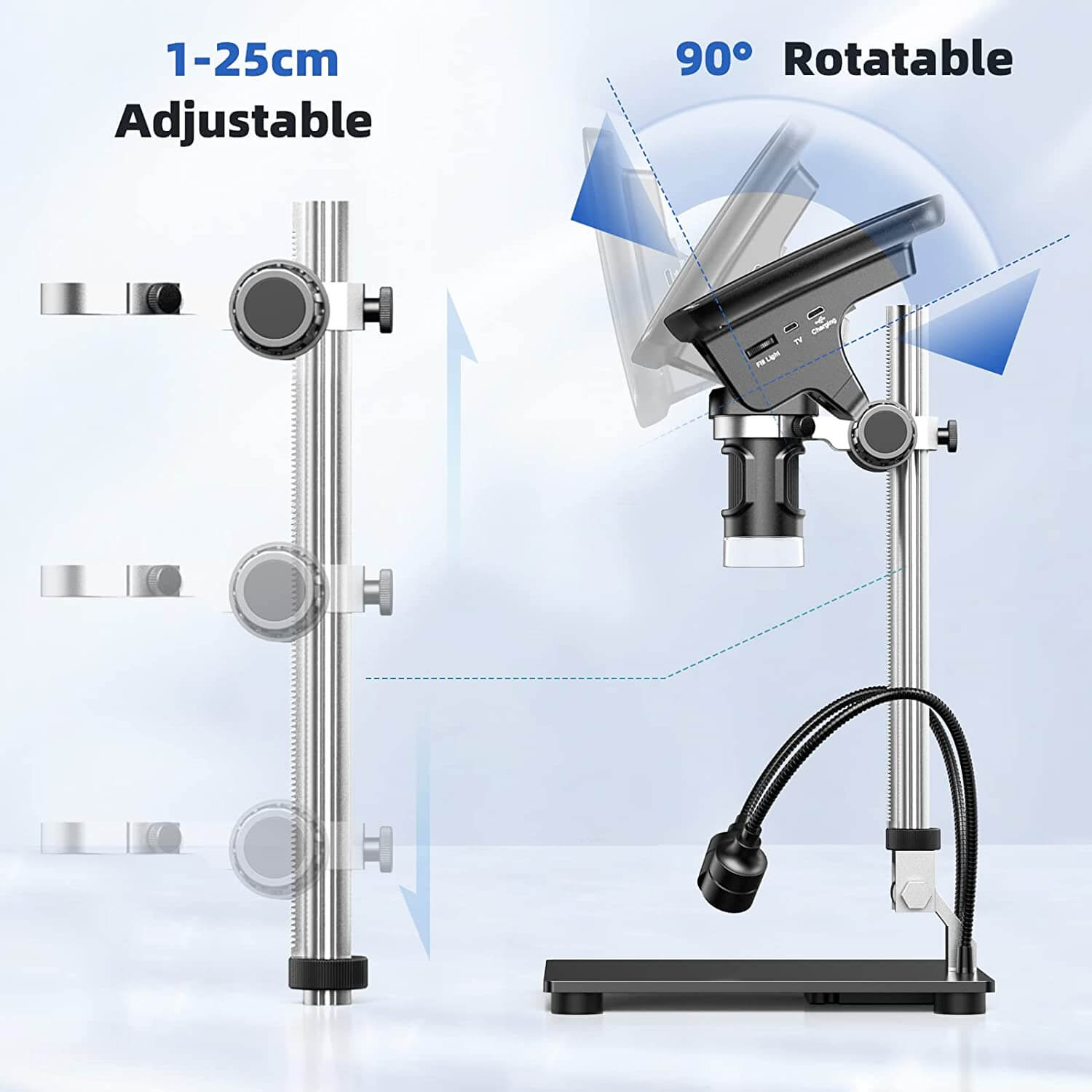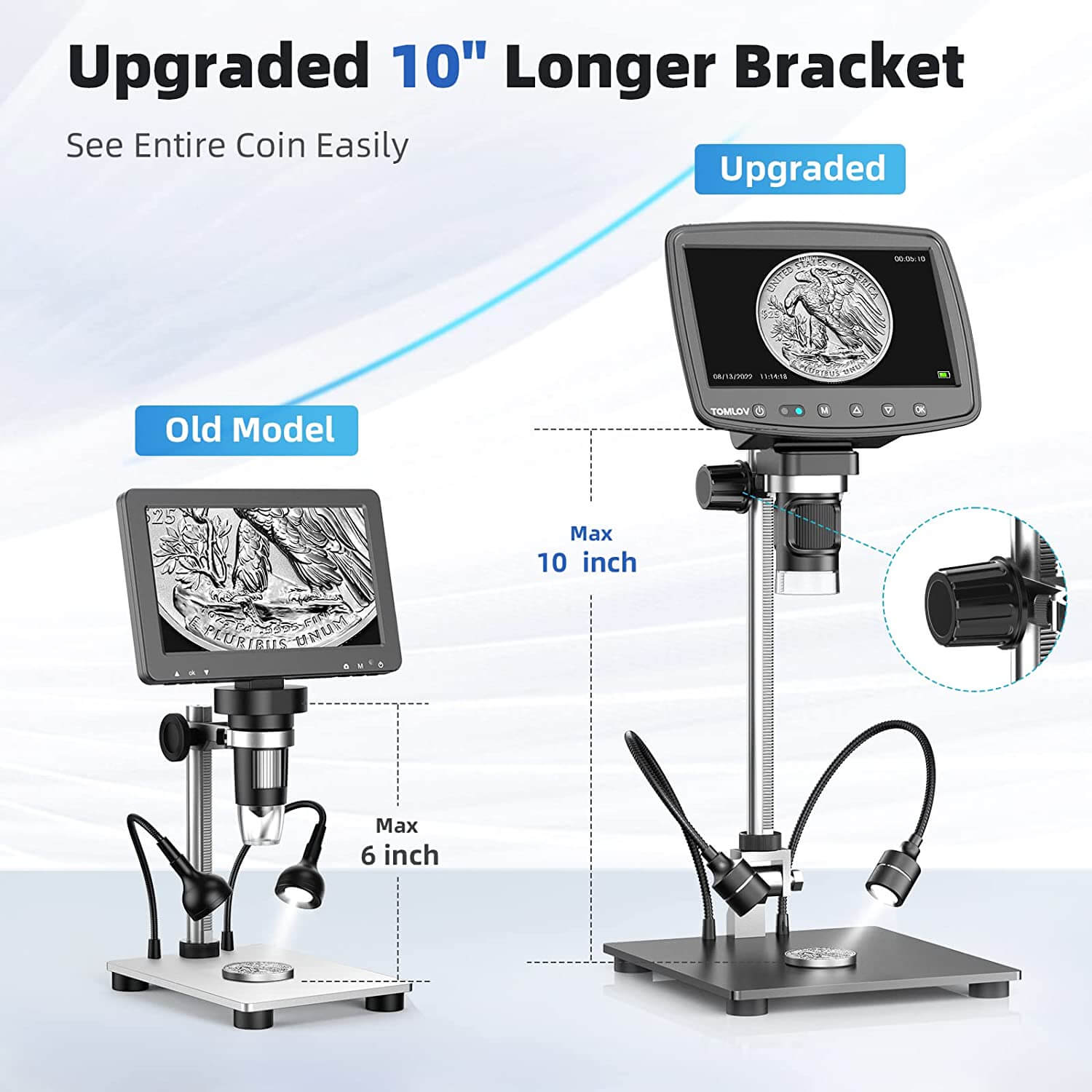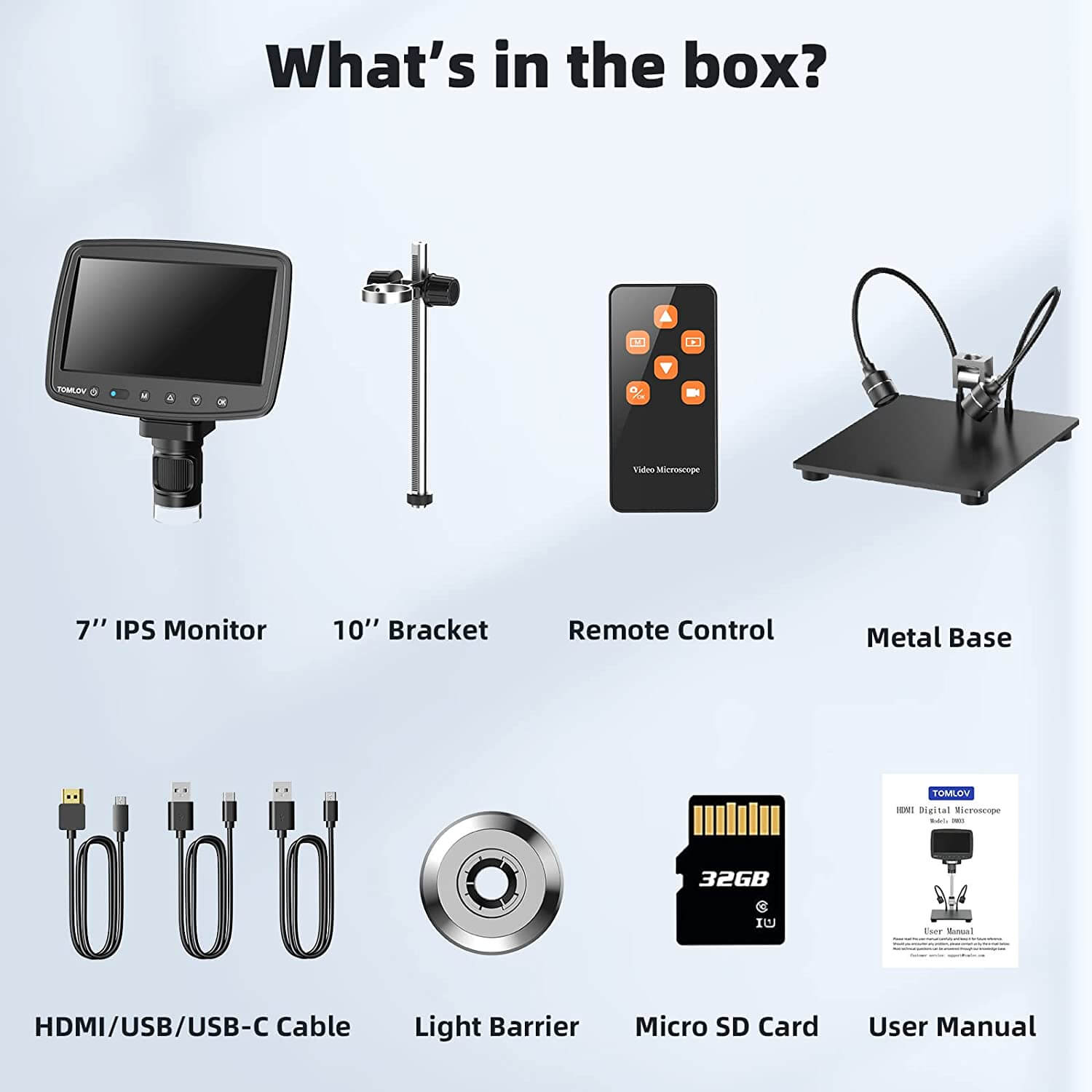 TOMLOV DM03 Digital Microscope, HDMI Digital Microscope
---
【HDMI &USB Interface for Larger View】-TOMLOV DM03 HDMI Digital Microscope not only can be used as a stand-alone microscope, but also streams in clear 1080p HD video via HDMI cable-directly through a TV monitor or projector. And equipped with a USB port to connect to a Windows PC, Mac and Chromebook. Make you enjoy larger HD view, real time imagery, smooth and clear. No driver needed on the computer with the camera App already installed on Windows 10 / Photo Booth for iMac / MacBook.

【Enhanced 10 Inch Longer Bracket】-With an advanced ergonomic design featuring height adjust, swivel and tilt, adjustable bracket and easy-to-slip bigger screws facilitate to adjust the 7 inch microscope to get just the right viewing angle. With 10 Inch metal stand, the coin microscope obtains much wider and higher field of view, thus allows to explore the micro world from the tiniest details to a whole view, such as dime, penny, nickel, quarter, dollar, and even the large silver dollar.

【Larger Base for More Work Space】-Measuring 8X7'', this upgraded larger base is nearly two times as wide as normal 7 inch digital microscope. This kind of thoughtful design enables to get a larger workstation when soldering PCB boards. Matte black prevents reflections while watching shiny objects. And rechargeable base comes with inner battery and use without continuous power.

【Dimmable LED Brightness】-Except the built-in 6 adjustable LED lights around Lens, this coin microscope is also attached with 2 additional gooseneck lights. Both upper and lower lights can be dimmable and charged independently, support to adjust brightness when away from power. Adjustable design, simply rotates the light controller to adjust brightness according to different observing targets and circumstances.

【Continuous 1X-1200X Magnification】-Allows to zoom in and see the incredible details of observations at a magnification range from 1X to 1200X. Also, digital zoom from 1X to 4X on screen supports to enlarges details. Control magnification by sliding the camera up and down. The actual magnification differs due to the distance between camera and observations.

【More Than A Microscope】-TOMLOV digital microscope DM03 is not only a microscope, but also a camera, which is built-in photo and video mode. With a micro-SD card 32GB included, you can save the images and videos that are obtained during the observation to the Micro card and output.

【Convenient Remote Control】-Built-in common functionality, the menu functions of remote features are self-explanatory, and easy to navigate and make selections by the remote. It's a helpful tool as you can zoom and record without shaking the screen and without having to be right beside to the microscope. (Cannot be used to focus)
【Easy Setup &Use】-This microscope is very easy to assemble and use. Only a few steps to complete the setup and then use out of box. User-friendly interface design makes video microscope easy-to-use for all ages.

【Adjustable Solid Construction】-Utilizes aluminum alloy to build the base, stand and holder, this video microscope is more sturdy and extend a longer life span. The sturdiness and widely weighted metal base can minimize shaking and keep the specimen in a clear focus. The object can be viewed more stably and accurately. Free height adjustment, accurate positioning and fast lifting is easy to use.

【Wide Application &Perfect Gift】-TOMLOV digital microscope with screen has everything you need to explore the smaller things in life. Widely used in circuit board inspection, coins, jewelry, gems, trichomes, rocks and stamps, clocks/clock repairs, skin inspections, children's education inspections, textiles Industrial (Not suitable for cell and medical purposes). This digital microscope is a perfect gift, going to take you back to your childhood where you can explore the simple things in life.