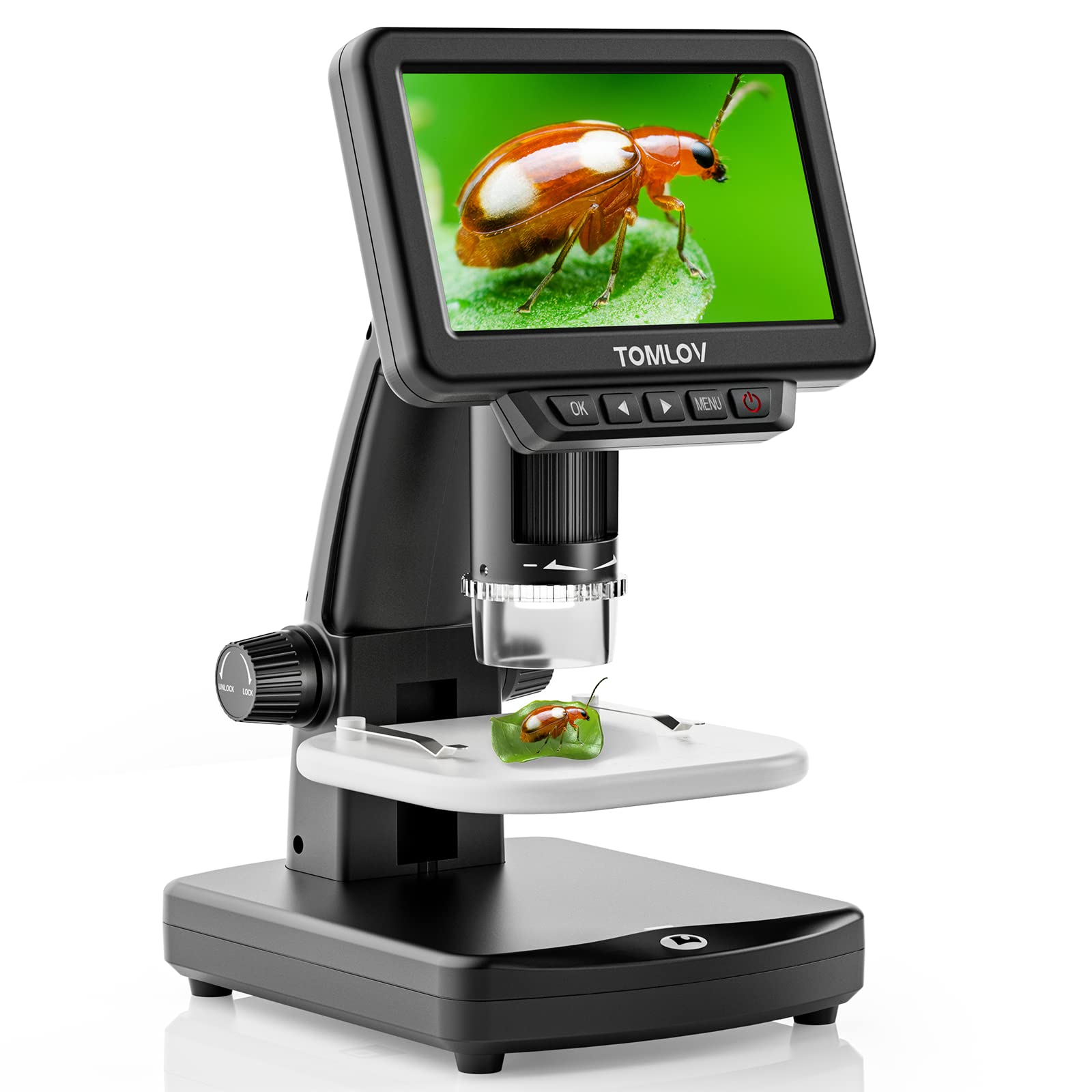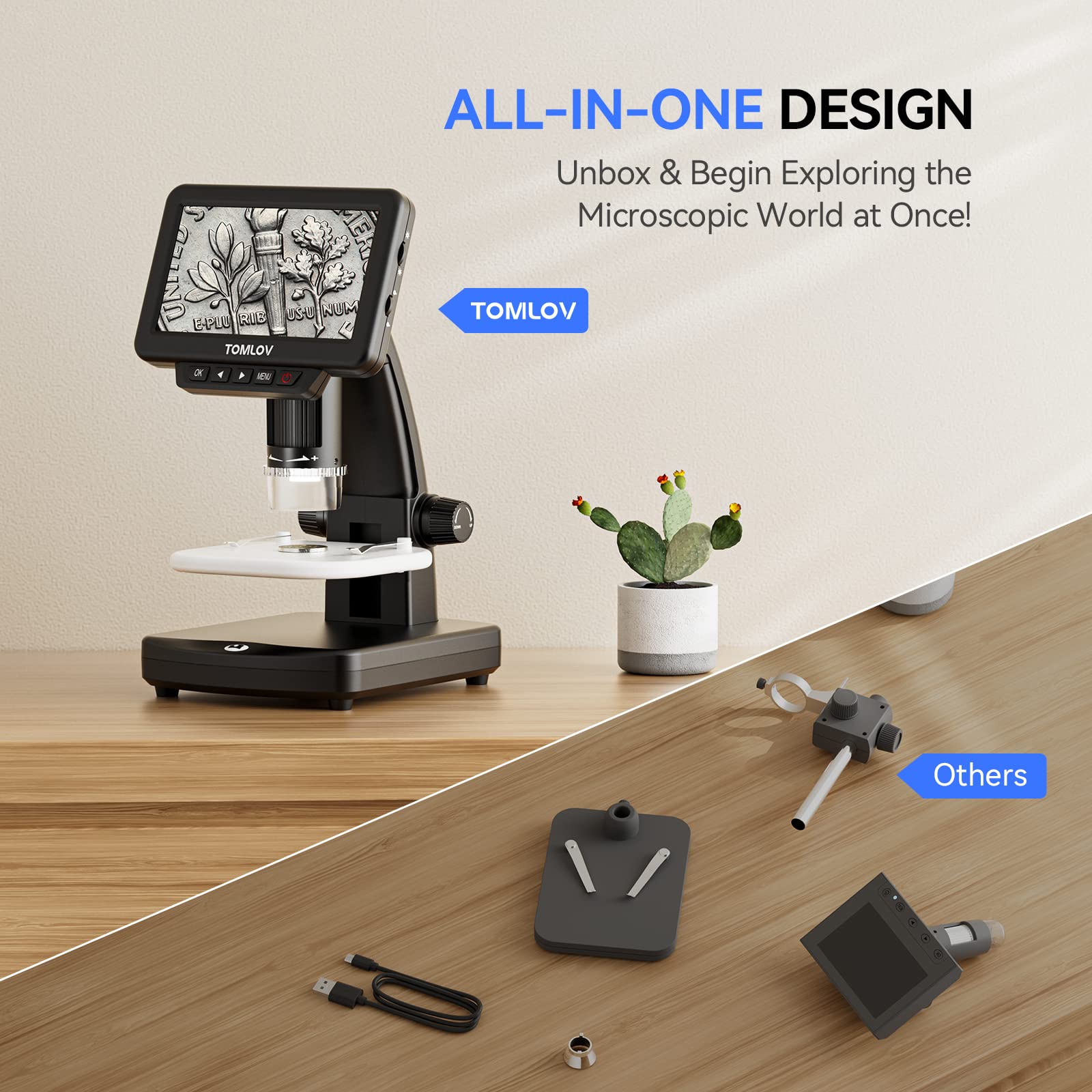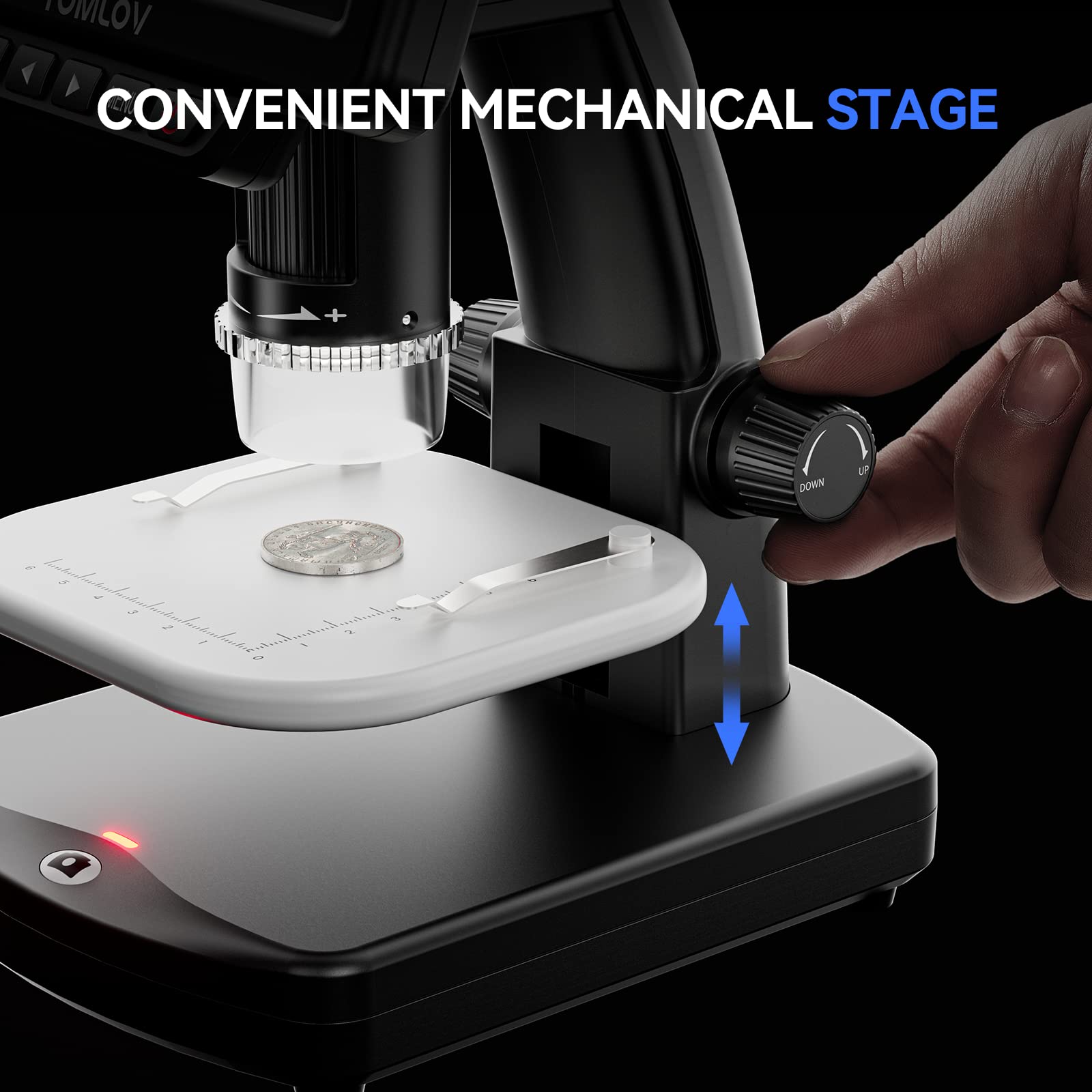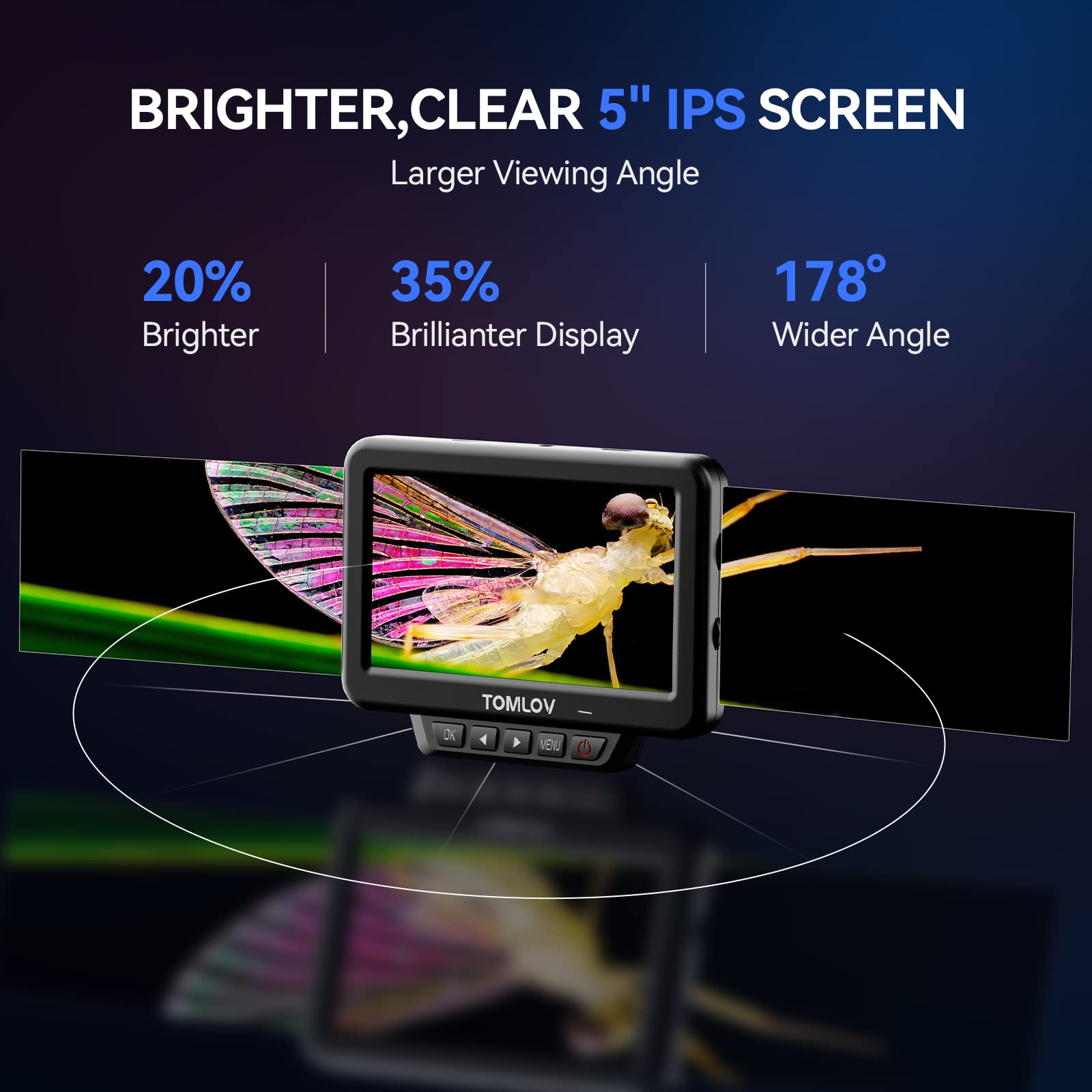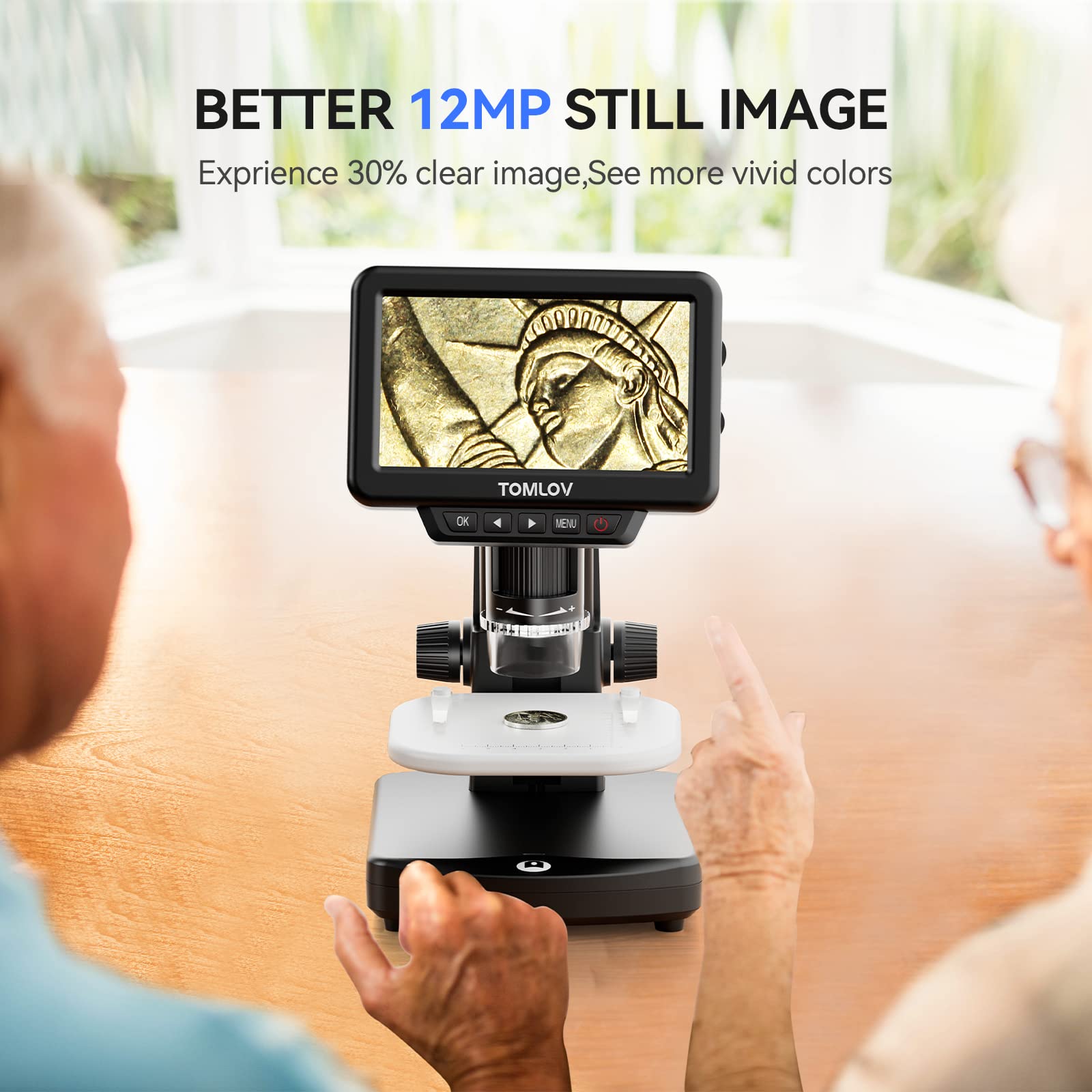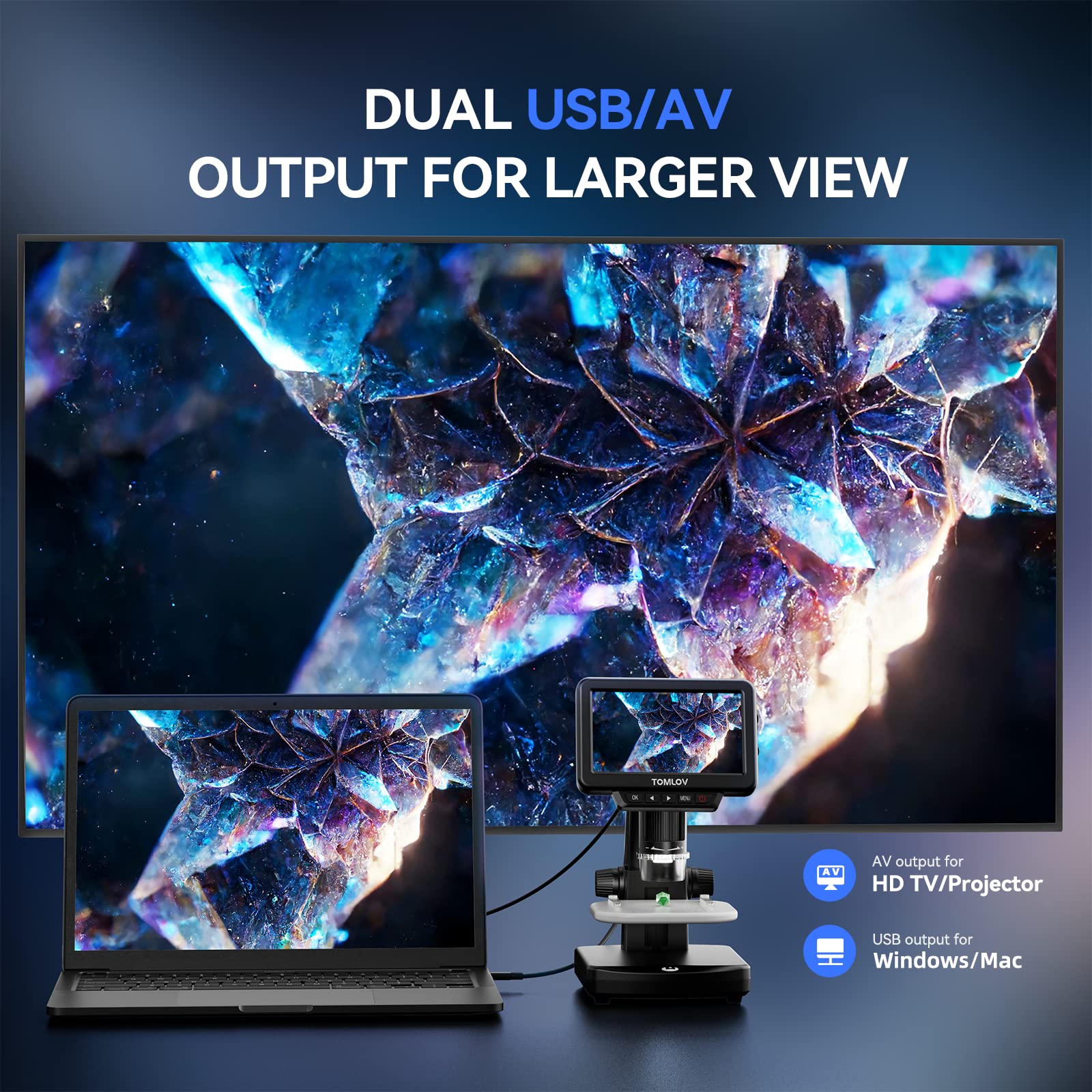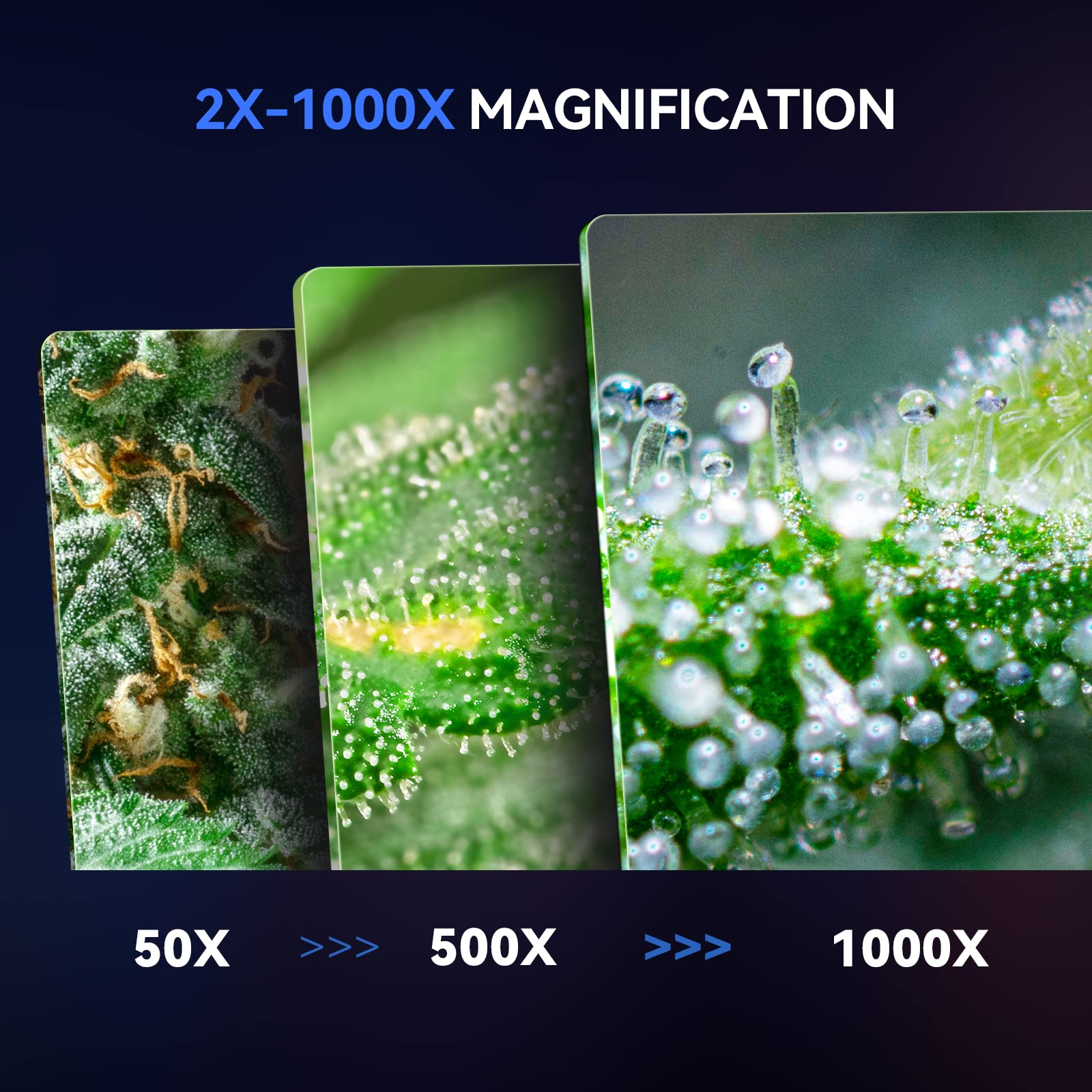 TOMLOV DM13 1000X LCD Digital Microscope, Coin Microscope with 5" IPS Screen
---
【𝗔𝗹𝗹-𝗶𝗻-𝗢𝗻𝗲 𝗗𝗶𝗴𝗶𝘁𝗮𝗹 𝗠𝗶𝗰𝗿𝗼𝘀𝗰𝗼𝗽𝗲】The Tomlov DM13 is the first All-in One LCD digital microscope. Experience effortless microscopy with the TOMLOV DM13 coin microscope for error coin,skip the setup and jump straight into exploration, as it comes preassembled and ready to use right out of the box, eliminating any installation or complex assembly procedures.
【𝗨𝗽𝗴𝗿𝗮𝗱𝗲𝗱 𝟱 𝗶𝗻𝗰𝗵 𝗜𝗣𝗦 𝗟𝗖𝗗 𝗗𝗶𝗴𝗶𝘁𝗮𝗹 𝗠𝗶𝗰𝗿𝗼𝘀𝗰𝗼𝗽𝗲】Elevate your experience with the TOMLOV digital microscope's upgraded IPS premium screen. Immerse yourself in a world of vivid and saturated colors, delivering vibrant colors and a wide 178° viewing angle. With no ghosting, stuttering, or tearing, your eyes are protected during prolonged use.Uncover the finest details and vibrant colors with the 12MP HD camera and large dynamic range of this coin microscope.
【𝗠𝗶𝗰𝗿𝗼𝘀𝗰𝗼𝗽𝗲 𝗳𝗼𝗿 𝗞𝗶𝗱 𝘄𝗶𝘁𝗵 𝗠𝗲𝗰𝗵𝗮𝗻𝗶𝗰𝗮𝗹 𝗦𝘁𝗮𝗴𝗲】Enhance your convenience and precision with the microscope's mechanical stage with ruler, allowing easy adjustment for different objects and samples. Seamlessly lift and position your specimens to achieve optimal focus and capture detailed images with ease. This versatile feature ensures a comfortable and customizable viewing experience, empowering you to explore various specimens with utmost accuracy.
【𝗗𝘂𝗮𝗹 𝗨𝗦𝗕/𝗔𝗩 𝗢𝘂𝘁𝗽𝘂𝘁 𝗳𝗼𝗿 𝗟𝗮𝗿𝗴𝗲𝗿 𝗩𝗶𝗲𝘄 】Expand your viewing experience of the Tomlov DM13 digital microscope. Connect it to a TV or monitor with an AV port for a larger scale observation, facilitating easy data sharing and analysis. Compatible with both Windows and Mac systems, this microscope with screen is plug and play, requiring no additional software. start exploring the microscopic world effortlessly.
【𝗣𝗼𝗿𝘁𝗮𝗯𝗹𝗲 & 𝗦𝘁𝗮𝗯𝗹𝗲 𝗠𝗶𝗰𝗿𝗼𝘀𝗰𝗼𝗽𝗲 𝘄𝗶𝘁𝗵 𝗦𝗰𝗿𝗲𝗲𝗻】Experience the ultimate convenience of portability coupled with the reliable stability of our digital microscope with screen. Its lightweight design allows for easy handheld use as a handhled digital microscope, while the four secure pads ensure a stable and steady operation, making it perfect for detailed coin microscopic explorations.
【𝗕𝘂𝗶𝗹𝘁-𝗶𝗻 𝗕𝗮𝘁𝘁𝗲𝗿𝘆 𝗩𝗶𝗱𝗲𝗼 𝗠𝗶𝗰𝗿𝗼𝘀𝗰𝗼𝗽𝗲】Experience unparalleled convenience with the built-in battery of this coin magnifier with light, allowing you to use it anywhere & anytime without the need for a power source. Enjoy the freedom to explore the microscopic world on the go, whether you're in the field, in the lab, or simply in a different location, ensuring uninterrupted observations and capturing fascinating details whenever inspiration strikes.
【𝟭𝘅-𝟭𝟬𝟬𝟬𝘅 𝗭𝗼𝗼𝗺 𝗗𝗶𝗴𝗶𝘁𝗮𝗹 𝗠𝗶𝗰𝗿𝗼𝘀𝗰𝗼𝗽𝗲 𝗖𝗮𝗺𝗲𝗿𝗮】Unlock the hidden details with the impressive 1000x zoom capability of this digital microscope, revealing a whole new level of precision and magnification. Explore intricate structures and microscopic elements with remarkable clarity and immerse yourself in the fascinating world that exists beyond the naked eye.
【𝗕𝗿𝗶𝗹𝗹𝗶𝗮𝗻𝘁 𝗖𝗼𝗶𝗻 𝗠𝗶𝗰𝗿𝗼𝘀𝗰𝗼𝗽𝗲 𝘄𝗶𝘁𝗵 𝗟𝗶𝗴𝗵𝘁】Illuminate your subjects with the power of 8 LEDs, providing optimal lighting conditions for your microscopic explorations. The adjustable LED lights offer customizable brightness, ensuring clear and well-lit observations, even in low-light environments. Capture stunning details and vibrant colors as you delve into the microscopic realm.
【𝟯𝟮𝗚𝗕 𝗟𝗖𝗗 𝗠𝗶𝗰𝗿𝗼𝘀𝗰𝗼𝗽𝗲-𝗘𝗳𝗳𝗼𝗿𝘁𝗹𝗲𝘀𝘀 𝗦𝘁𝗼𝗿𝗮𝗴𝗲 】Enjoy hassle-free storage with the microscope's built-in 32GB SD card, providing ample space for capturing and storing your microscope images and videos without the need for external storage devices. ensuring easy access and peace of mind during your scientific endeavors.
【𝗖𝗼𝗻𝘃𝗲𝗻𝗶𝗲𝗻𝘁 𝗗𝗶𝗴𝗶𝘁𝗮𝗹 𝗠𝗶𝗰𝗿𝗼𝘀𝗰𝗼𝗽𝗲 𝗧𝗿𝗮𝗻𝘀𝗽𝗼𝗿𝘁】Travel with ease and protect your coin microscope with camera with the included drawstring backpack, offering a convenient and secure way to carry and store your device. The lightweight and durable backpack ensures portability and safeguards your lcd microscope during transportation, making it perfect for on-the-go explorations and field research.