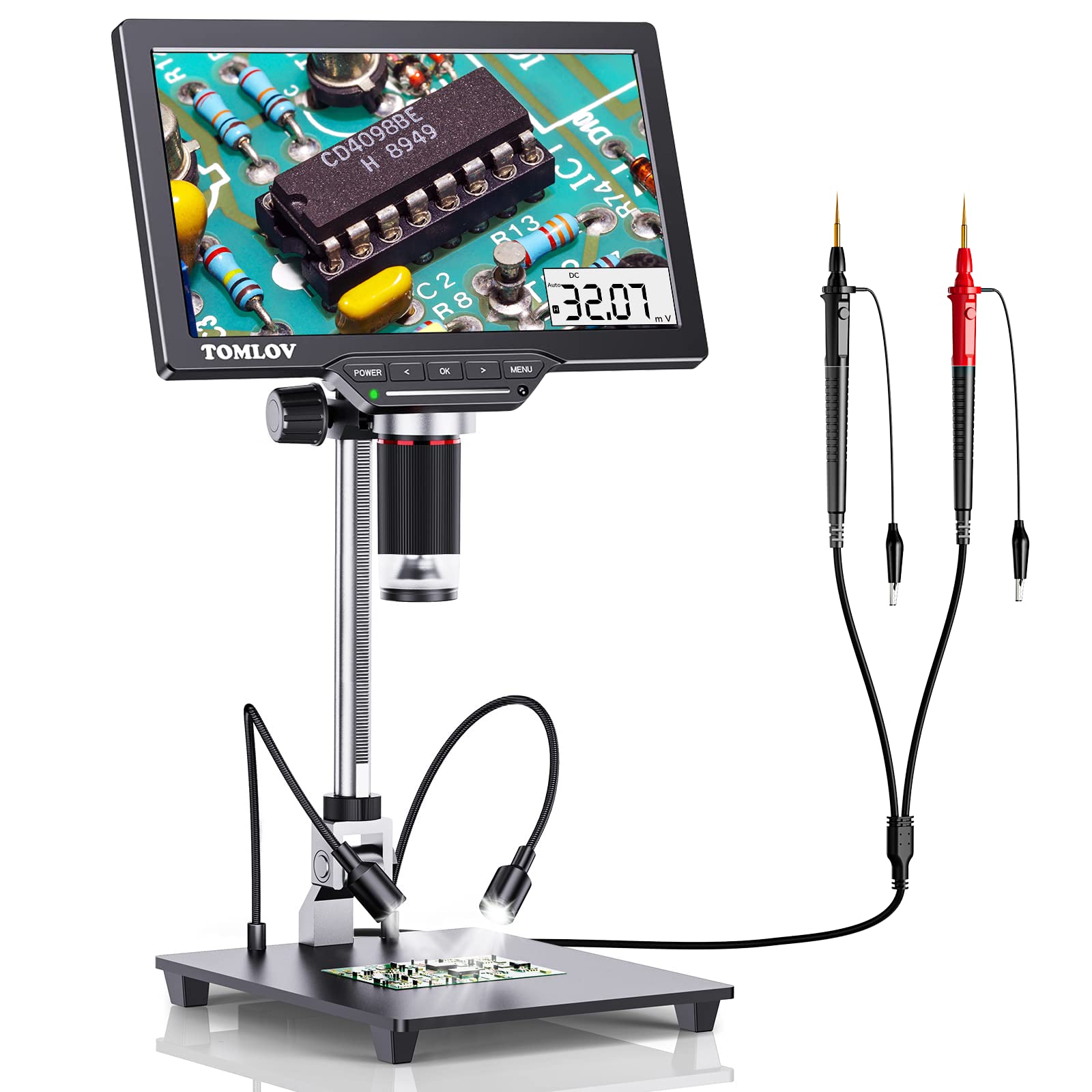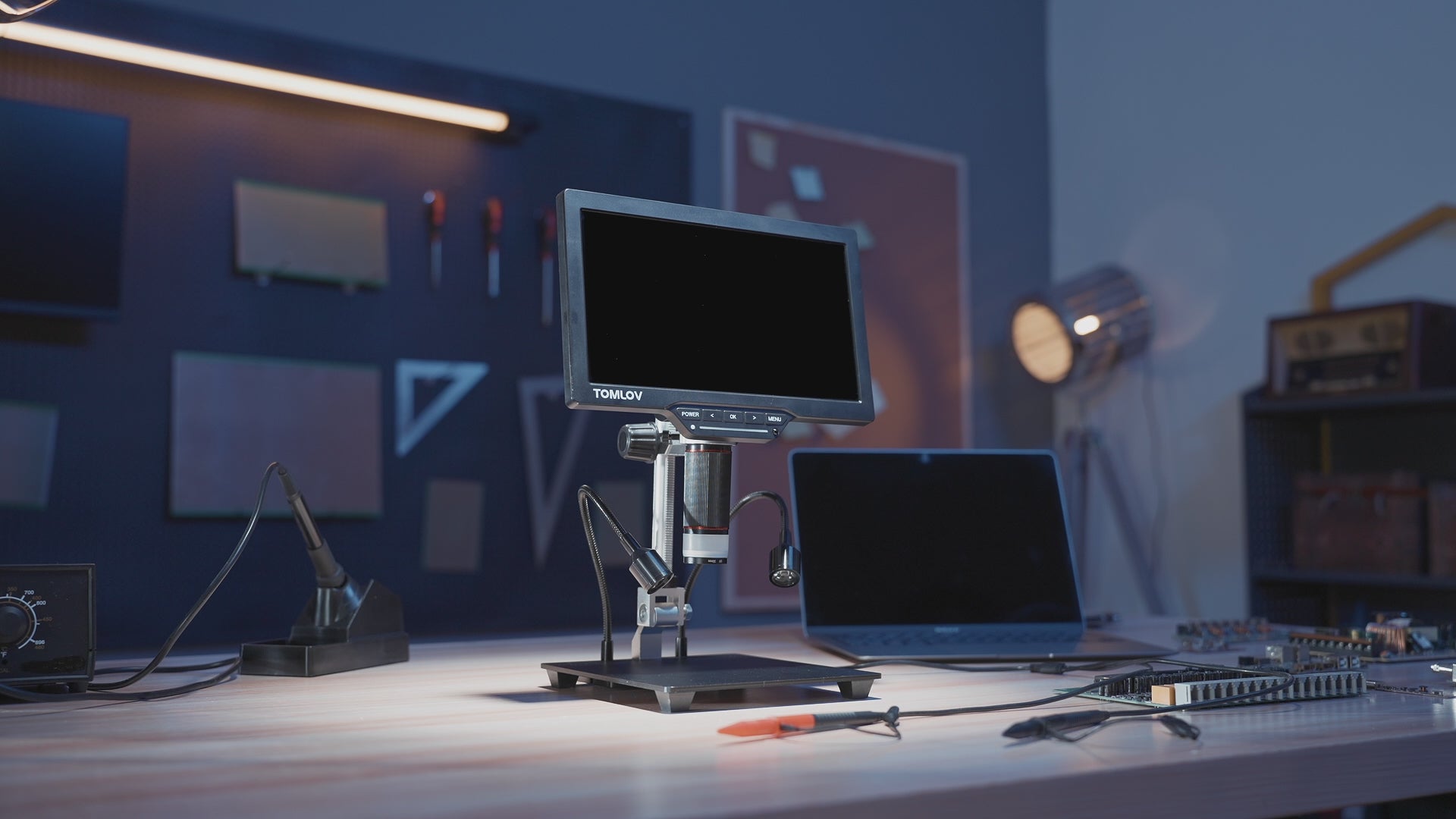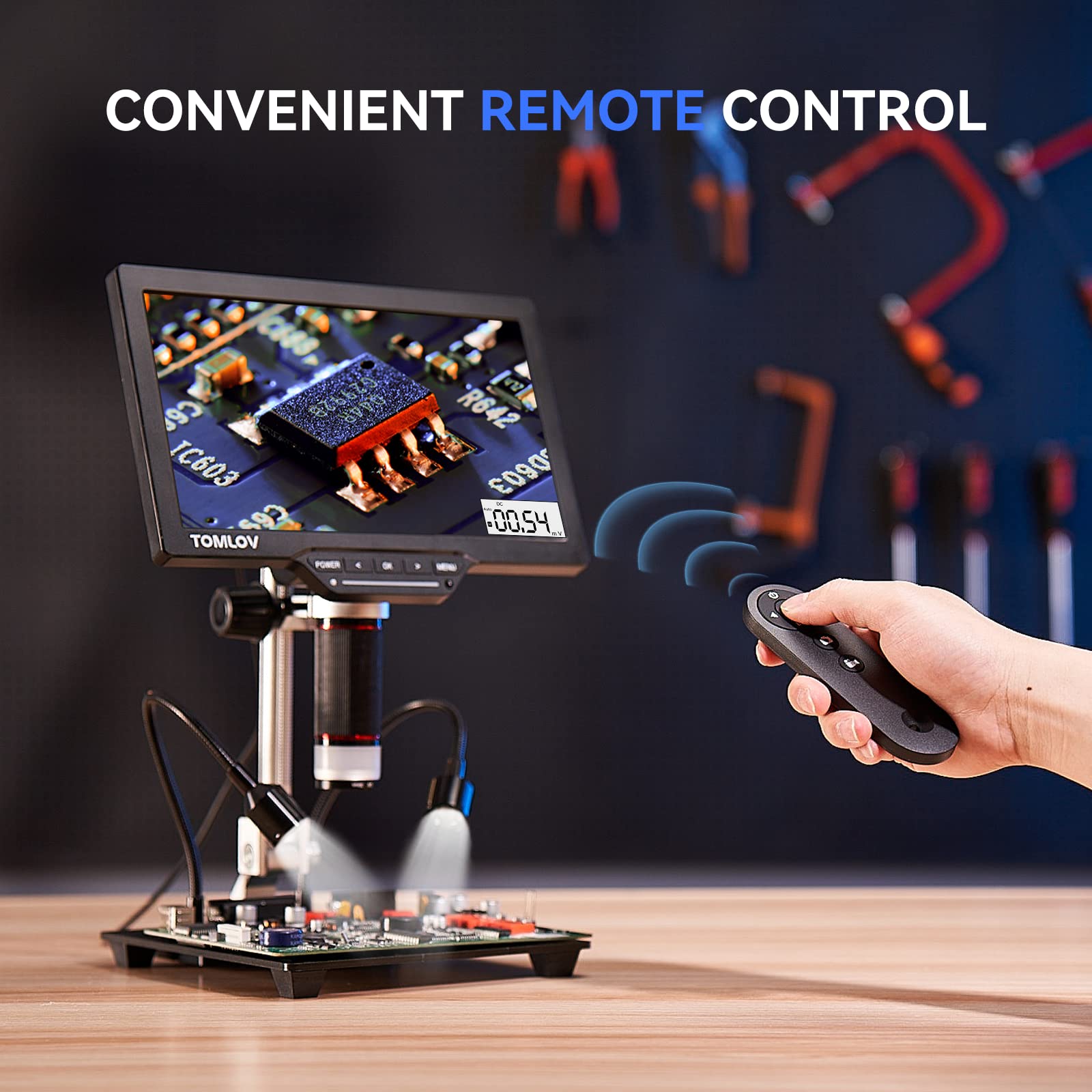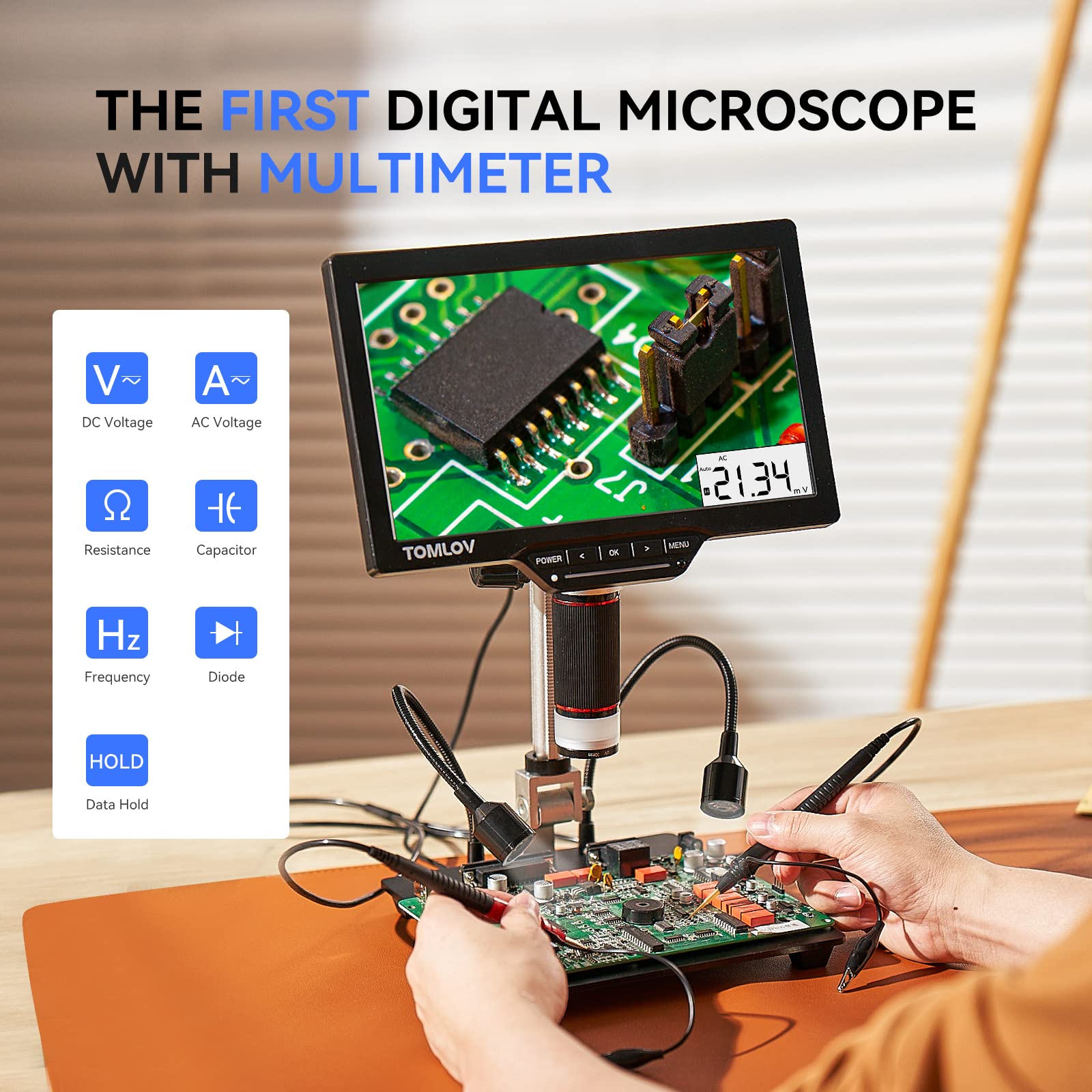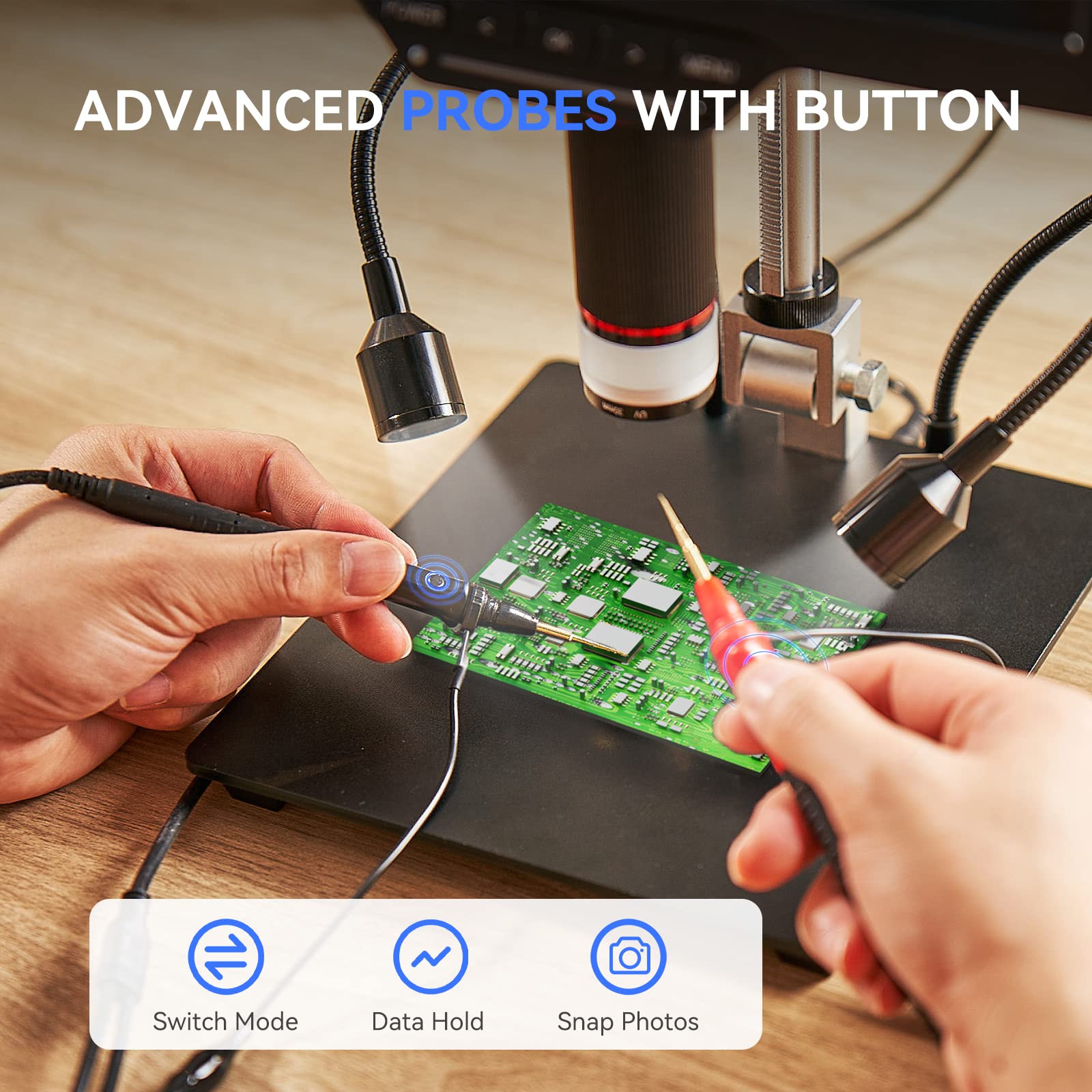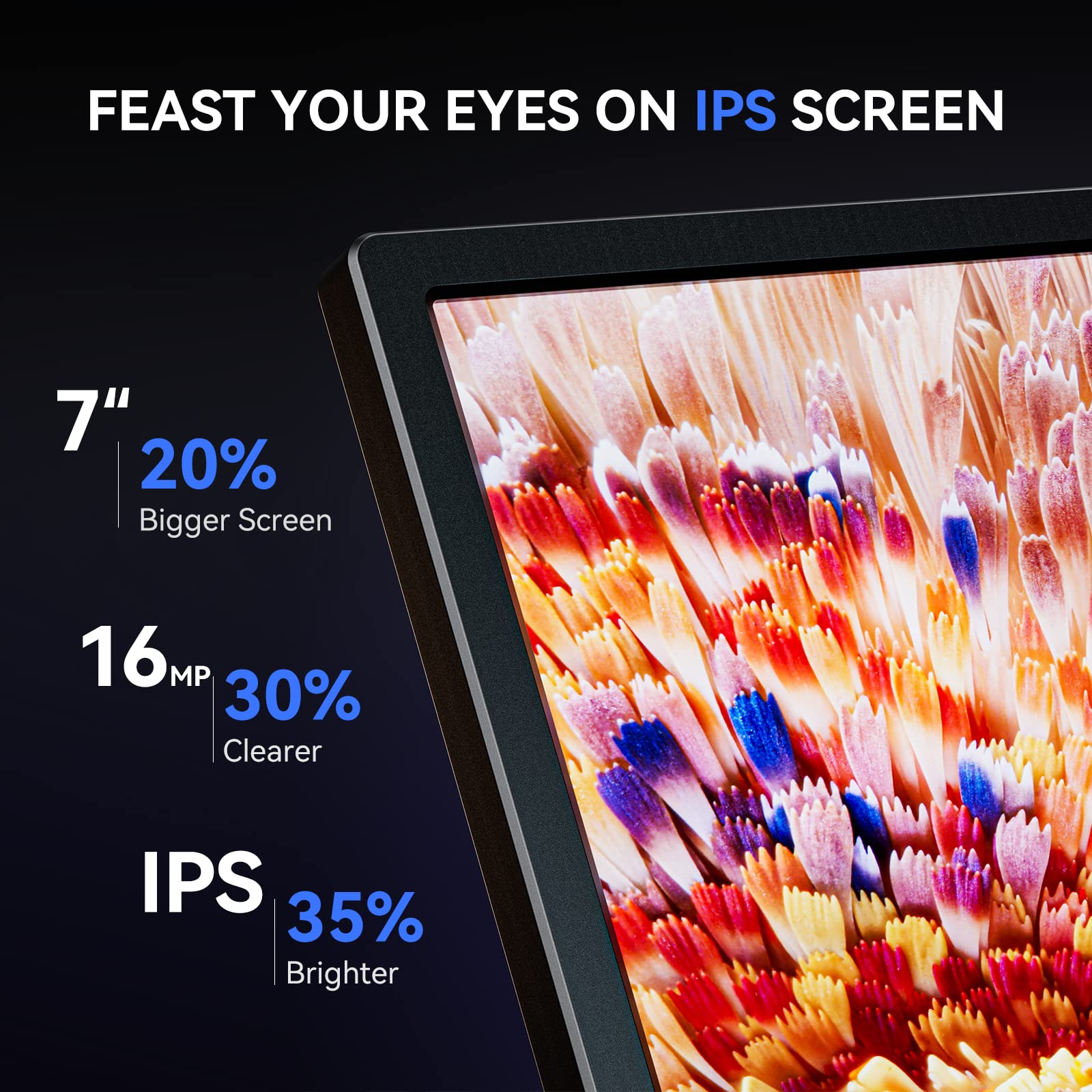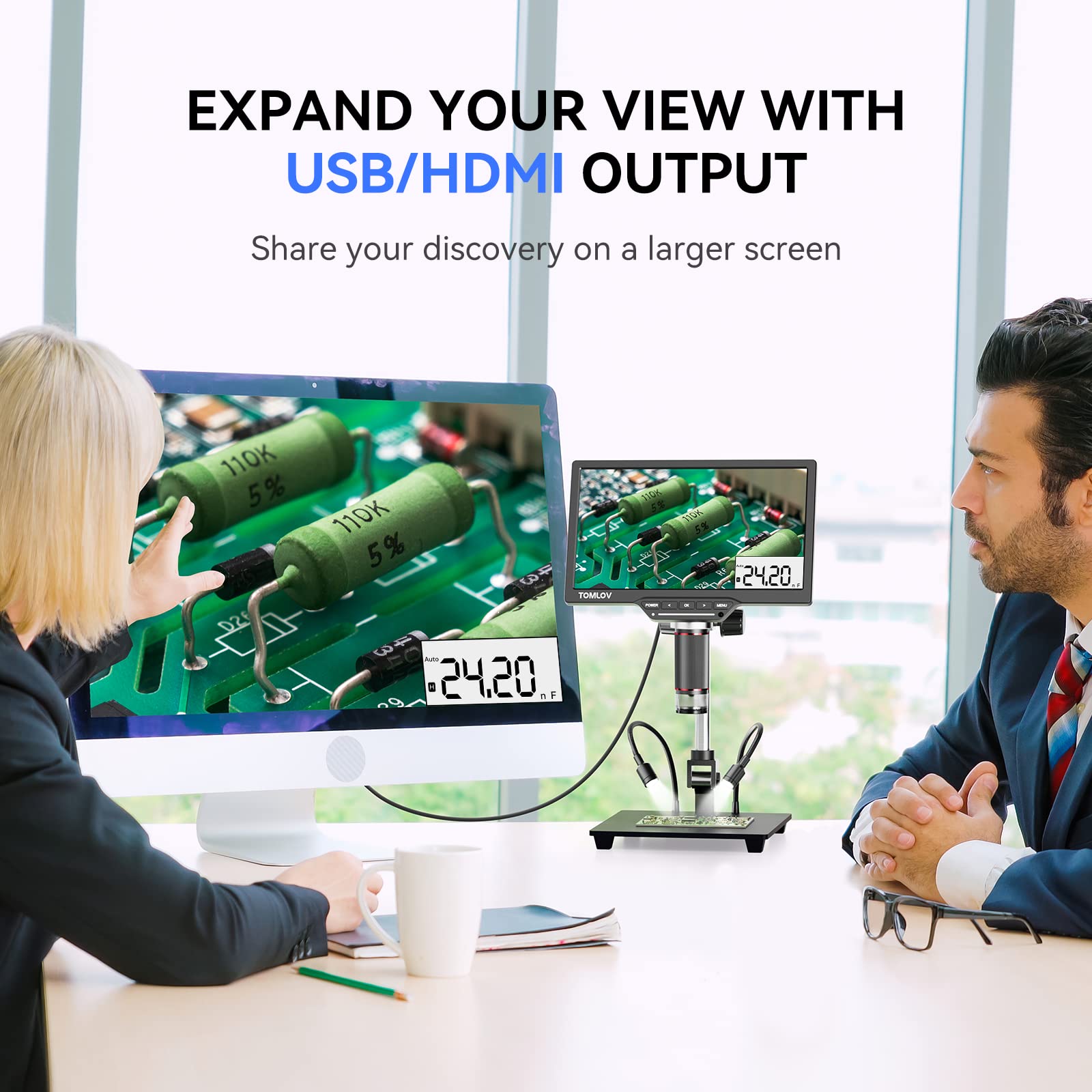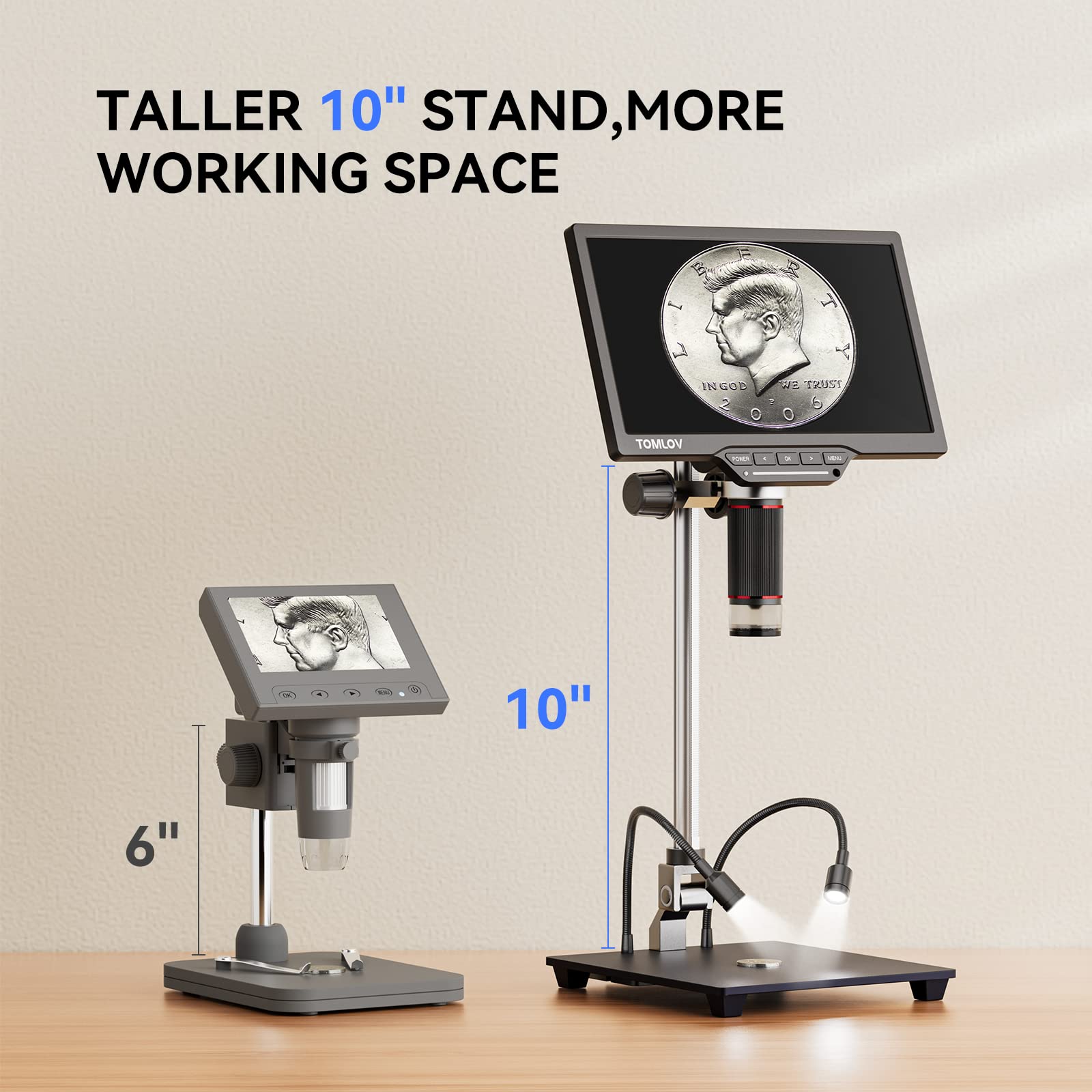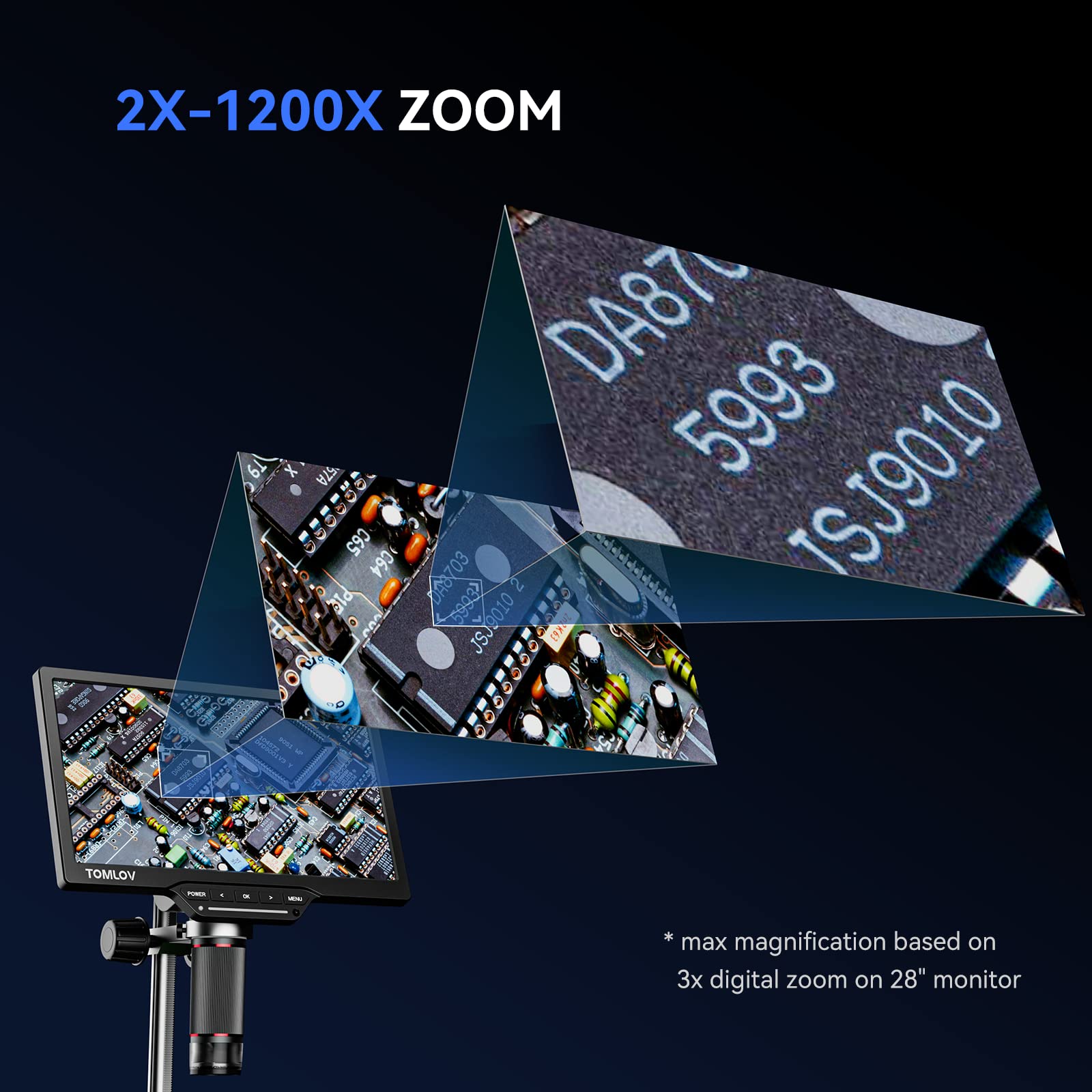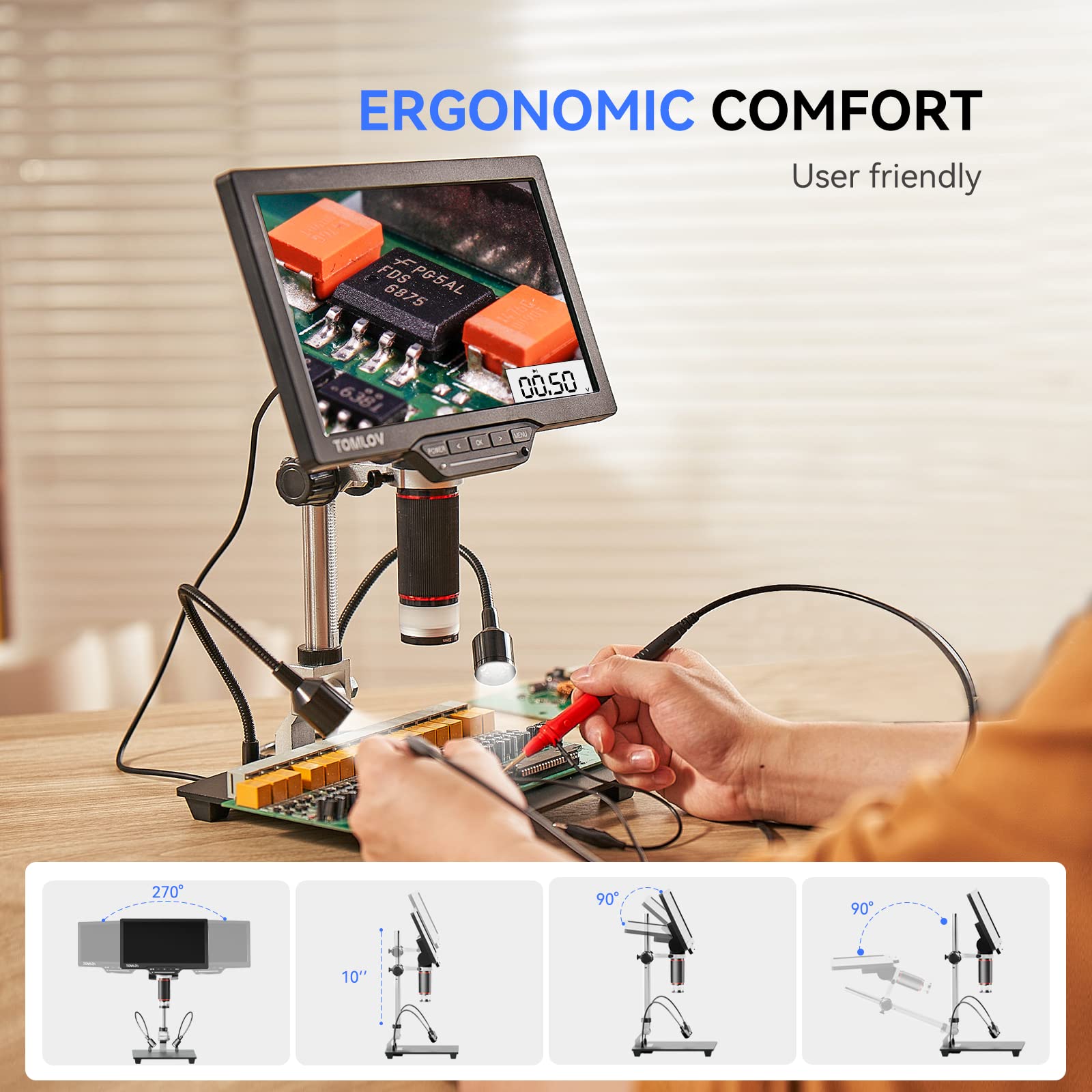 TOMLOV DM201M Soldering Microscope with Multimeter, 7" HDMI Digital Microscope
---
【 The First Digital Microscope with Multimeter on the Market】TOMLOV DM201M digital microscope combines image and video capture capabilities with multimeter function, making it a versatile tool for electronics repair and testing.allowing for accurate measurement of voltage, resistance, diode, frequency, line on-off test, and capacitor. Users can easily test and diagnose electronic components, enhancing soldering microscope's functionality and usability.

【Versatile Digital Microscope Probe】 Take your PCB board testing to the next level with our LCD digital microscope probe. Easily switch gear,snapshot and data hold with a press of a button. Its sharp design ensures precise testing and analysis, making it a must-have tool for anyone working with small electronic components, while the 2 clips keep your board in place. Don't waste time with cumbersome equipment - our probe streamlines your process for maximum efficiency.

【Immersive 7" IPS Screen】See every detail with ease using the Tomlov Microscope for Phone Repair. With a stunning 7" IPS screen, you'll enjoy crystal clear images and vibrant colors that pop. Plus, the wide 178° viewing angle ensures that everyone in the room can appreciate the high-quality display. Say goodbye to eye strain and hello to seamless viewing, thanks to this state-of-the-art hdmi microscope for adults.

【Enhance Viewing Experience with HDMI & USB Output】Unlock a wider view with the Tomlov coin microscope,connect to a larger screen providing you with an even more detailed and immersive viewing experience for subject matter. Ideal for presentations or collaborating with others, share your discoveries with others in real-time. it also allow for easy image and video transfer, Experience a new level of convenience and accessibility with the coin magnifier.

【Compact & Cordless Microscope】Enjoy the convenience of a HDMI Microscope with Multimeter with the built-in battery feature.Take your microscope wherever you need it, explore the microscopic world with up to 1200x without the hassle of finding an outlet. The rechargeable battery offers long-lasting power, making it perfect for outdoor activities or on-the-go inspections. Don't let a lack of power hold you back.

【Explore the World Up Close】Get up close with the 2x-1200x zoom on this digital microscope with screen. Whether you're examining intricate details on a PCB board, inspecting the quality of gemstones, or simply exploring the world around you, this lcd digital microscope has got you covered. TOMLOV DM201M provides clear and detailed images of even the tiniest objects, you'll be amazed at the level of detail you can capture, you never miss a moment of discovery.

【Full View, More Space】With the longer 10 inch stand, you'll be able to see the whole coin or workpiece with ease, and have more space for intricate repairs with this electronics microscope. No more cramped quarters, this coin microscope offers a clear, unobstructed view of your subject. Perfect for anyone who needs a reliable tool for repairing small electronics or examining coins, stamps, or other small objects.
【Smart Remote Control】 Take control of your microscopy experience with the included remote control that allows you to effortlessly take pictures, record videos, and zoom in and out without ever having to touch the display of the HDMI microscope. This not only makes it more convenient to use, but also ensures that there is no screen shaking, providing you with a stable and clear view of your specimen.

【Ergonomic Design】With the ability to adjust the height & angle of your soldering microscope, you can work more comfortably for longer periods of time. it designed specifically for the HDMI digital microscope to help you perform your work with ease and precision. By reducing fatigue and stress on your body, you can focus on your work without distractions. Boost your productivity and take your work to the next level with our adjustable stand for the digital microscope with Multimeter.