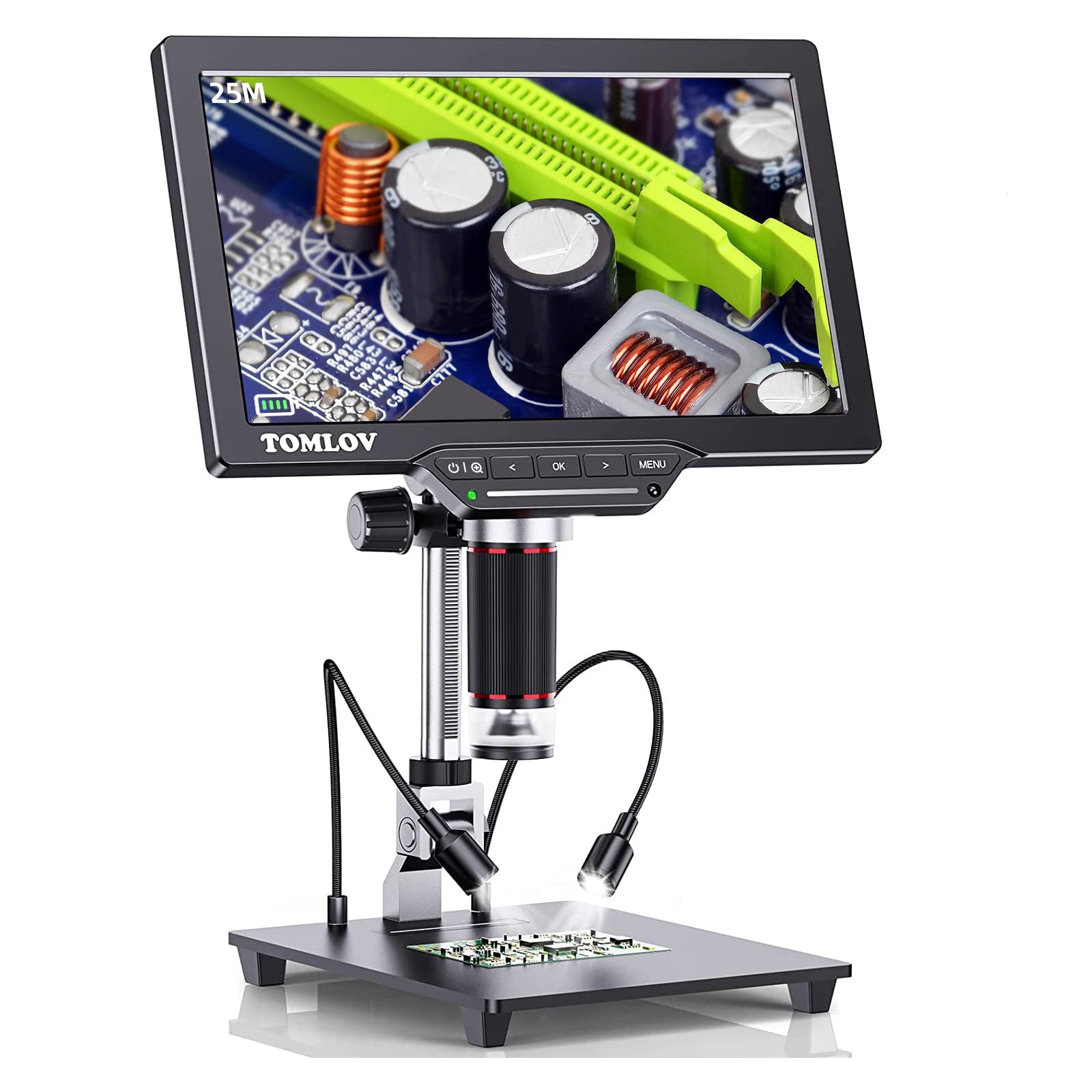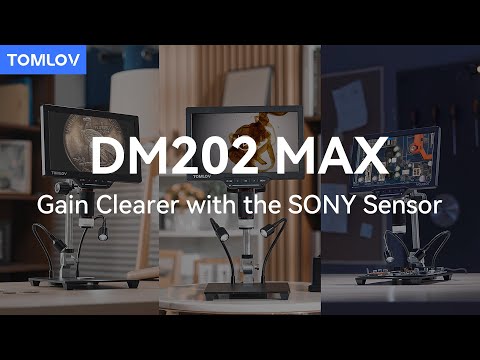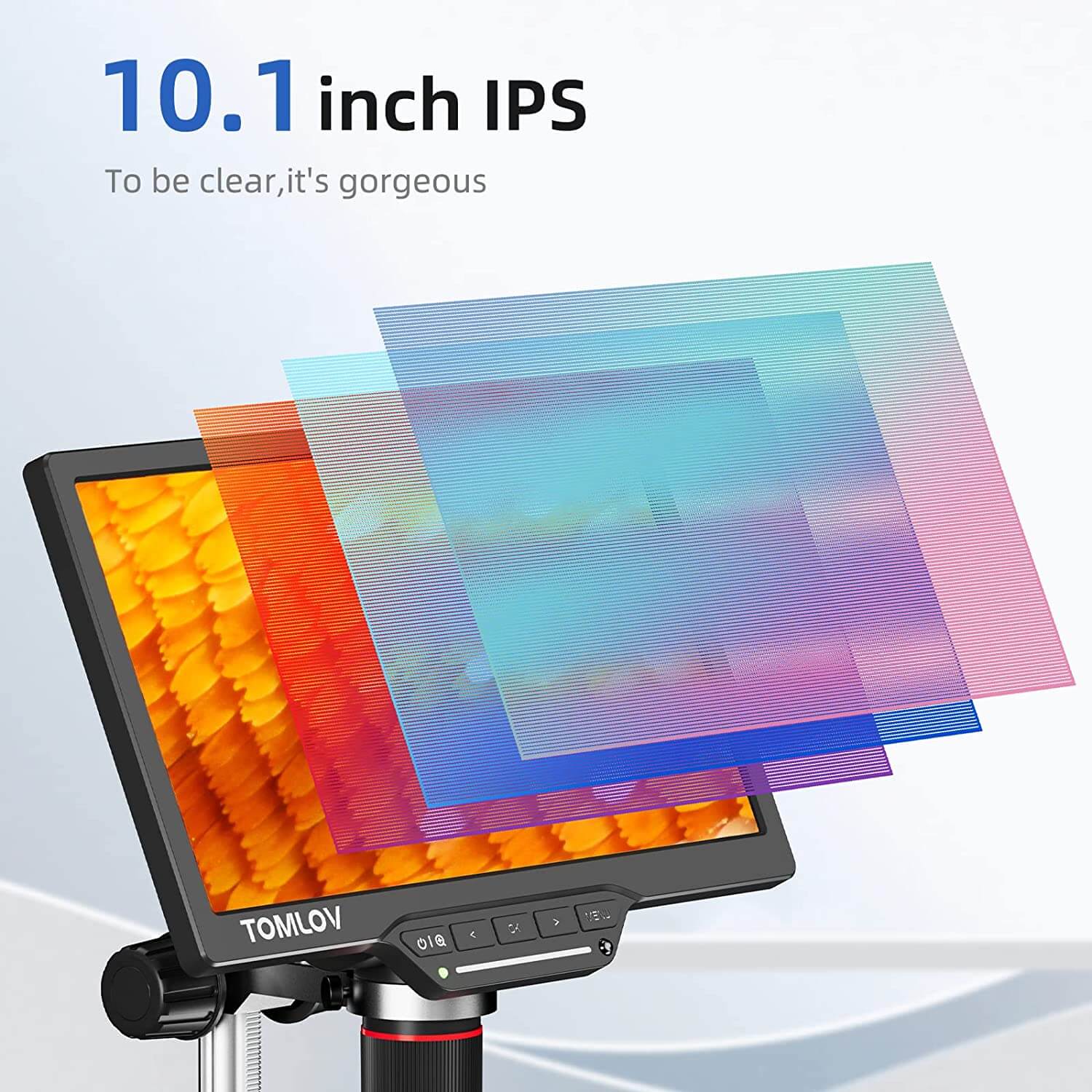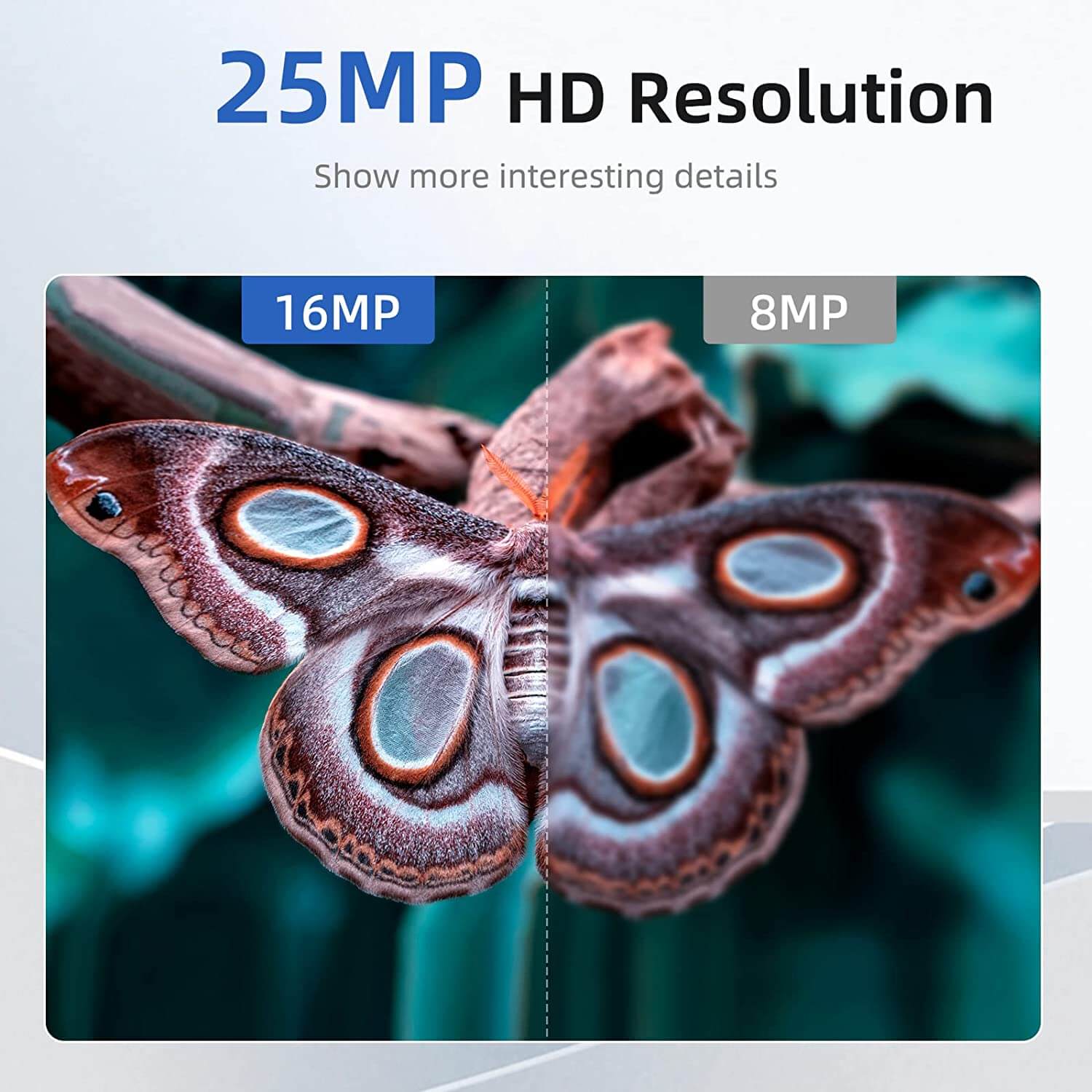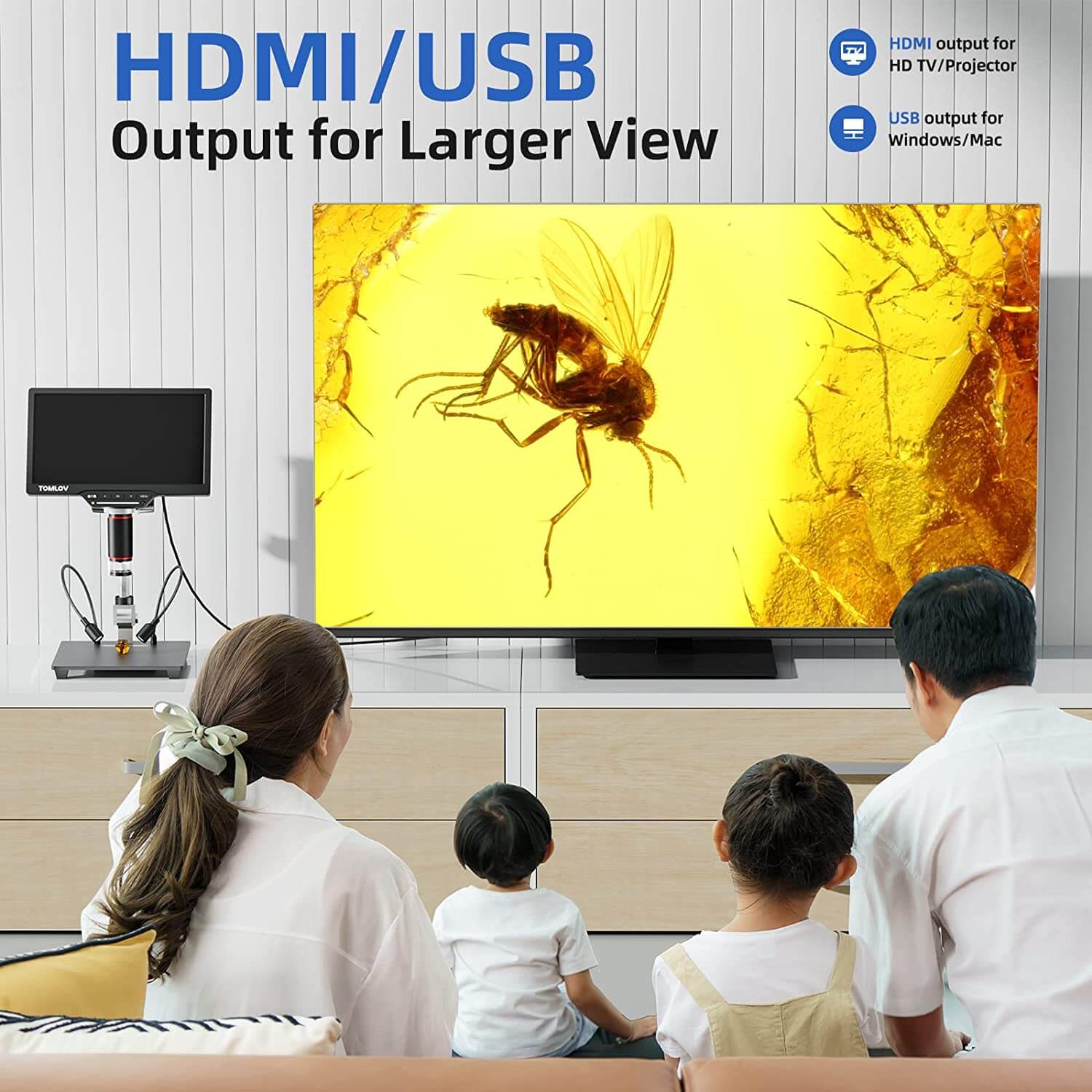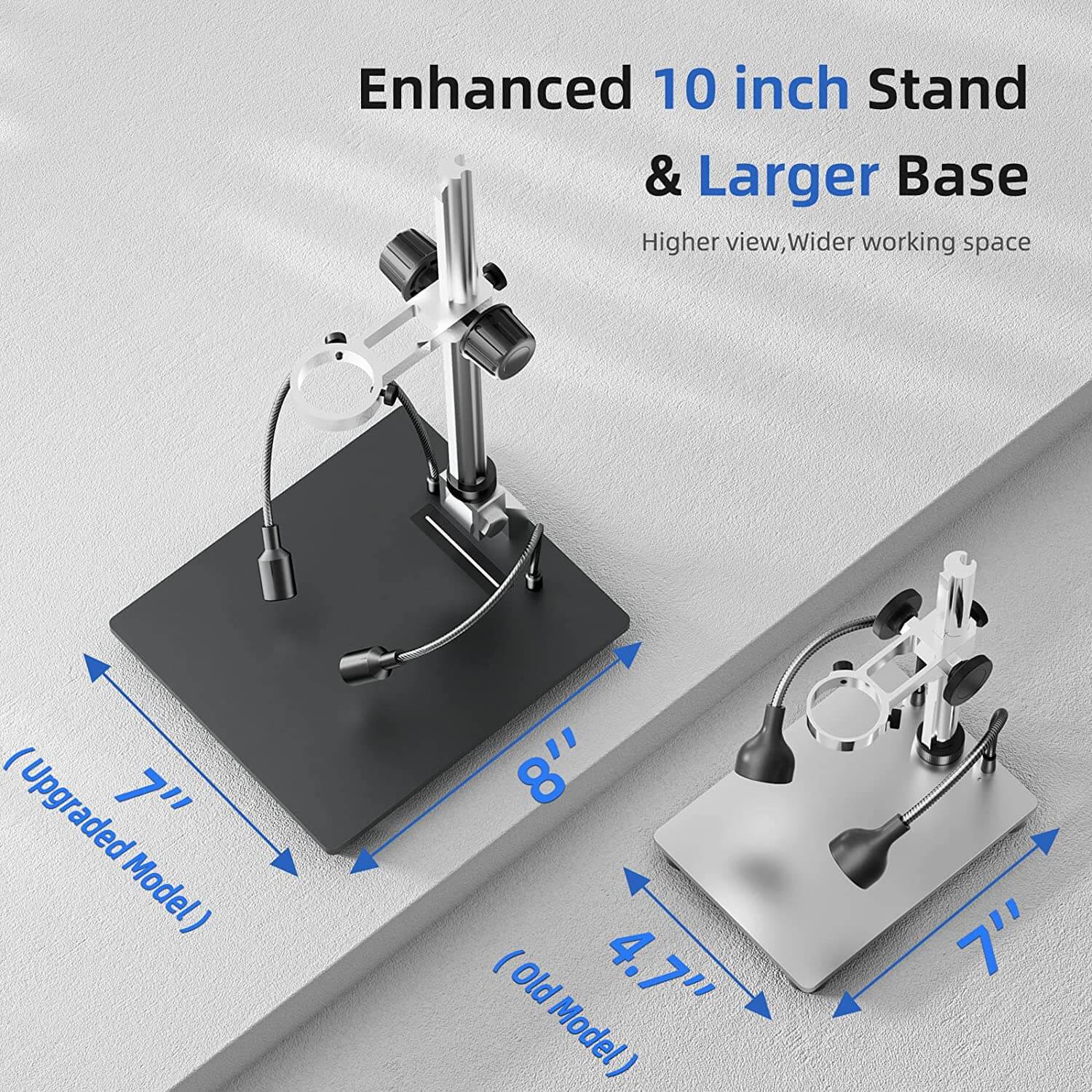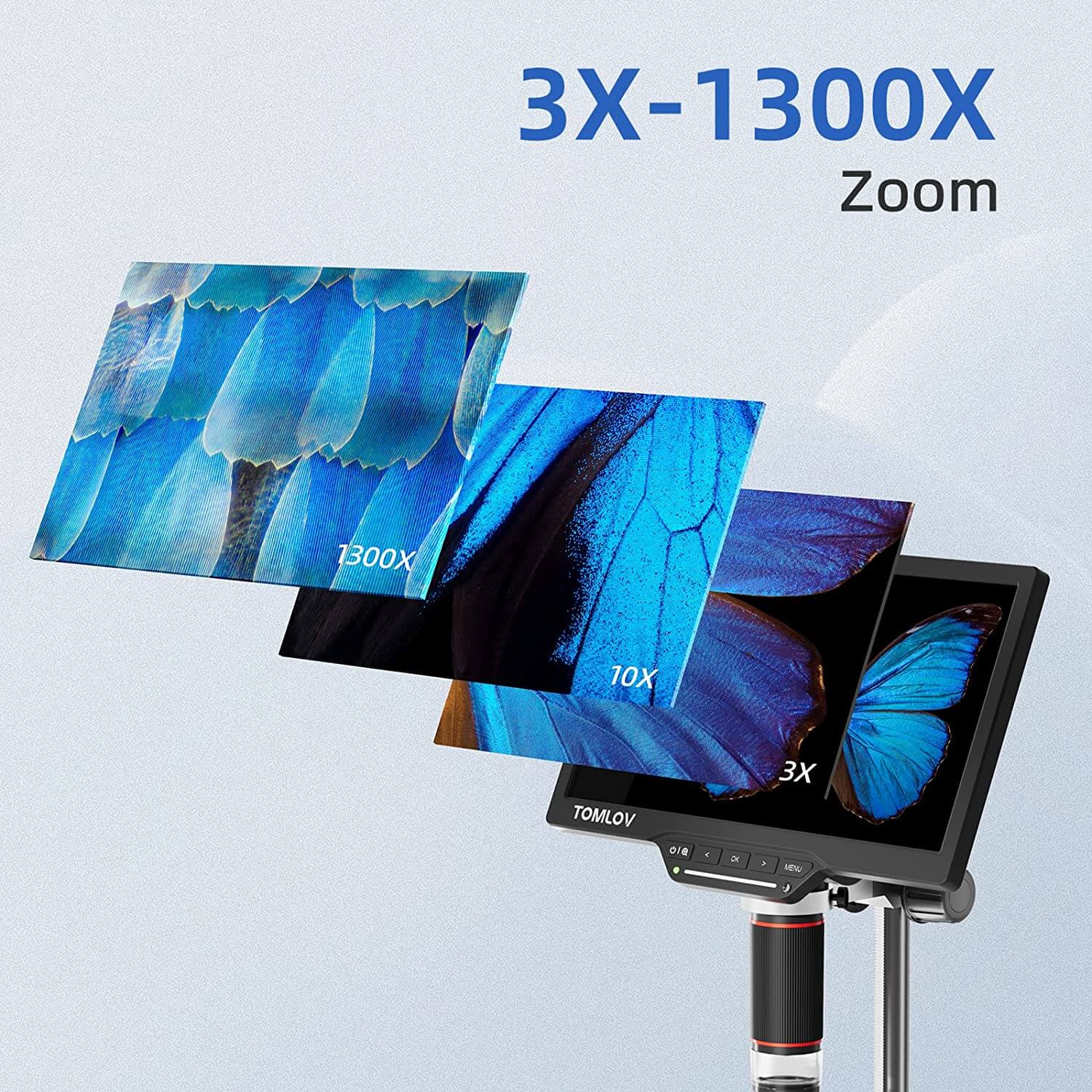 TOMLOV DM202 Max Digital Microscope, 10.1" HDMI LCD Microscope
---
𝟮𝟬𝟮𝟮 𝗨𝗽𝗴𝗿𝗮𝗱𝗲𝗱 𝟭-𝗨𝗽𝗱𝗮𝘁𝗲𝗱 𝘁𝗼 𝗔𝗱𝘃𝗮𝗻𝗰𝗲 𝗦𝗼𝗻𝘆 𝗠𝗔𝗫 𝗦𝗲𝗻𝘀𝗼𝗿: Updated from the Tomlov DM202 microscope,Utilizes an ultra-high-definition sony sensor with 25MP vibrant color still images to be clear than the 1080P/12MP on the market,Tiny detail and various subtle movements can be observed with this digital microscope,great for PCB board/watch/cell phone repairing.

𝟮𝟬𝟮𝟮 𝗨𝗽𝗴𝗿𝗮𝗱𝗲𝗱 𝟮- 𝗣𝗿𝗲𝗺𝗶𝘂𝗺 𝟭𝟬" 𝗜𝗣𝗦 𝗦𝗰𝗿𝗲𝗲𝗻: Tomlov HDMI LCD Digital Microscope adopts an IPS screen, allowing you to enjoy vivid and saturated colors screen, IPS provides accurate color and image reproduction from any angle also an expansive 178° viewing angles is ideal for work and for shareing.

𝟮𝟬𝟮𝟮 𝗨𝗽𝗴𝗿𝗮𝗱𝗲𝗱 𝟯-𝗜𝗻𝘁𝗲𝗴𝗿𝗮𝘁𝗲𝗱 𝘄𝗶𝘁𝗵 𝗧𝗿𝗮𝗻𝘀𝗺𝗶𝘁𝘁𝗲𝗱 𝗟𝗘𝗗 𝗟𝗶𝗴𝗵𝘁 𝗦𝘁𝗮𝗴𝗲: Excect for the LED built-in the camera and 2 side lights, Tomlov DM202 Max coin microscope utilized the professional bottom LED transmitted light 10 Pcs prepared slides included, allows you to observe tiny, more transparent specimens like living organisms that exist in water drawn.

𝟮𝟬𝟮𝟮 𝗨𝗽𝗴𝗿𝗮𝗱𝗲𝗱 𝟰-𝗖𝗼𝗻𝘃𝗲𝗻𝗶𝗲𝗻𝘁 𝗦𝗺𝗮𝗿𝘁 𝗭𝗼𝗼𝗺: One button to zoom in and out ,delivering amazing visual experience on exploring the micro world,Tomlov DM202 Max electronics microscope provides a wide range to see the incredible details of observations in smart zoom 1x/ 2x /4x magnification range.

𝟮𝟬𝟮𝟮 𝗨𝗽𝗴𝗿𝗮𝗱𝗲𝗱 𝟱 -𝗪𝗲𝗹𝗹 𝗠𝗮𝗱𝗲 𝗟𝗮𝗿𝗴𝗲𝗿 𝗕𝗮𝘀𝗲 𝗳𝗼𝗿 𝟭𝟬 𝗶𝗻𝗰𝗵 𝗠𝗶𝗰𝗿𝗼𝘀𝗰𝗼𝗽𝗲: Measuring 7*8'inch, PCB soldering PC motherboard or electronic repairing is accepted on the base as it is sturdy, stable and large enough. Matte black prevents reflections while watching shiny objects.

𝗘𝘅𝘁𝗲𝗻𝗱 𝗬𝗼𝘂𝗿 𝗠𝗶𝗰𝗿𝗼𝘀𝗰𝗼𝗽𝗲 𝗙𝗼𝗿 𝗟𝗮𝗿𝗴𝗲𝗿 𝗩𝗶𝗲𝘄: DM202 Max microscope can get connected with Windows & Mac computer. Plug and play, simply hooking up to your laptops /computers, your vision will be extended on a bigger screen,No driver needed with the computer,just run the default "Windows Camera" and "Photo Booth" for iMac/MacBook,the picture and video can be saved on your computer!

𝗧𝗮𝗹𝗹𝗲𝗿 𝟭𝟬 𝗶𝗻𝗰𝗵 𝗦𝘁𝗮𝗻𝗱, 𝗘𝗮𝘀𝘆 𝘁𝗼 𝗢𝗯𝘀𝗲𝗿𝘃𝗲 𝗘𝗻𝘁𝗶𝗿𝗲 𝗖𝗼𝗶𝗻𝘀: Updated with an 10 inch longer stand perfect for coin collectors,Tomlov microscope for adults is easy to show a full coin in the field. The dime,penny,nickel,quarter,dollar,even the large silver dollar.Designed for higher vison in soldering microscope photography and video shooting and larger working space.
𝗦𝗺𝗮𝗿𝘁 𝗧𝗼𝘂𝗰𝗵 𝗖𝗼𝗻𝘁𝗿𝗼𝗹 𝗟𝗘𝗗: Differing from others, the TOMLOV coin microscope features specially designed touch control LED fill lights. Simply turn on/off or adjust the LED brightness by sliding the touch bar

𝗦𝗺𝗮𝗿𝘁 𝗥𝗲𝗺𝗼𝘁𝗲 𝗖𝗼𝗻𝘁𝗿𝗼𝗹: Not only the remote control take photos or videos,but also can zoom in,zoom out, the remote is an essential tool for not disturbing the coin magnifier while taking video or camera, perfectly avoiding shaking the screen, making it easier to take photos and adjust settings.

𝗪𝗶𝗱𝗲𝗿 𝟮-𝟭𝟯𝟬𝟬𝗫 𝗭𝗼𝗼𝗺: Allows you to zoom in and see the tiniest details of plants,coins, diamonds,soldering etc at magnification range from 2X to 1200X in a full lighted view,you will experience a more realistic and clearer microscopic world.have fun with this digital microscope with screen !