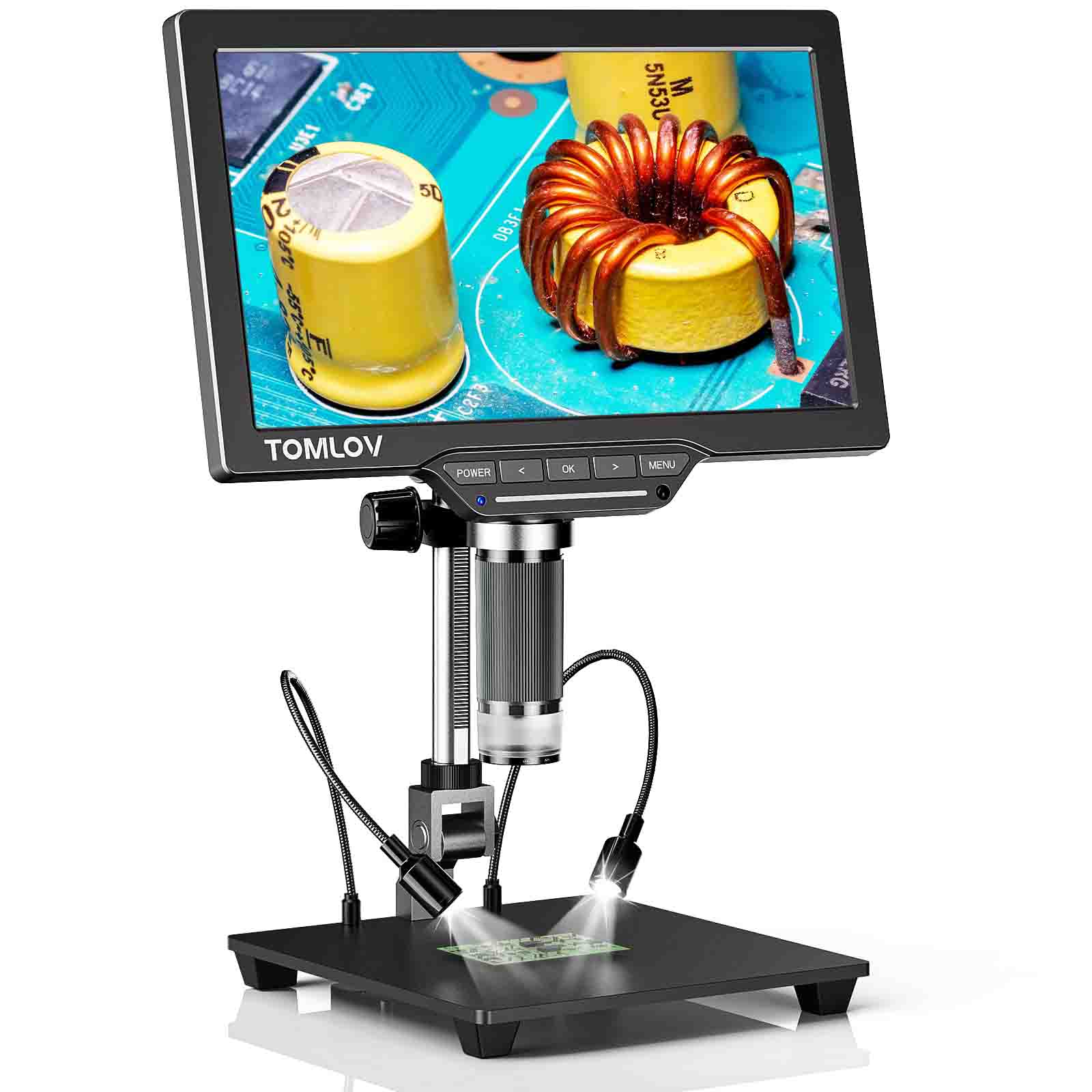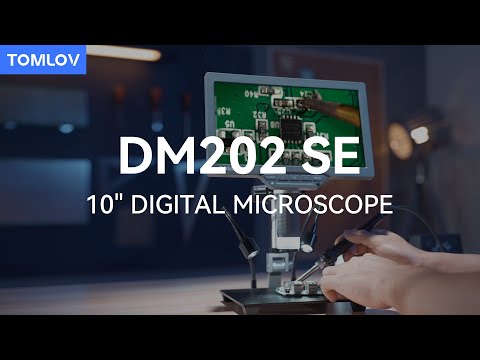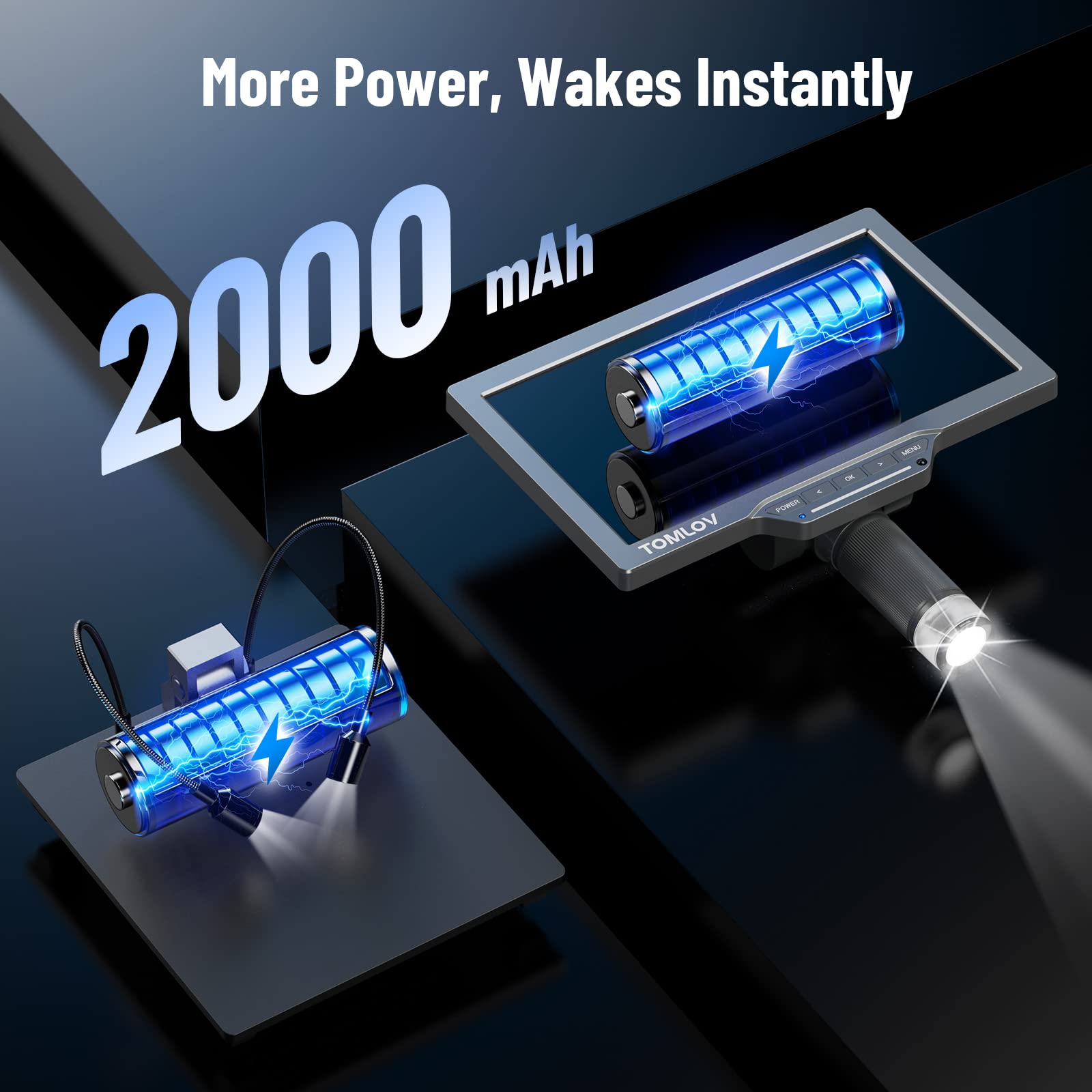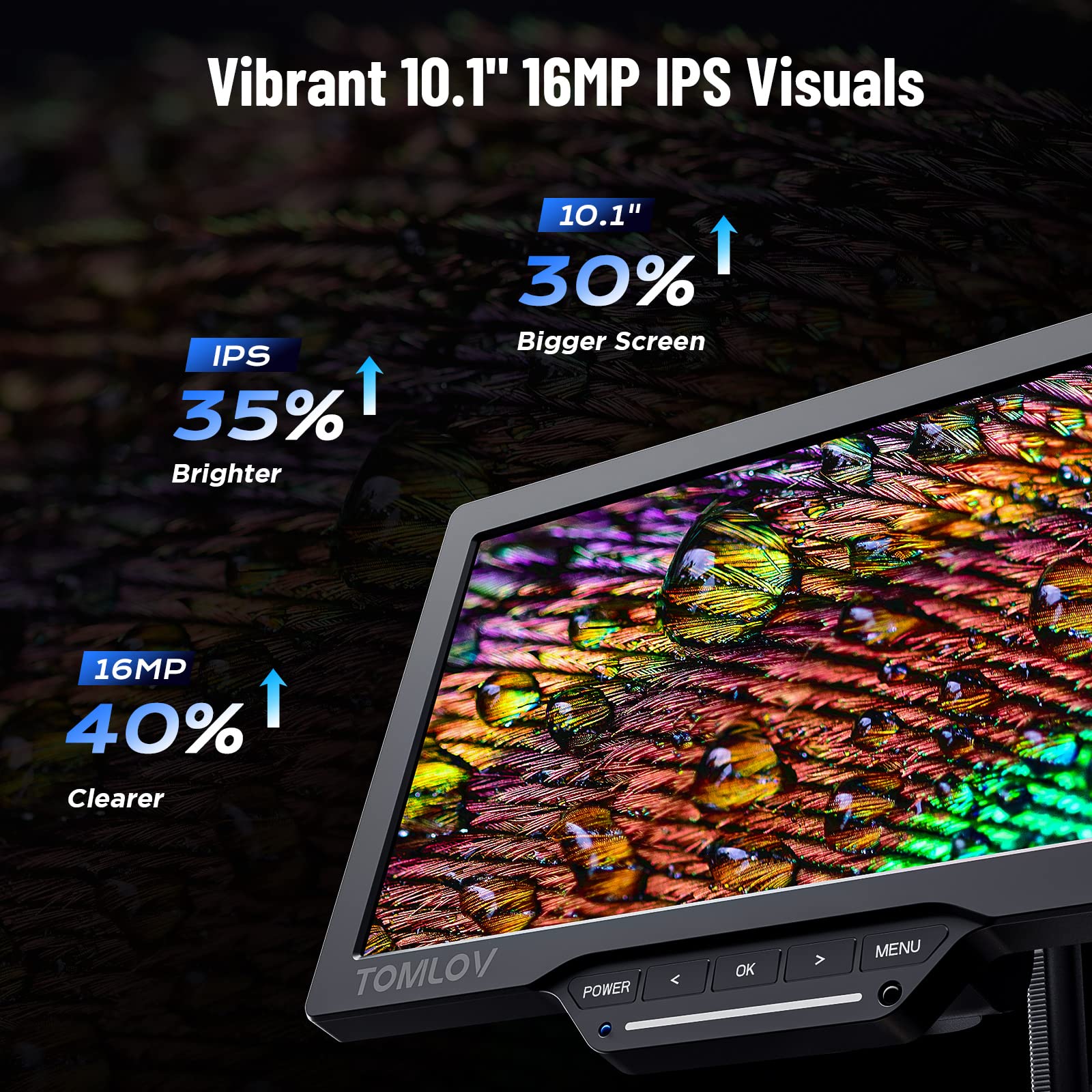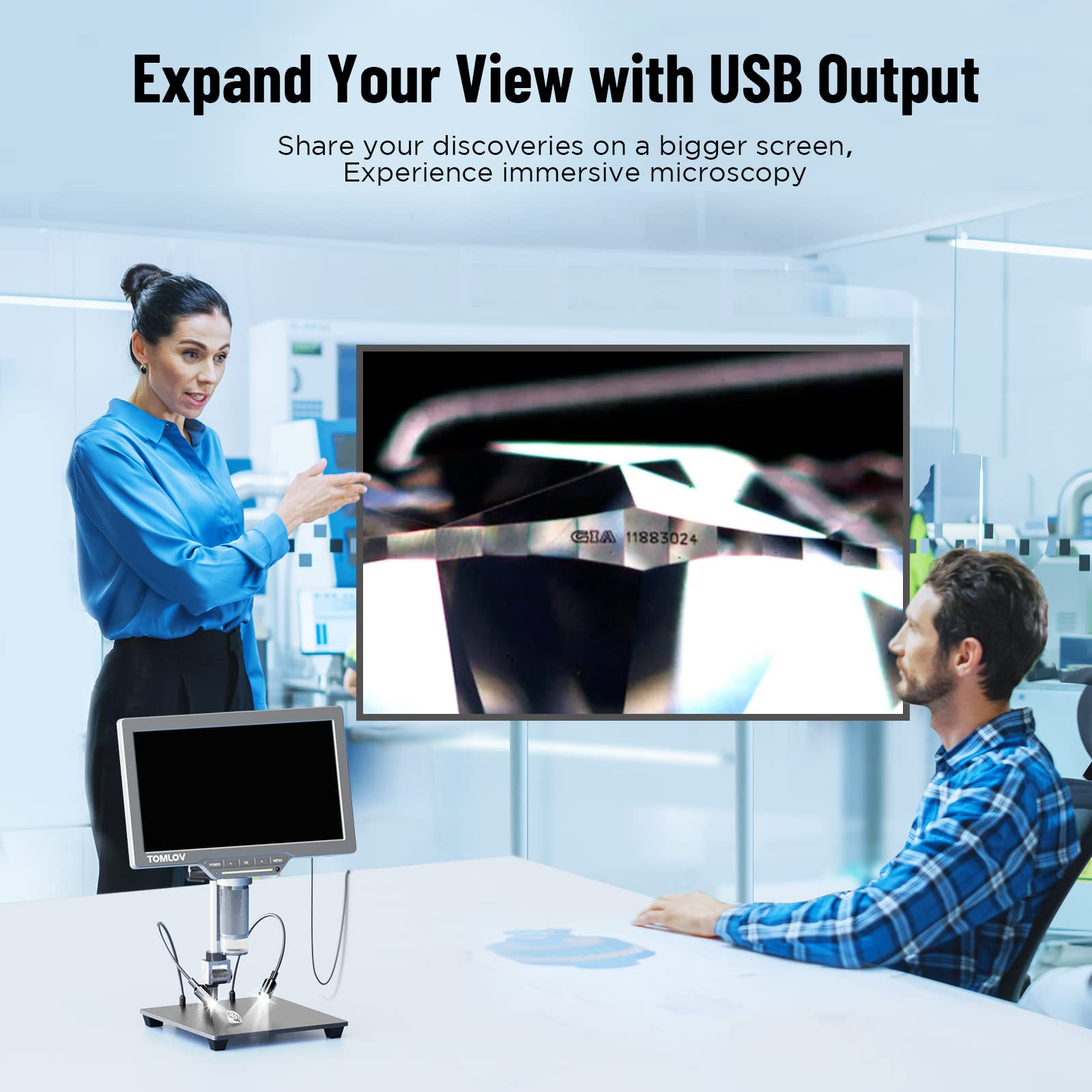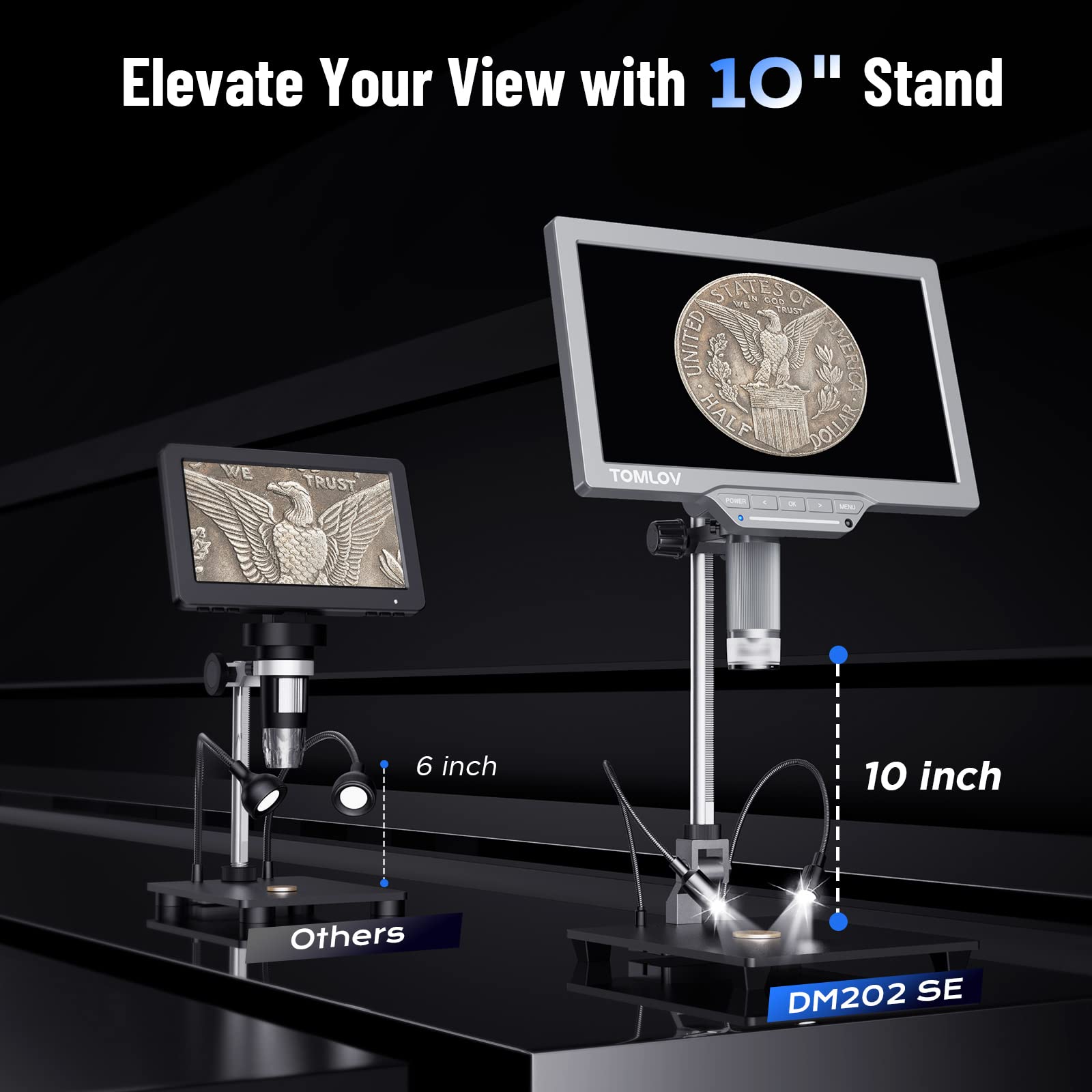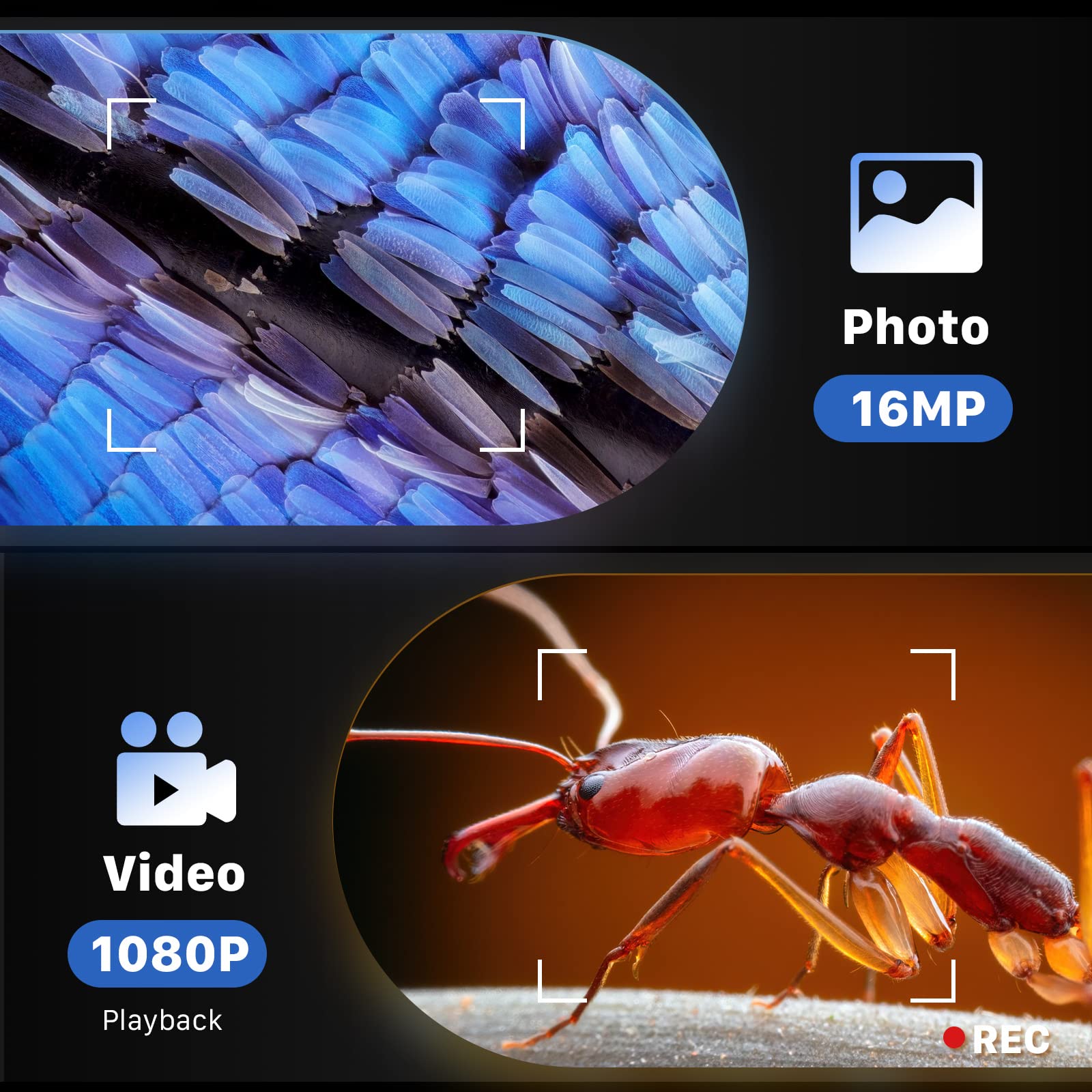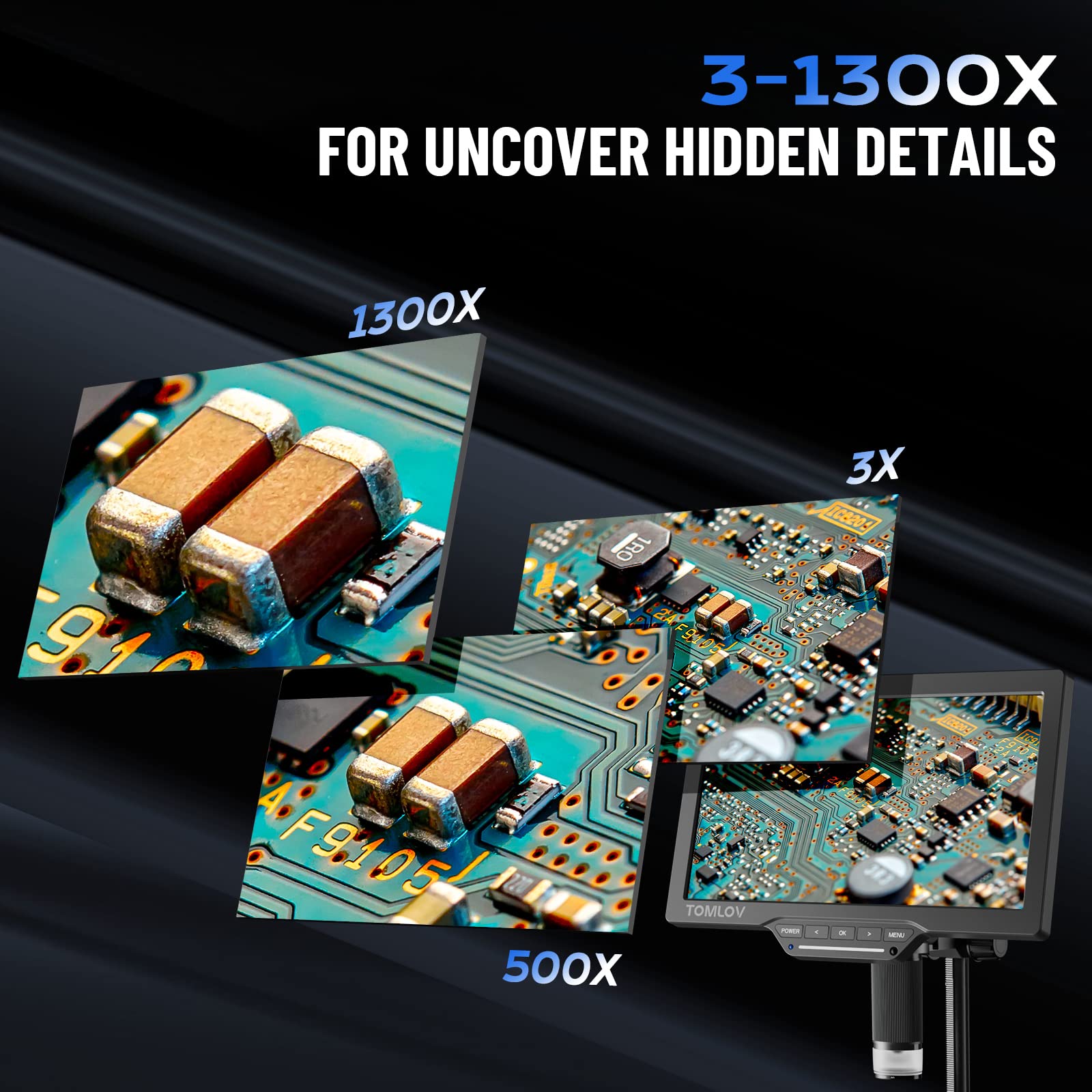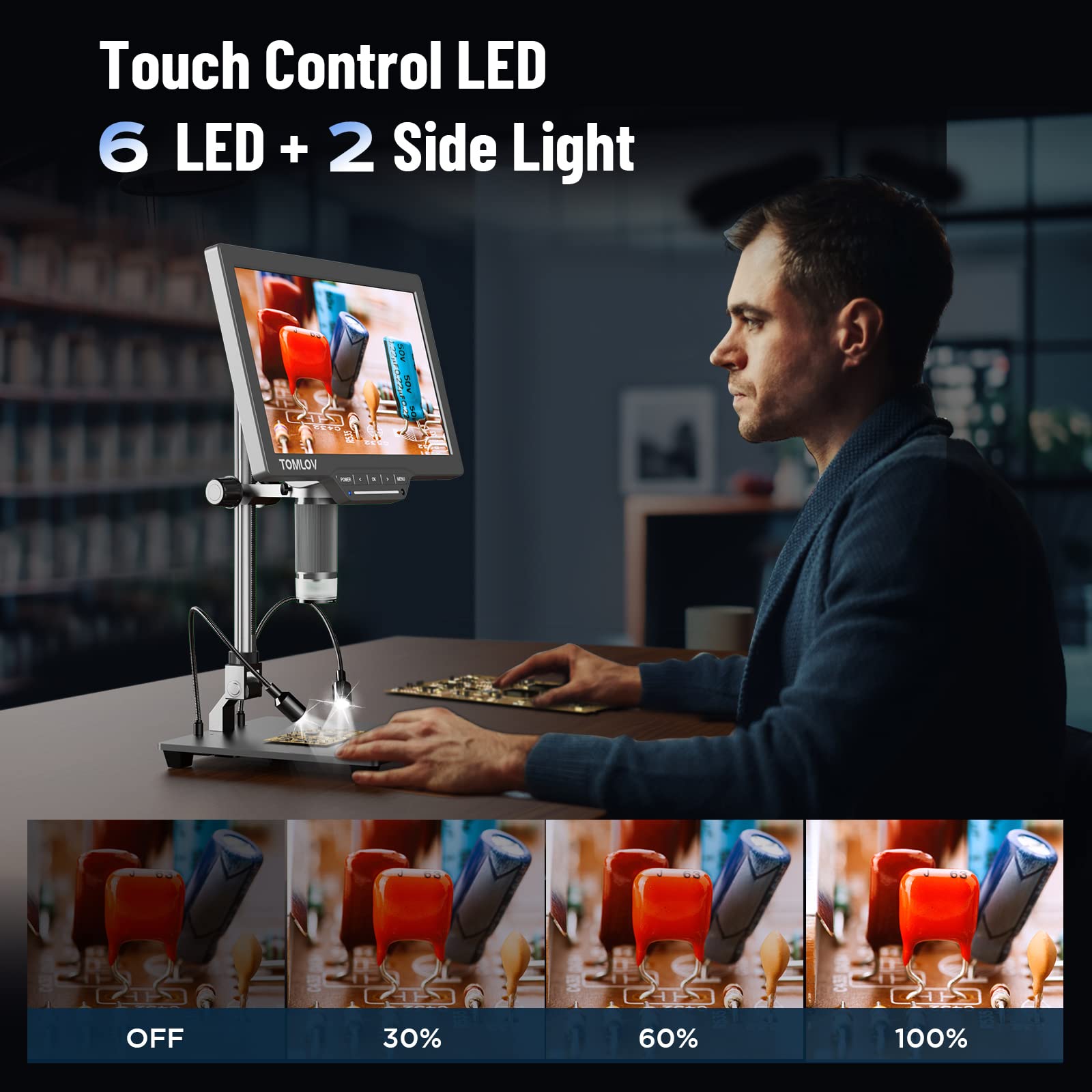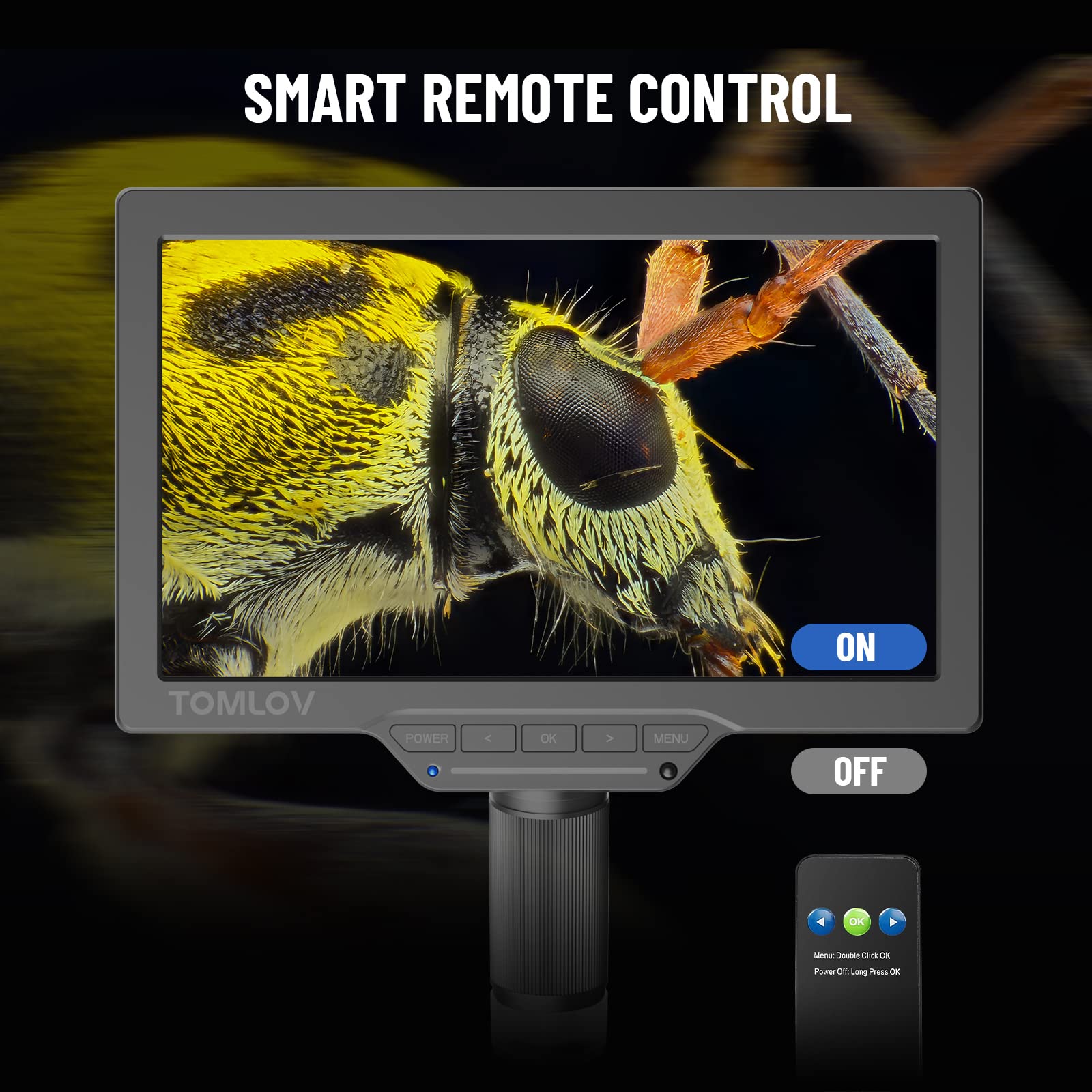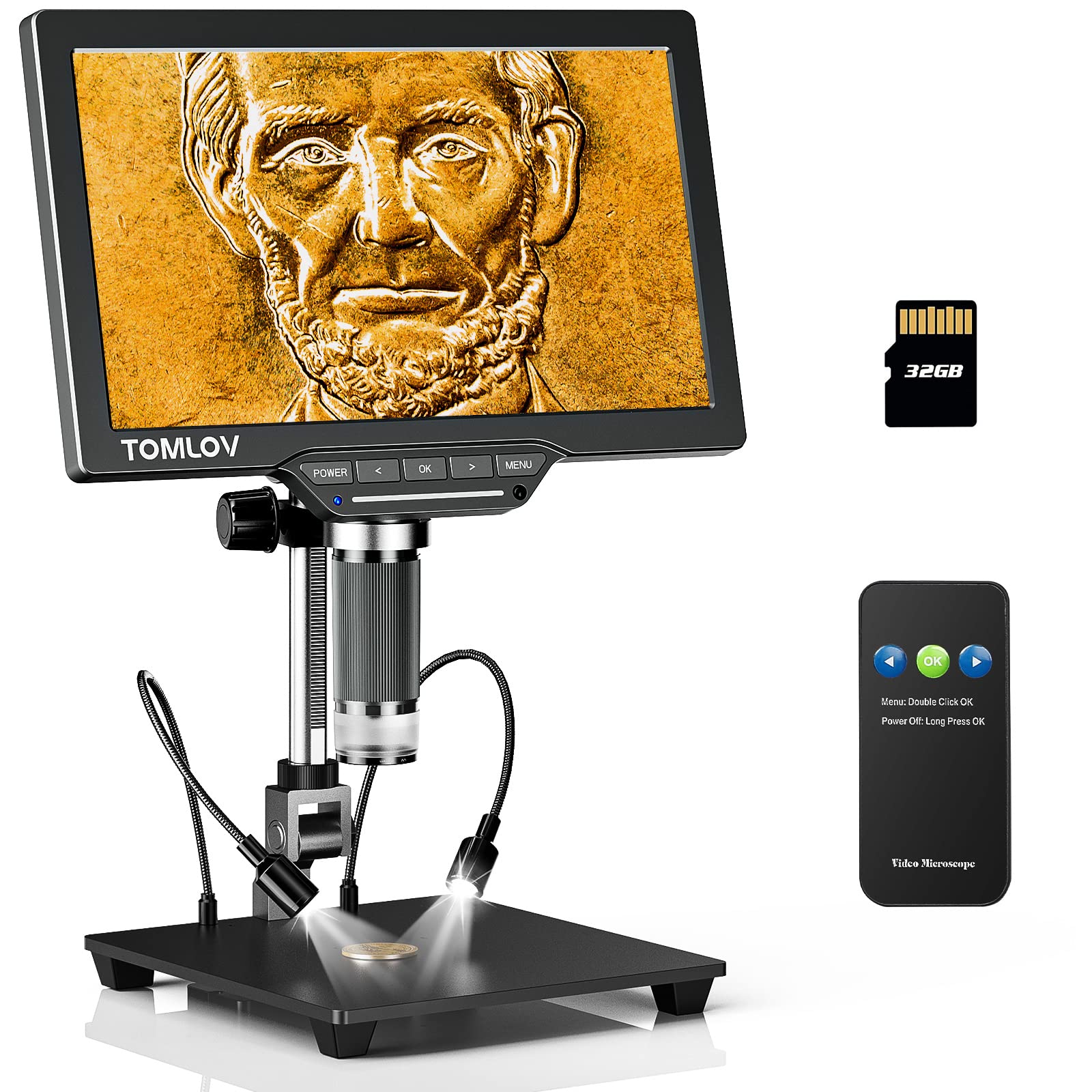 TOMLOV DM202 SE 10.1 inch LCD Digital Microscope with Dual Battery 1300x
---
【Dual Battery Digital Microscope for Adults】The first LCD digital microscope featuring a revolutionary dual battery system. With both the Soldering digital microscope monitor and the base equipped with built-in batteries, you can explore the microscopic world with ease and for extended periods, ensuring uninterrupted discoveries and a truly immersive scientific journey.

【10.1-inch IPS LCD Microscope】Experience Clarity on a 10.1" IPS Display, presenting crystal clear images and vibrant colors that captivate. With a wide 178° viewing angle, every observer in the room can appreciate the impeccable display, alleviating eye strain and offering seamless viewing. Elevate your adulting game with this cutting-edge video microscope.

【Tomlov Digital Microscope with 16MP Resolution】 - Immerse yourself in a world of discovery as you capture awe-inspiring images with unparalleled detail. With its advanced 16MP resolution, this microscope with screen reveals the intricate nuances of your observations, providing sharp and precise images that bring hidden wonders to life, allowing you to explore and unravel the secrets of the microscopic realm with unprecedented clarity.

【Coin Microscope with 10 inch Metal Stands】 Showcasing your prized coins in exquisite detail,elevate coin collecting to new heights. this upgraded coin microscope for error coin with an extended stand brings your collection to life. With enhanced visibility and ample working space, it's perfect for soldering, microscope photography, and video shooting. Unleash the full potential of your coin exploration with superior vision and a spacious workspace.

【Microscope for Adults with USB Output】 TOMLOV DM202 SE effortlessly connect to computers and unlock a world of possibilities. Simply plug and play, seamlessly integrating with laptops, computers, or projectors, expanding your vision across the digital microscope camera and the extended canvas of your computer screen. Witness unparalleled clarity and convenience as your microscopic discoveries burst into life on a grand scale, opening new horizons in your scientific endeavors.

【2x-1300x Soldering Microsocpe】2x-1300x zoom of this remarkable digital microscope with screen. From intricate PCB board analysis to precise gemstone inspection, and even exploring the wonders of the world around you, this LCD digital microscope is your ultimate companion. With its exceptional capability to provide clear and detailed images of even the tiniest objects, you'll be astounded by the level of detail you can capture, ensuring you never miss a moment of discovery.

【TOMLOV Digital Microsocpe with Remote 】. Experience unprecedented convenience with the included remote control, granting you effortless control over capturing pictures, recording videos, and zooming in and out, all without touching the display. Say goodbye to screen shaking as you enjoy a stable and crystal-clear view of your specimen, ensuring an uninterrupted exploration.
【Adjustable Brightness LED Lights Microscope with Screen 】Equipped with LED fill lights, this digital microscope ensures optimal illumination for error coin collectors, enabling a clear and detailed observation of coin intricacies. With precise lighting, dive into the captivating world of coin details and discover the hidden beauty within your collection. Let TOMLOV be your trusted companion on your journey of numismatic exploration.

【Soldering Microscope with Larger Base】Measuring a generous 7*8" , this microscope's base provides a sturdy and stable platform for various tasks like PCB soldering, PC motherboard inspection, and electronic repairs. Its matte black finish prevents distracting reflections, ensuring a clear view while examining shiny objects. Experience the perfect combination of stability, functionality, and visual clarity with TOMLOV, empowering you to tackle intricate tasks with confidence and precision.

【Ergonomic Design LCD Microscope 】Designed for the lcd digital microscope, this ergonomic stand allows you to effortlessly adjust height and angle, ensuring comfortable and precise work. Minimize fatigue, maximize productivity, and take your soldering microscope experience to the next level.