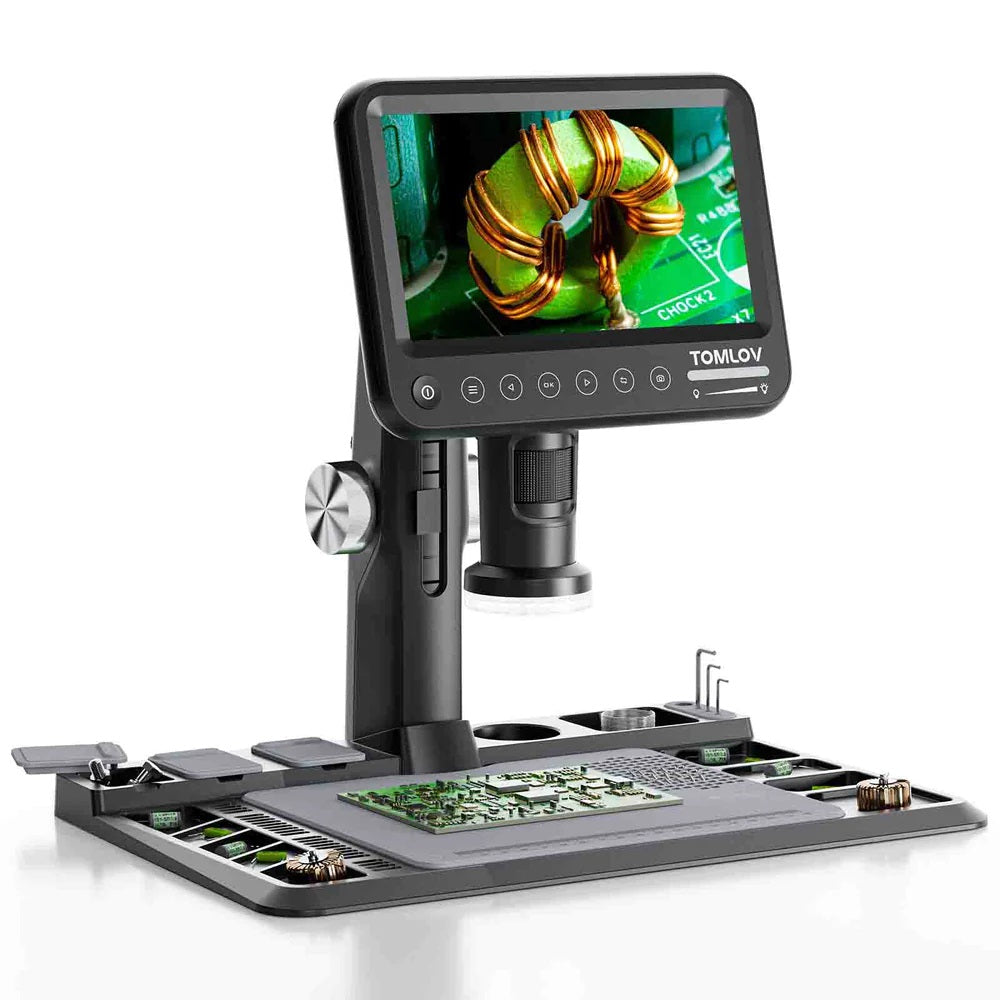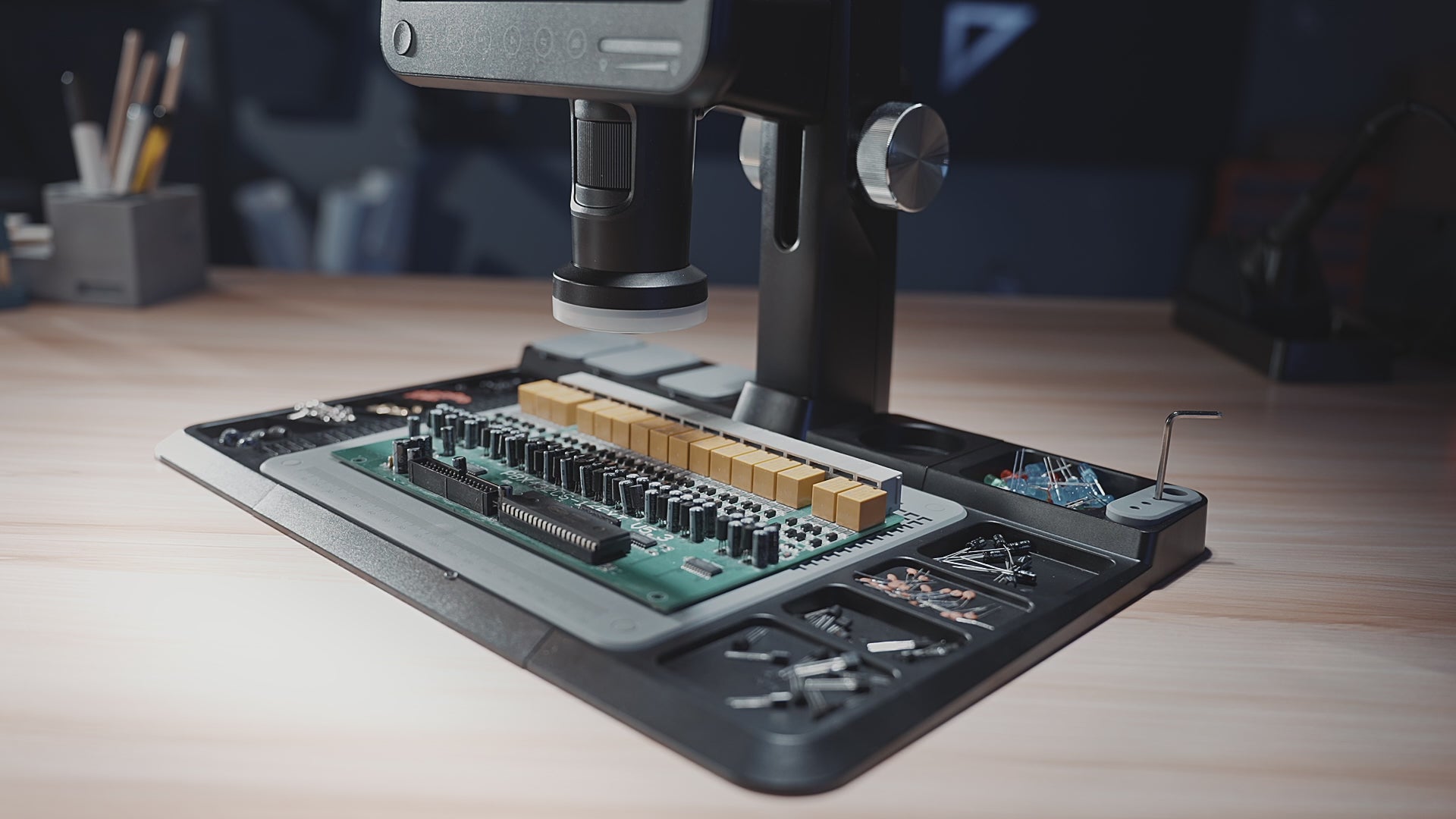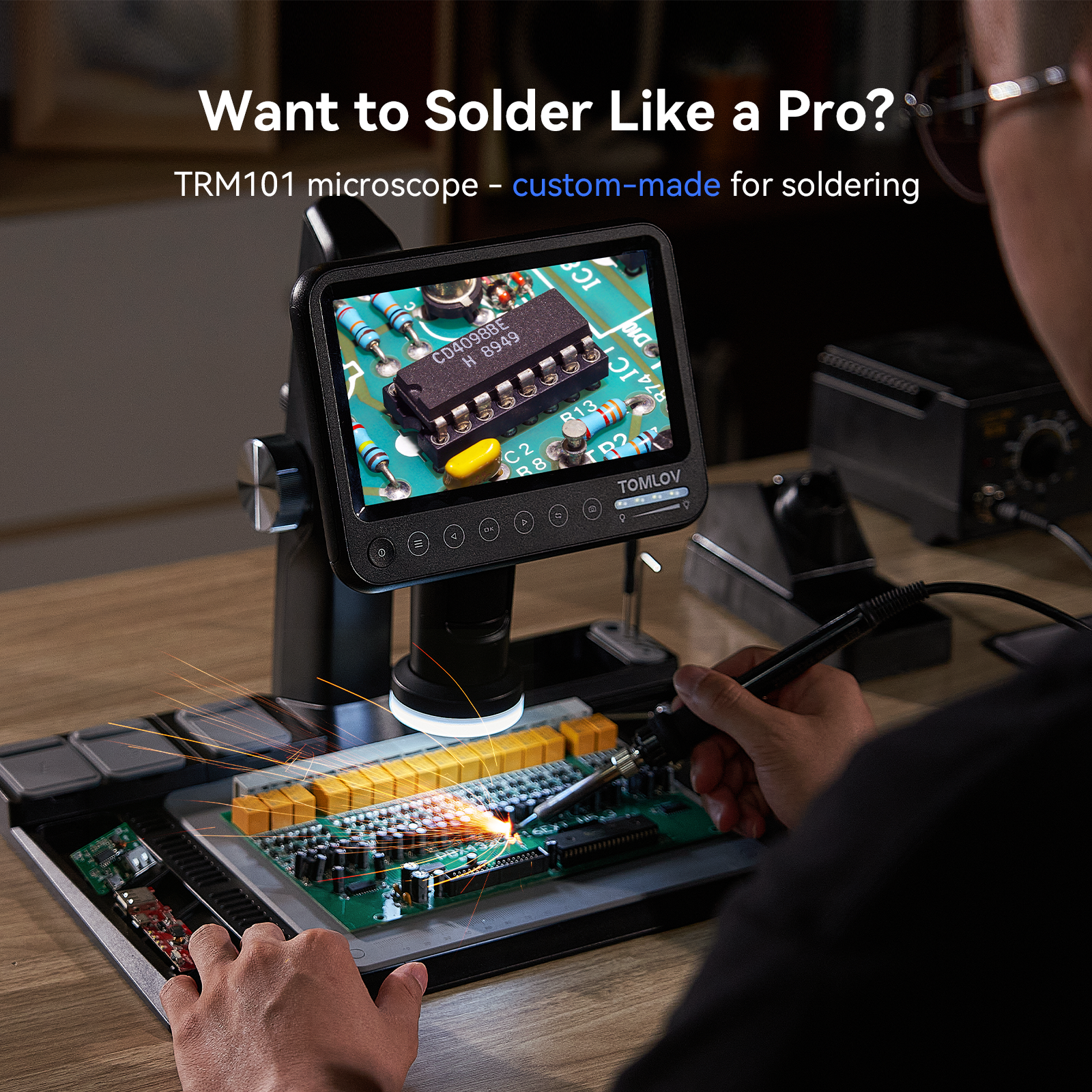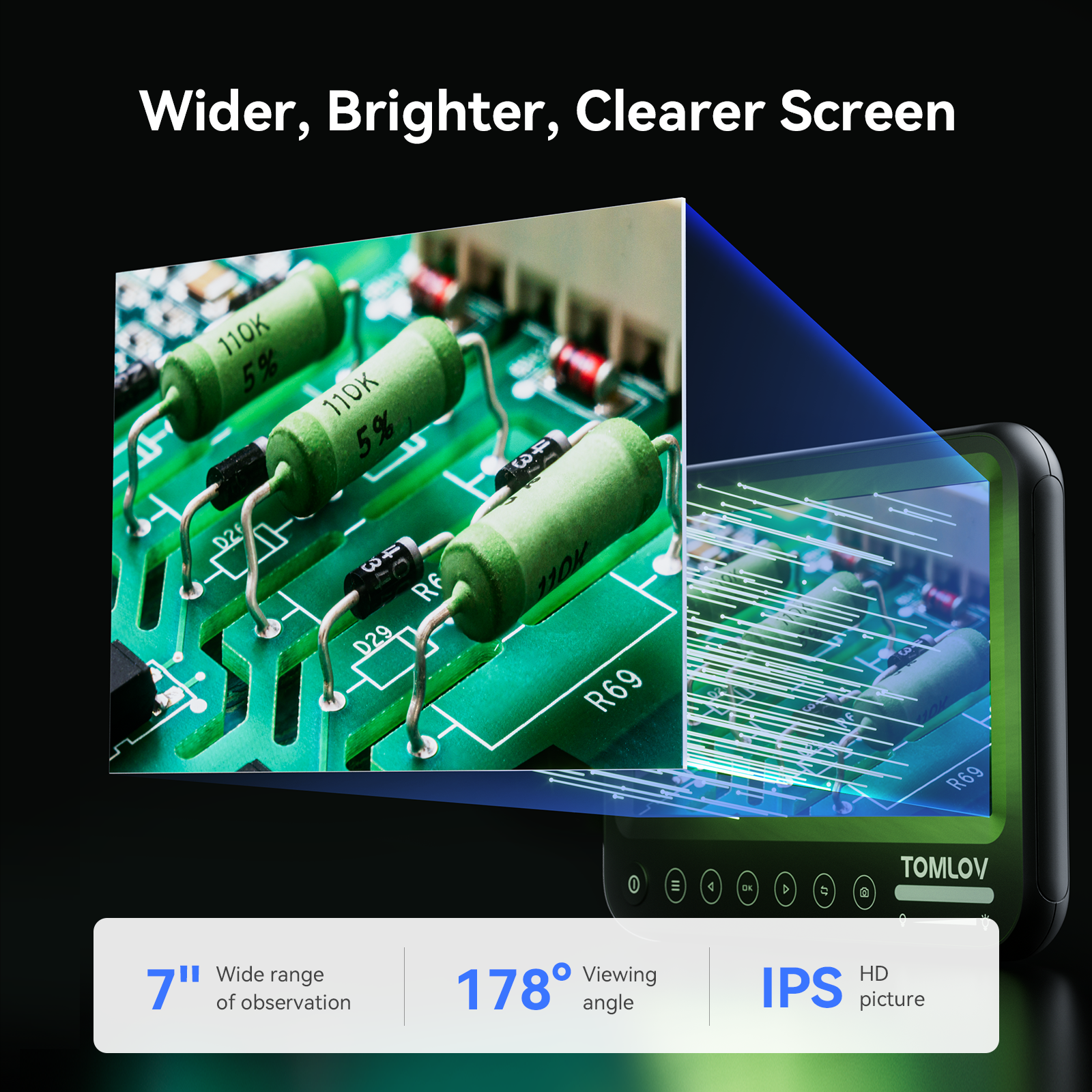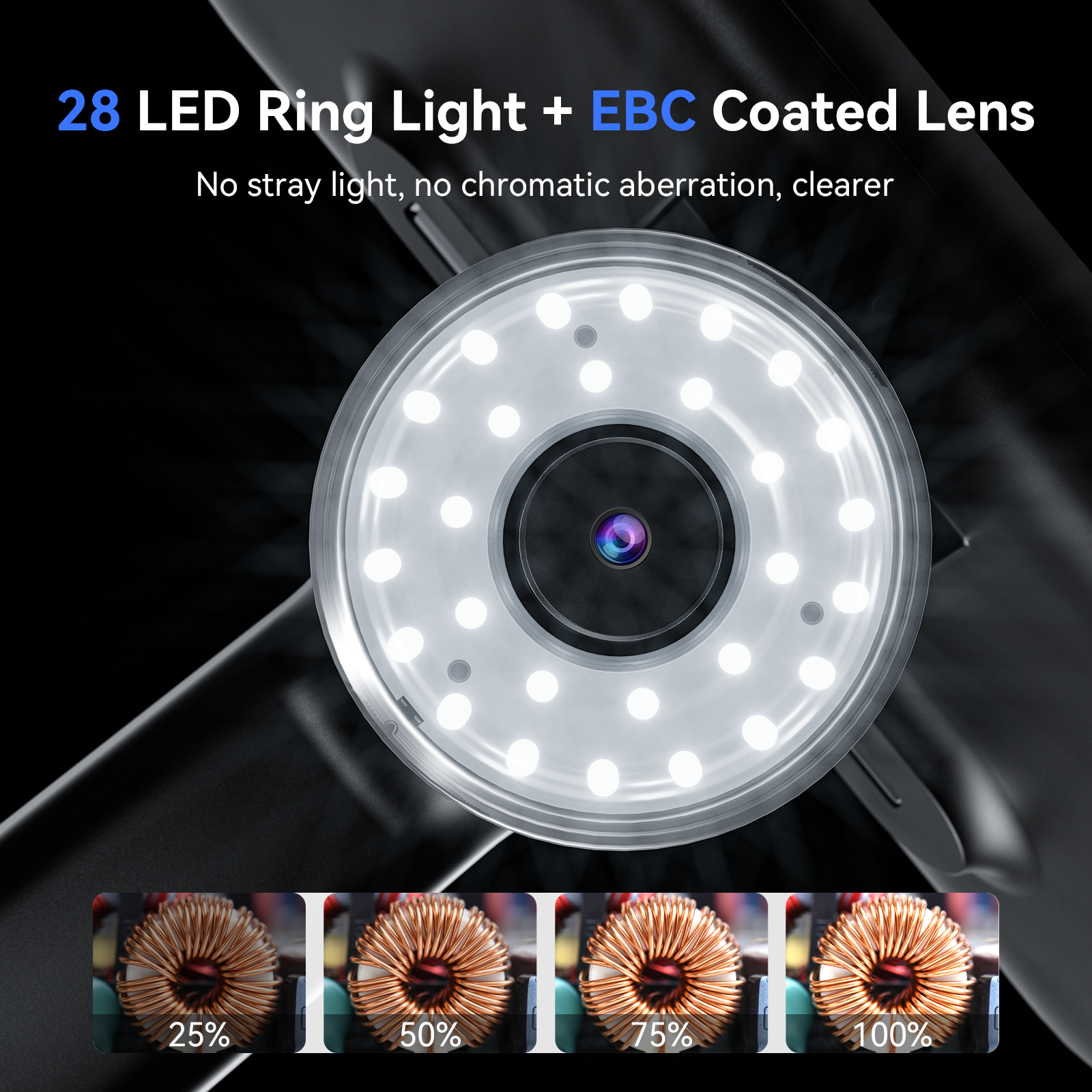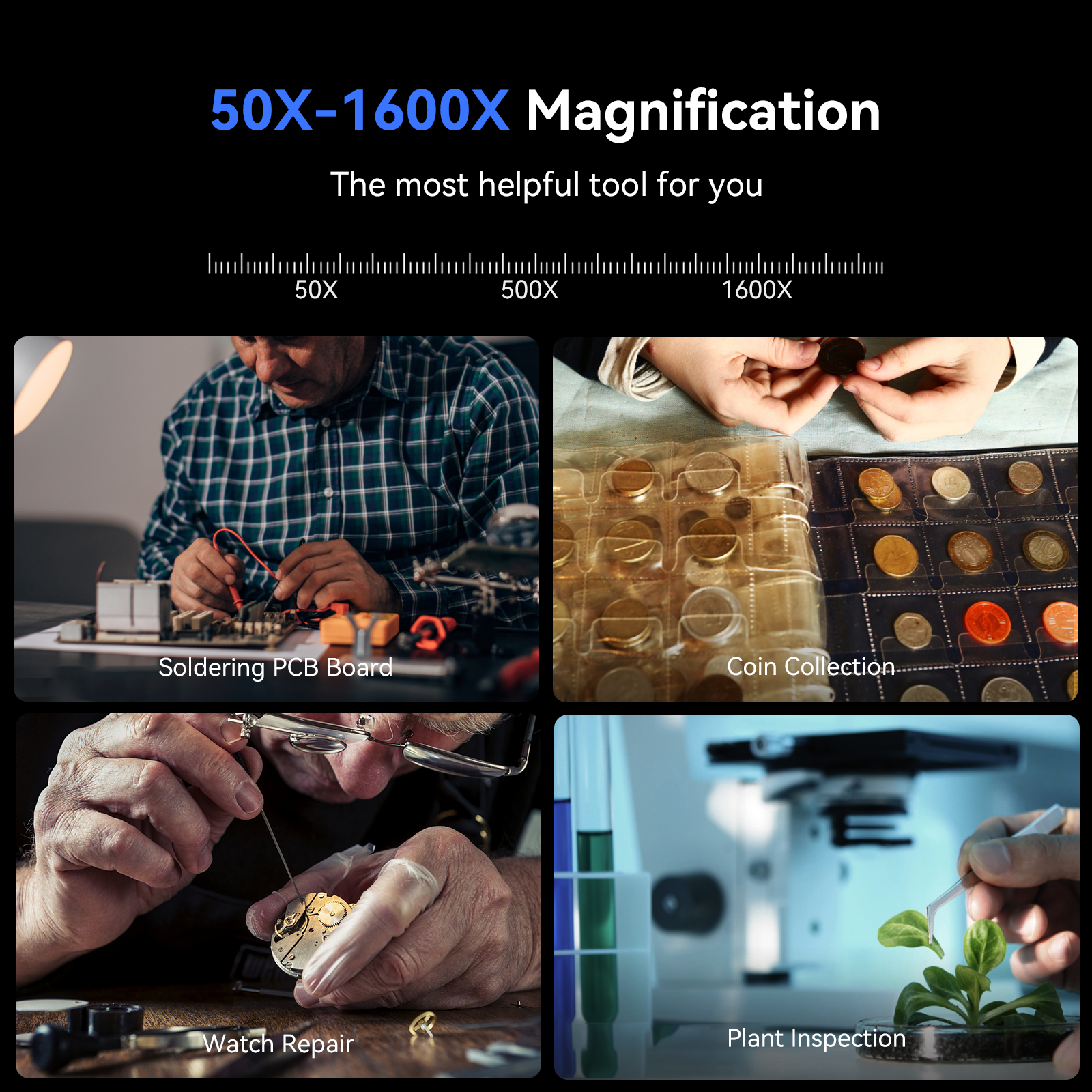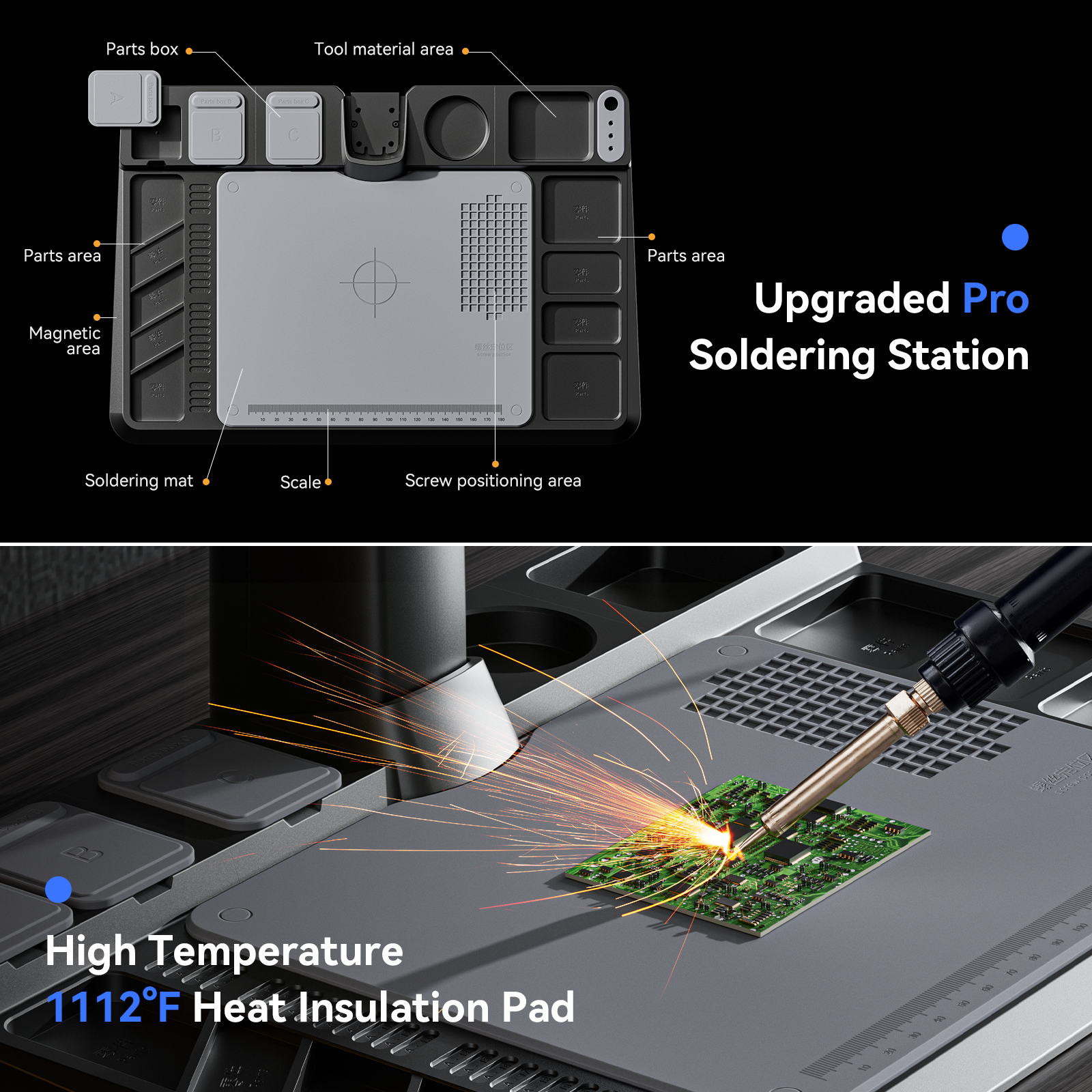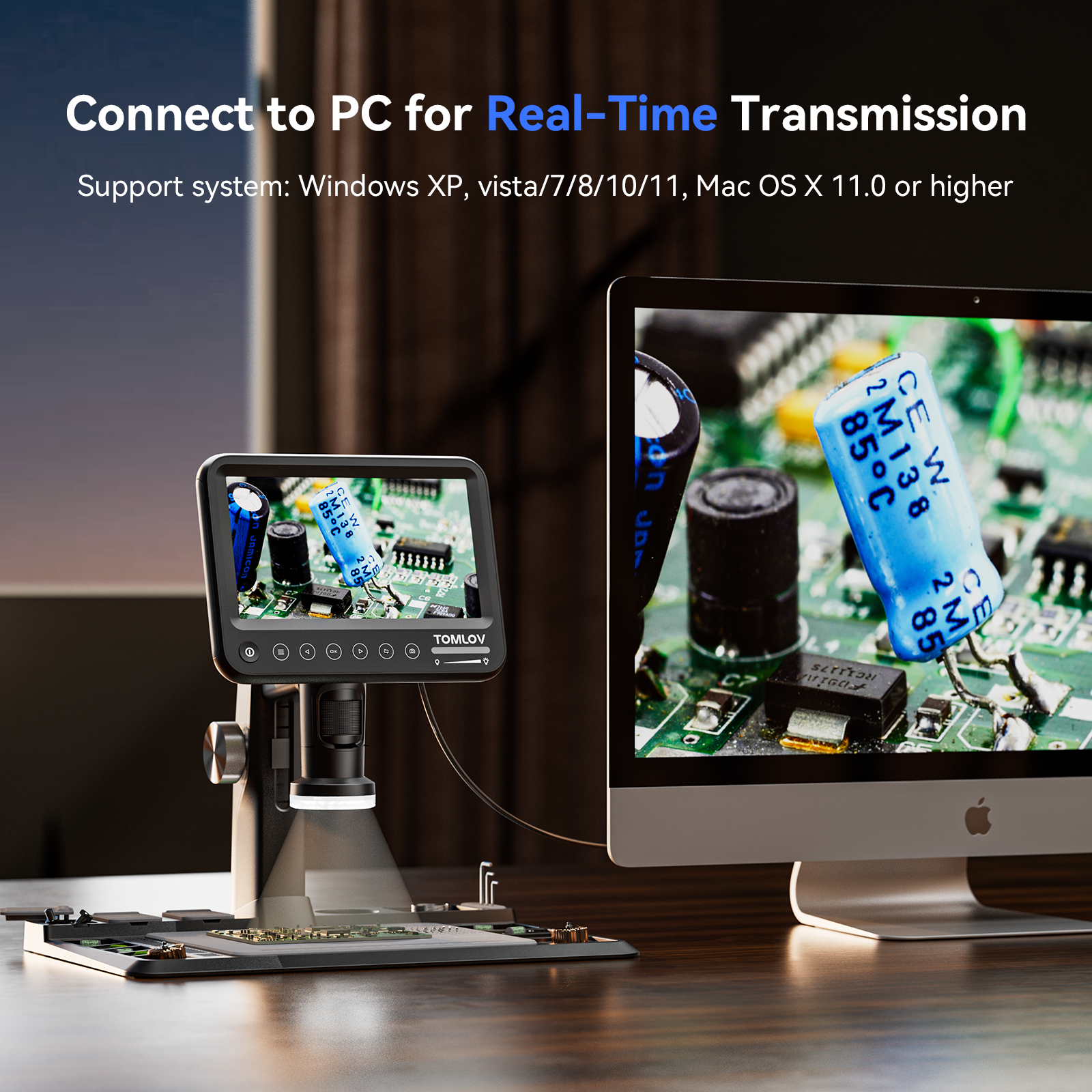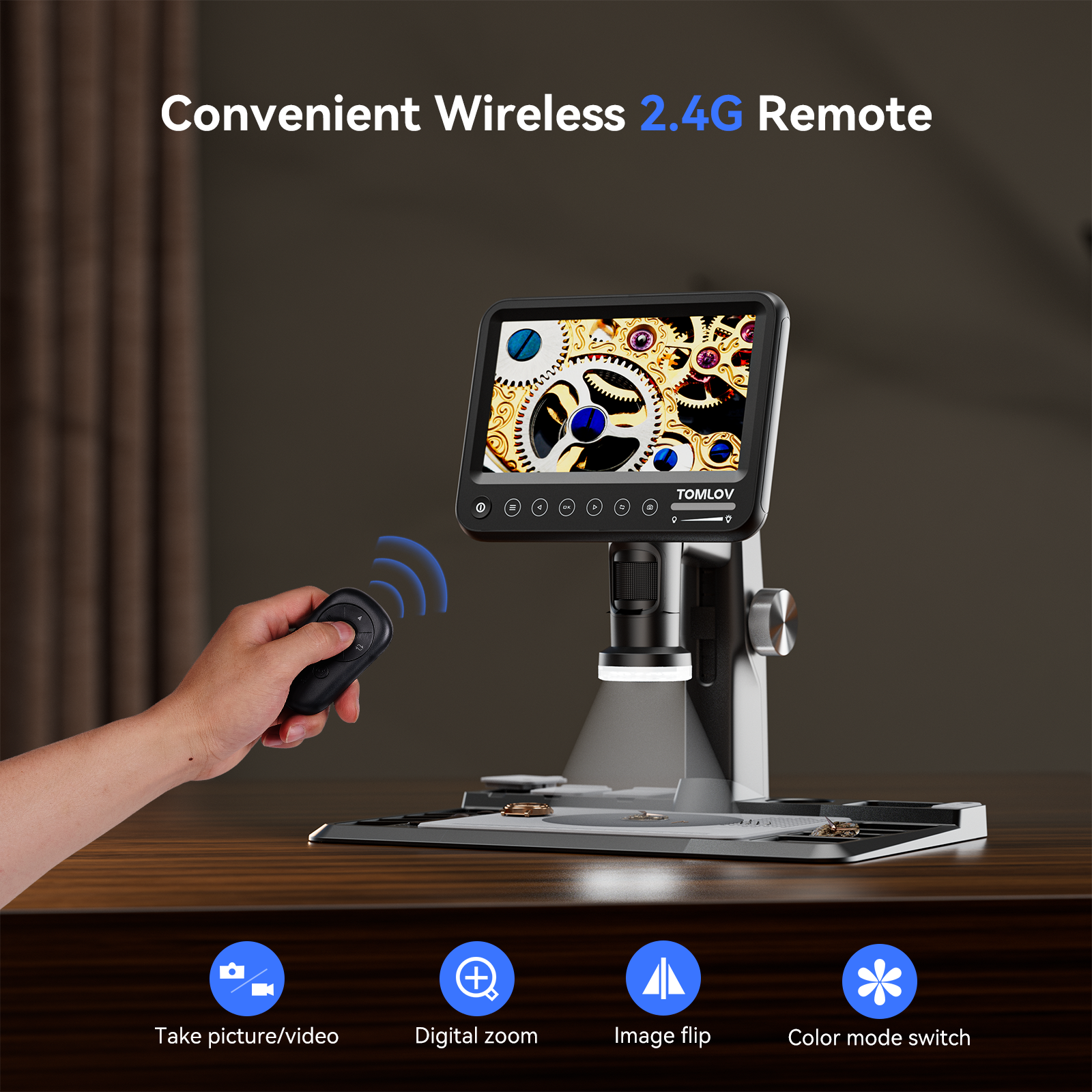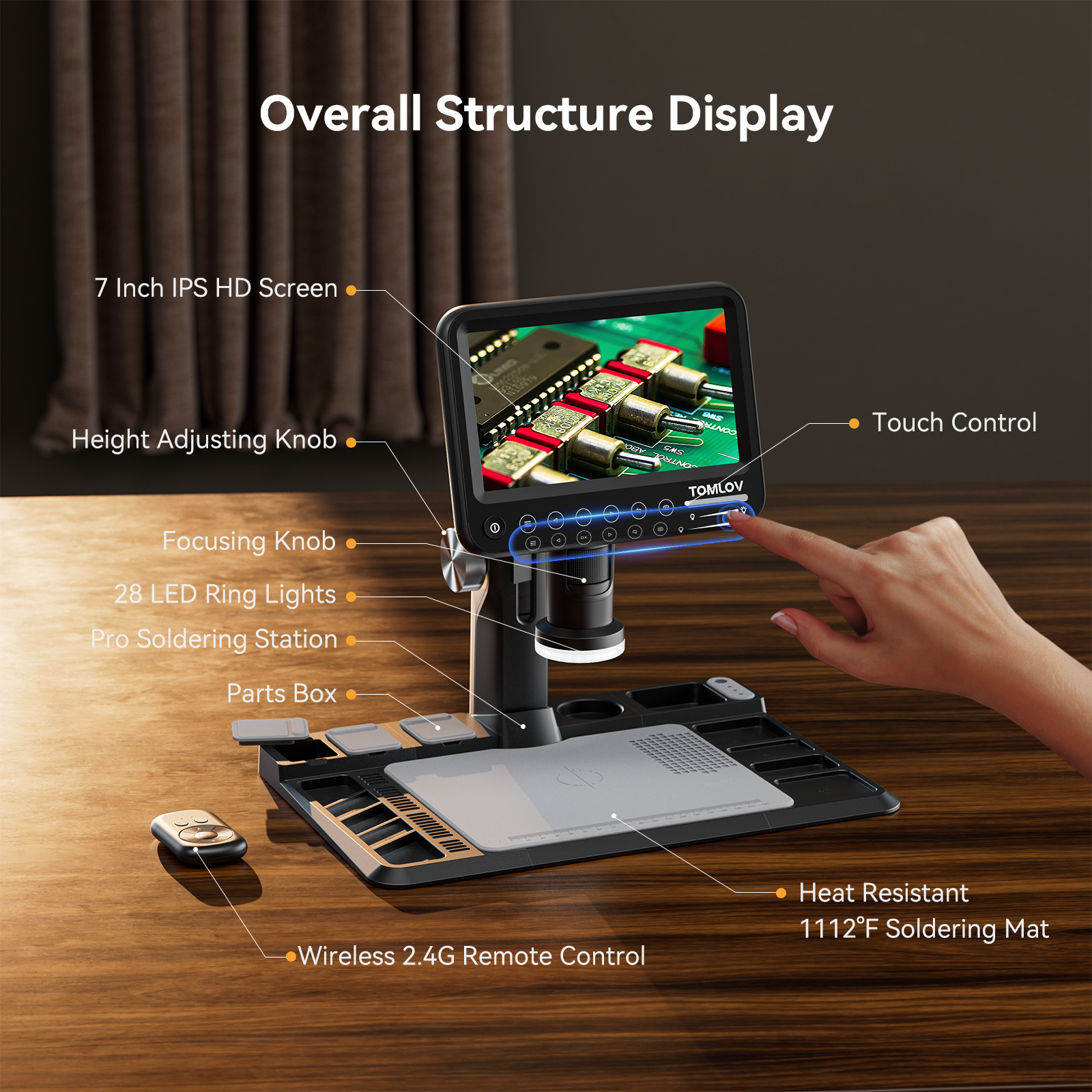 TOMLOV TRM101 7" IPS Digital Microscope 1600X, Pro Soldering Microscope with Pro Soldering Station
---
[Custom-Made Pro Soldering Station] - TOMLOV TRM101 digital microscope is equipped with a 17-inch professional soldering station, providing ample workspace for soldering operations. Moreover, the soldering station is divided into multiple functional zones, including part area, part box, magnetic area, tool material area, soldering pad, and more. Bid farewell to clutter - keep your repair work organized from now on.

[Enhanced Heat-Resistant Soldering Pad] - This digital microscope is accompanied by a reinforced heat-resistant soldering pad that can withstand temperatures as high as 1112°F (600℃). Moreover, the surface of the soldering pad is designed with a focusing reference crosshair, a scale ruler, and screw positioning areas, providing robust assistance for your soldering work. TOMLOV TRM101 soldering microscope will undoubtedly become your ultimate assistant for repair work!

[Wider, Brighter, Clearer Screen] - This soldering microscope boasts a 7-inch IPS screen, delivering clear and vivid images. With IPS technology and a 178-degree wide viewing angle, it provides accurate color reproduction and image representation from any perspective. You can effortlessly observe and share your discoveries with others. Whether for professional use or everyday observation, the high-definition IPS screen of this coin microscope guarantees an exceptional visual experience.

[Outstanding Illumination with 28-LED Ring Light] - Unlike other lcd digital microscopes with only 8 LED lights, Tomlov digital microscope for adults features a 28-LED ring light, providing a larger, brighter, and more uniform illumination range. This powerful lighting enables you to see even the tiniest details with exceptional clarity and precision, ensuring that you achieve the desired brightness under any lighting condition.

[Excellent 50X-1600X Zoom] - Experience the incredible details of soldering, coins, watches, plants, diamonds, and more with the remarkable zoom range of 50X to 1600X. This feature allows you and your children to explore a more vivid and clear microscopic world, immersing yourselves in the joy of this coin microscope with screen. Delve into the fascinating realm of magnified objects and uncover the intricate wonders that lie beyond the naked eye.

[Sensitive Touch Control & Wireless Remote] - This USB microscope is designed with highly responsive touch control, offering higher precision, faster response. With the added convenience of wireless remote, you can effortlessly perform remote operations such as adjusting magnification, capturing photos or videos and more. This combination of touch control and wireless remote eliminates screen shake, reducing the risk of disturbing your samples and ensuring greater precision in your observations.

[Connect to Computer for Easy Sharing] - Tomlov TRM101 electronic microscope features USB C interface, enabling easy connection to your Windows or Mac computer. You can share your fascinating discoveries with others on a larger screen or capture and save images for further analysis or documentation. This feature is perfect for classroom demonstrations or remote learning, making it easy to explore the micro world and share your findings with others.

Record and Share Your Fascinating Discoveries] - With the one-button capture and video recording function of the LCD digital microscope, you can easily record and save your fascinating discoveries. And with the included 32GB card, you have ample storage space to transfer and share your images and videos with others. Whether you're a student, teacher, or enthusiast, the Tomlov TRM101 is the perfect tool for capturing and sharing the wonders of the micro world.

[User-Friendly Design for Easy Operation] - Designed with sensitive touch control and clear user manual, this lab handheld microscope is easy for anyone to operate right out of the box. With easy-to-use features like one-button capture and simple magnification and focus adjustments, exploring the micro world has never been easier. Whether you're you're an adult, teen or child, our digital microscope is the great helper for discovering the wonders of the micro world with ease.