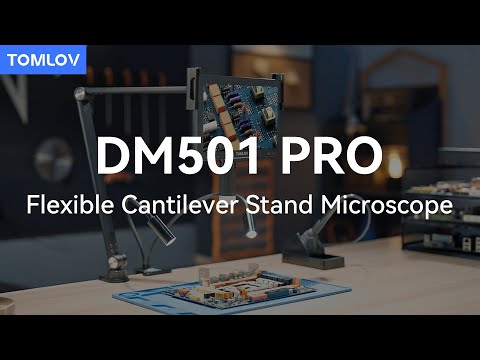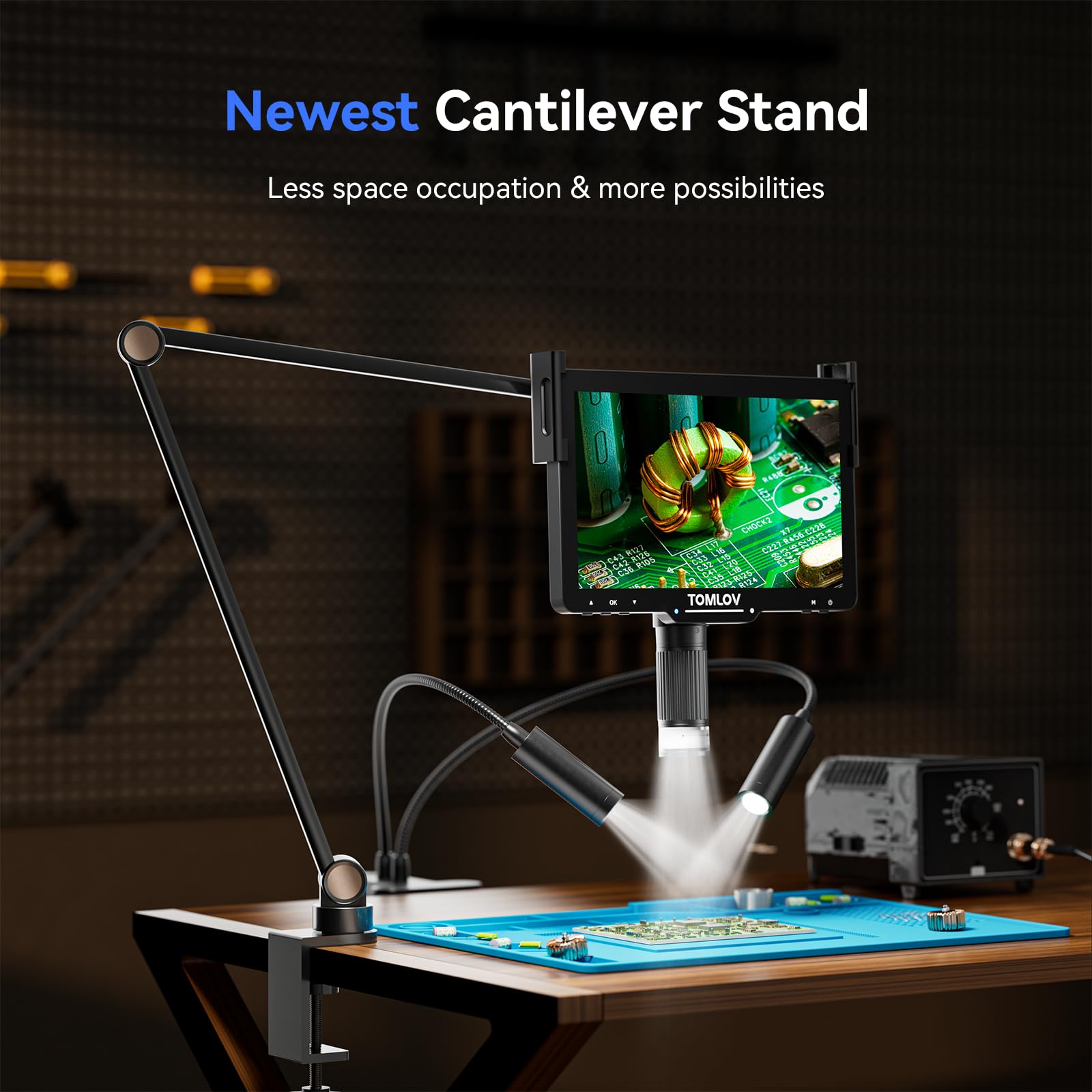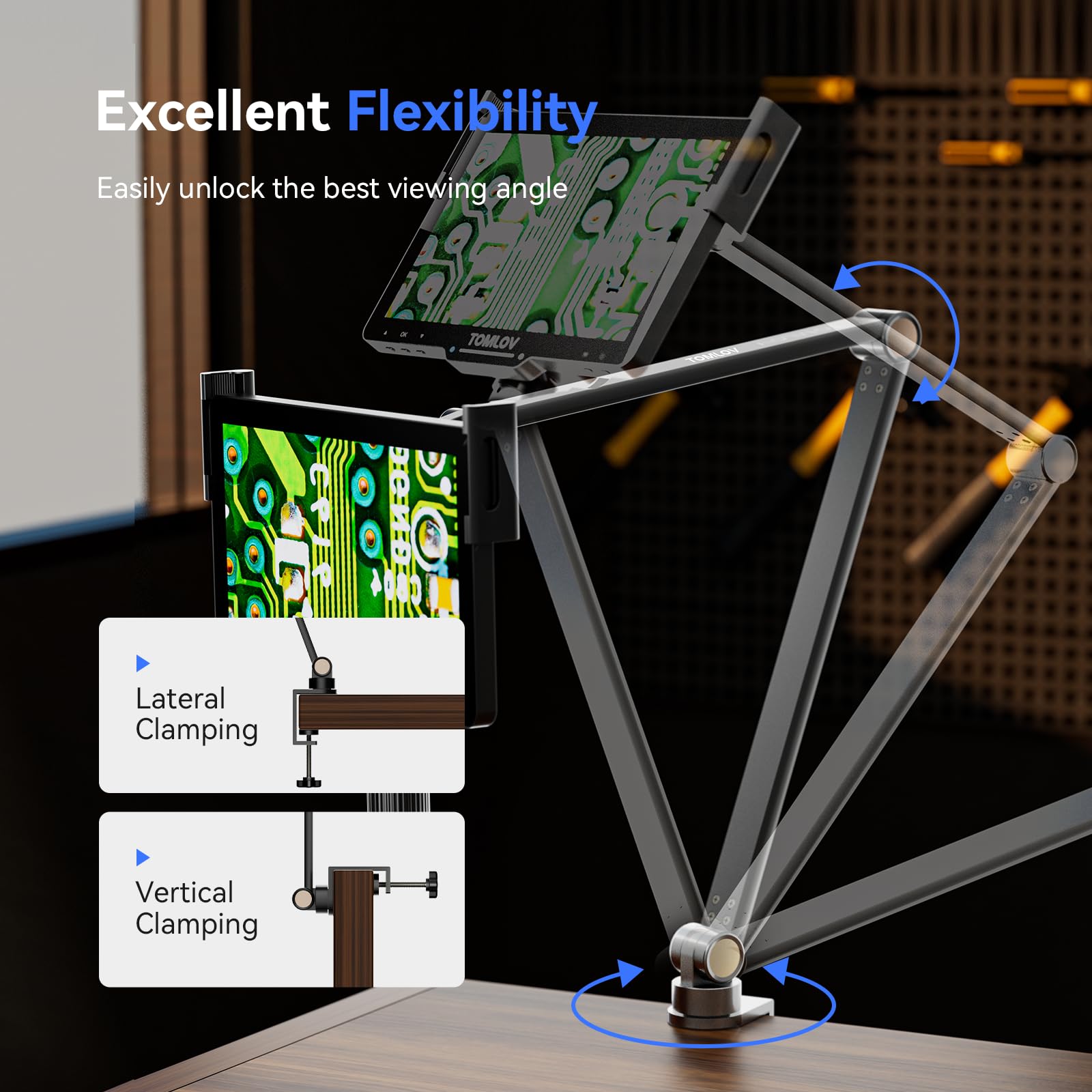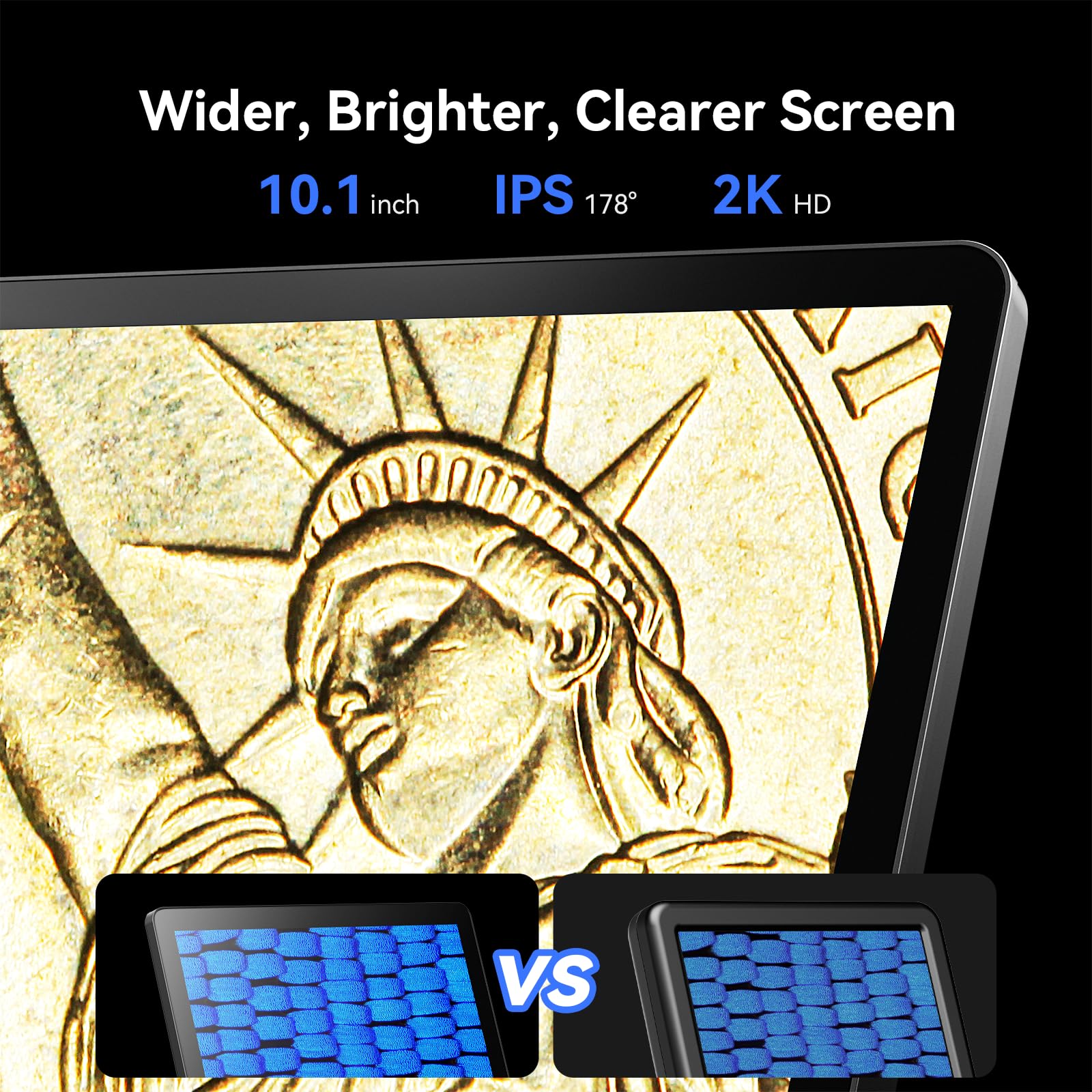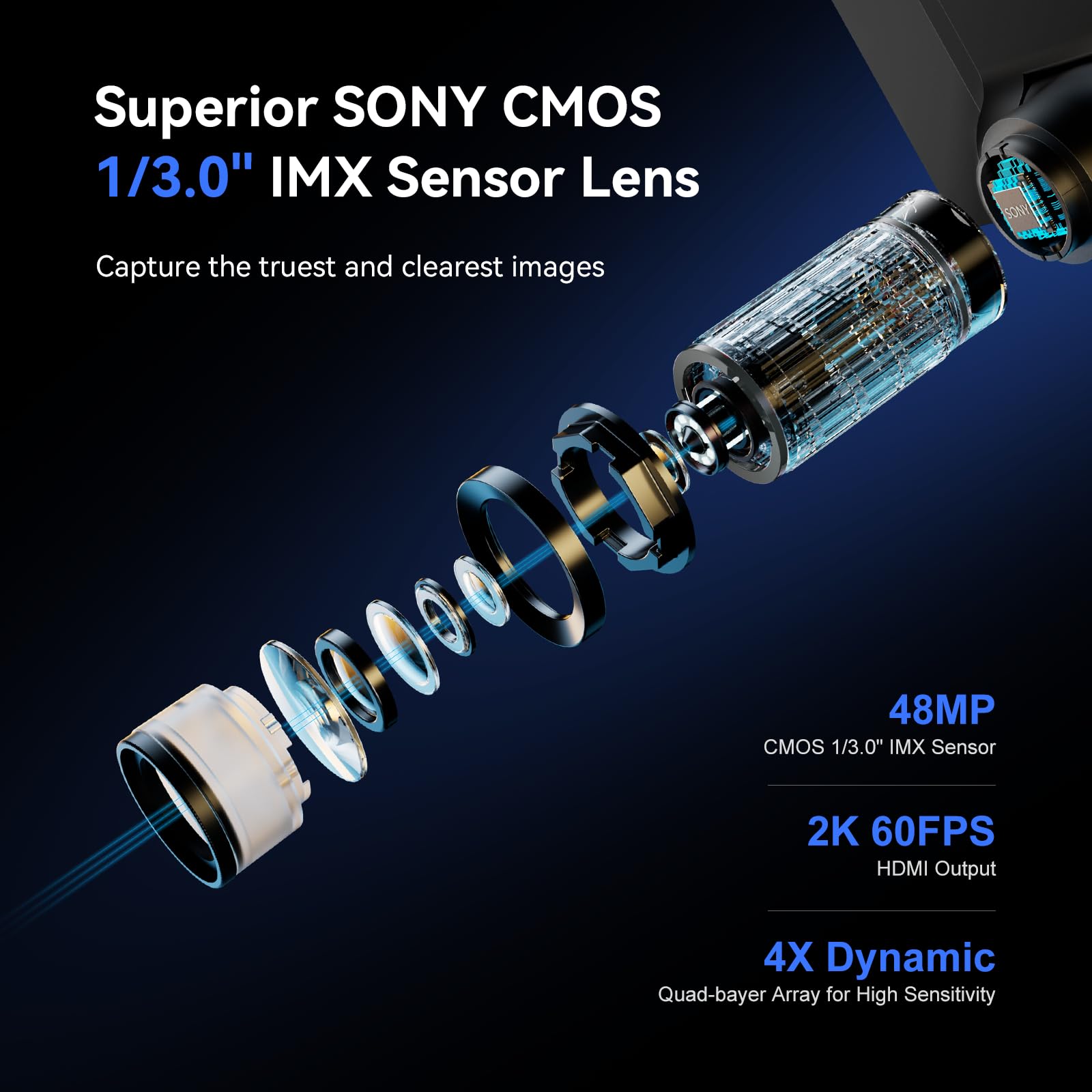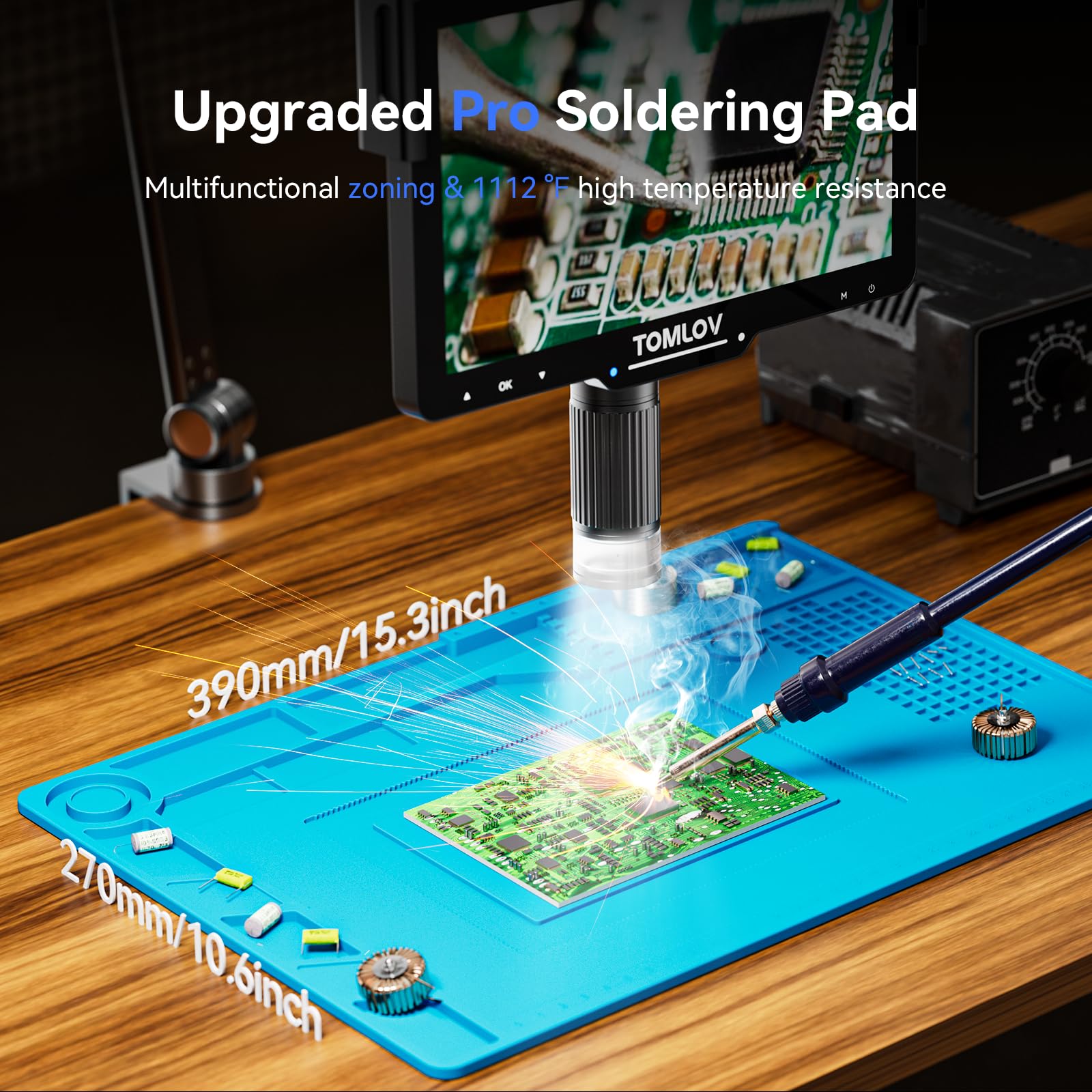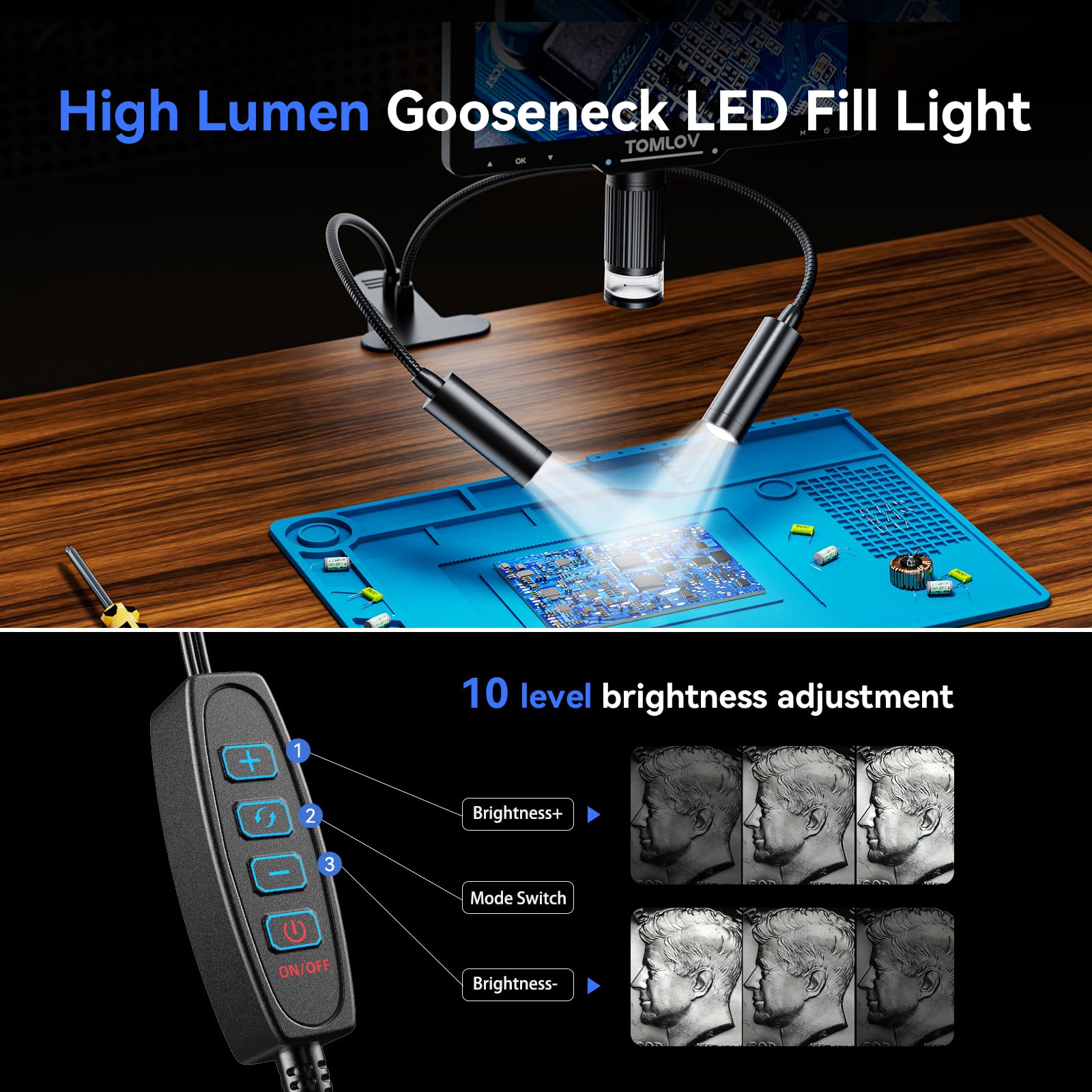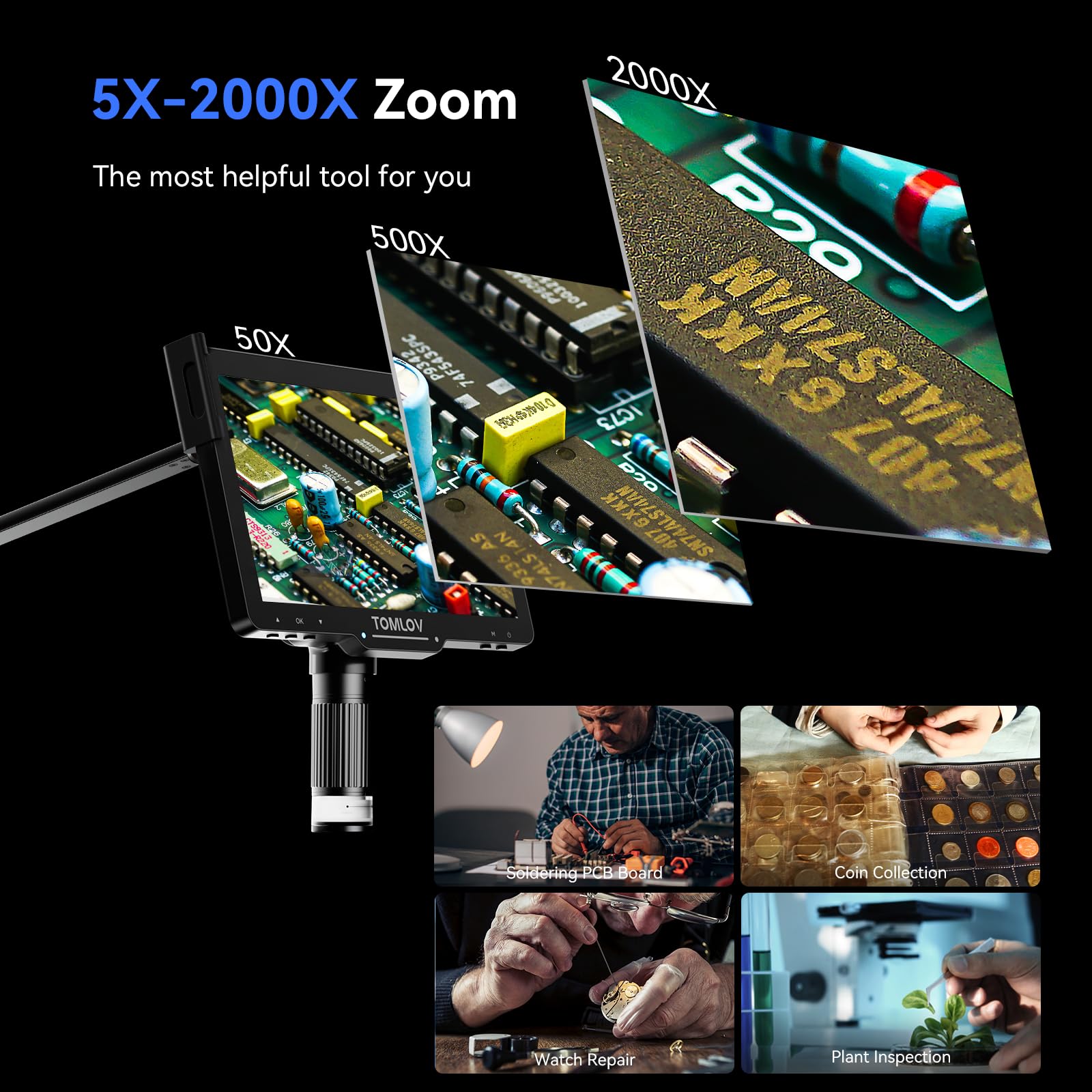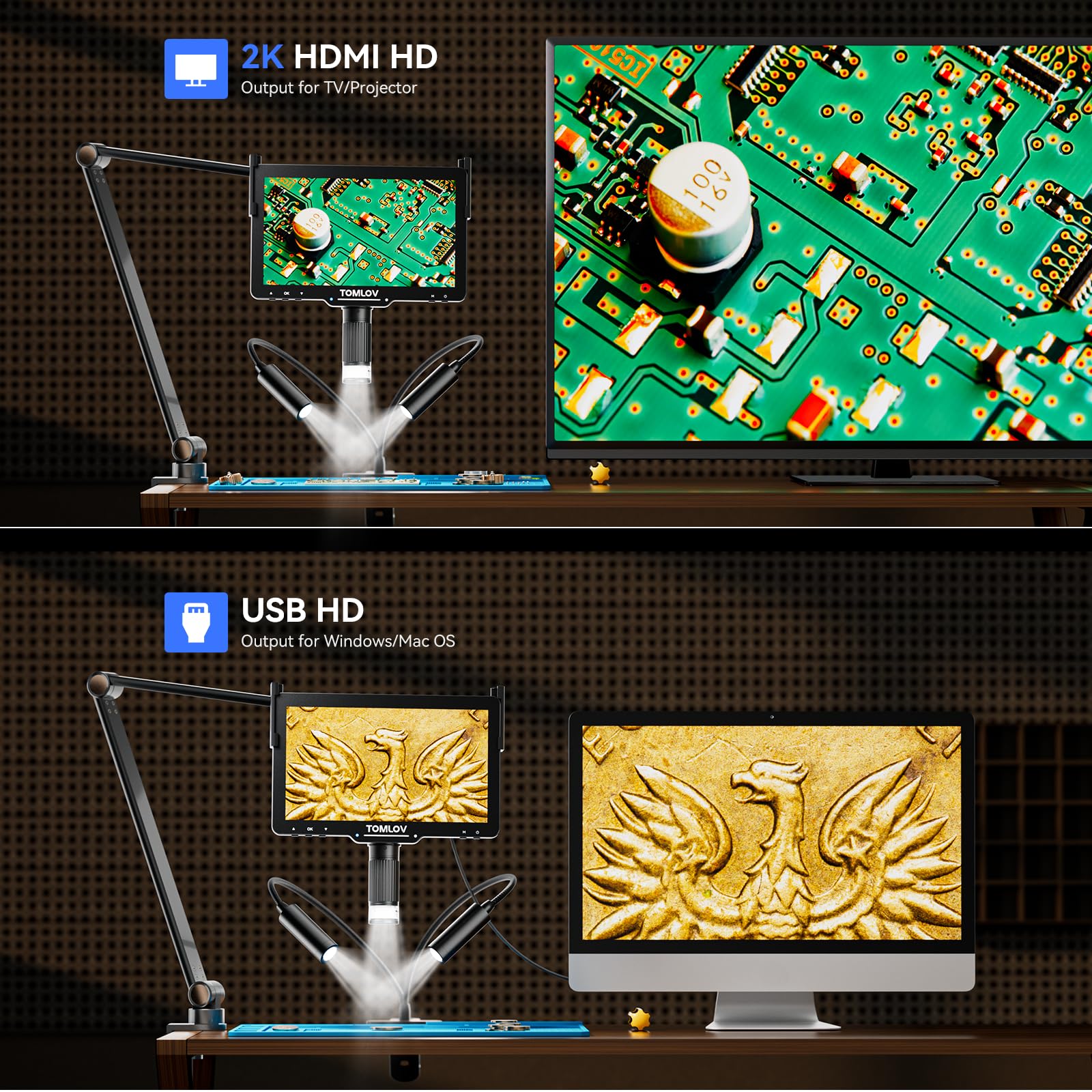 TOMLOV DM501 Pro 2K Flexible Arm Digital Microscope, 10.1" Soldering Microscope 2000X
---
【Newest Cantilever Stand Digital Microscope】TOMLOV DM501 Pro has created a new observation experience. Its unique 3-axis rotation and bottom 360 ° rotation flexible arm design allows you to adjust the observation angle as you wish, not only horizontally and vertically, but even rotate 360° in all directions, so that you can easily get plenty of space for soldering, easily capture a full coin view, and get the best observation angle. In addition, less space occupation & more possibilities.

【Full Glass Covered True HD 10.1" IPS Screen】This soldering microscope boasts a the market's first full glass covered HD 10.1" IPS screen, which offers 50% better viewing angle, 50% brighter, 60% better color, and 80% better sharpness than other recessed screens, it provides accurate color reproduction and image representation from any perspective. Whether for professional use or everyday observation, the HD IPS screen of this digital microscope guarantees an exceptional visual experience.

【Sony IMX Sensor Coin Microscope】TOMLOV DM501 Pro utilizes superior SONY CMOS 1/3.0" IMX sensors, improving image accuracy by 50%. Perfect for coin collectors and professionals, it excels in soldering and coin examination, elevate your soldering microscope endeavors with this indispensable tool, experiencing unmatched clarity and accuracy.

【Design of Lens with Polarizer】TOMLOV DM501 Pro soldering microscope lens design is equipped with a polarizer, which can effectively remove unnecessary reflections or glare on the surface of the object, in order to achieve better contrast. Make it easy to observe reflective objects like coins, SMD/PCB board, diamond, metal, etc. This is very helpful for electronic repair, coin collection and watchmaking hobbies!

【Superior 2K Digital Microscope】Upgraded to 2K UHD video & 48MP imaging: Experience the TOMLOV DM501 Pro HDMI microscope's stunning 2K (2880*2160P 60fps) video and ultra-clear 48MP (9456x5312P) color still images. Together with full glass covered true HD 10.1" IPS screen, you can explore the micro-world with superior clarity and precision.

【Custom-Made Heat-Resistant Pro Soldering Mat】This digital microscope is equipped with an 18-inch heat-resistant soldering mat that protects your surface from temperatures up to 1112°F (600°C) and provides ample workspace for soldering operations. Moreover, the soldering mat is divided into multiple functional zones, including a scale ruler, part areas, magnetic areas, screw positioning areas, PCB board location area, etc. Bid farewell to clutter - keep your repair work organized from now on.

【Illuminate Your View with High Lumen Gooseneck Fill Light】Unlike ordinary models, our digital microscope with screen features an impressive flexible gooseneck fill light that supports 10 levels of light brightness adjust, and the gooseneck light also supports lighting both lights or either of the two lights individually. Delivers exceptional brightness and uniform illumination. Every intricate detail comes to life, enabling you to explore your subjects with unparalleled precision and clarity.
【Excellent 5X-2000X Zoom】Experience the incredible details of soldering, coins, watches, plants, diamonds, and more with the remarkable zoom range of 5X to 2000X. This feature allows you and your children to explore a more vivid and clear microscopic world, immersing yourselves in the joy of this lcd digital microscope. Delve into the fascinating realm of magnified objects and uncover the intricate wonders that lie beyond the naked eye.

【HDMI & USB Output For Easy Sharing】Tomlov DM501 Pro electronic microscope features HDMI output & USB C interface, enabling easy connection to your computer, TV or projector. You can share your fascinating discoveries with others on a larger screen or capture and save videos or images for further analysis or documentation. This feature is perfect for classroom demonstrations or remote learning, making it easy to explore the micro world and share your findings with others.

【Wireless Remote Control for Enhanced Stability】This coin magnifier is equipped with a convenient wireless remote control, allowing you to easily perform remote operations such as adjusting magnification, capturing photos, or recording videos. The wireless remote control eliminates screen shaking, reduces the risk of disturbing samples, and ensures a more precise observation experience.