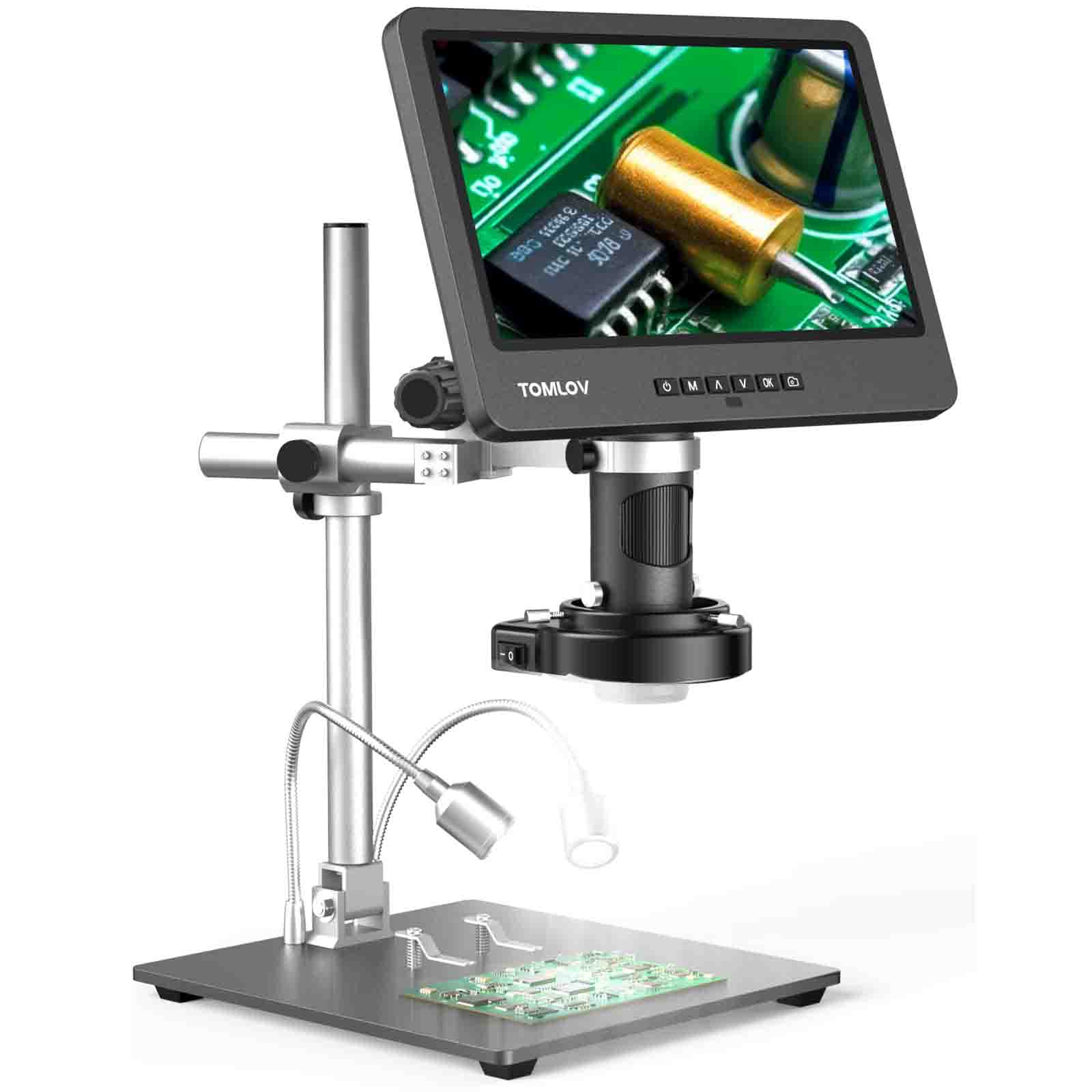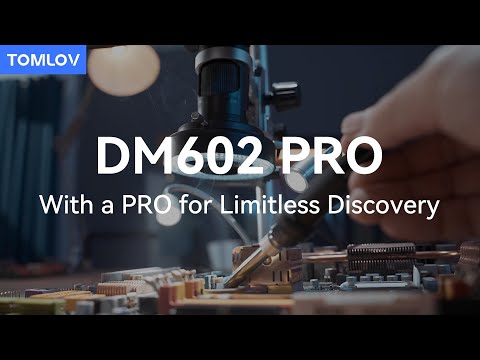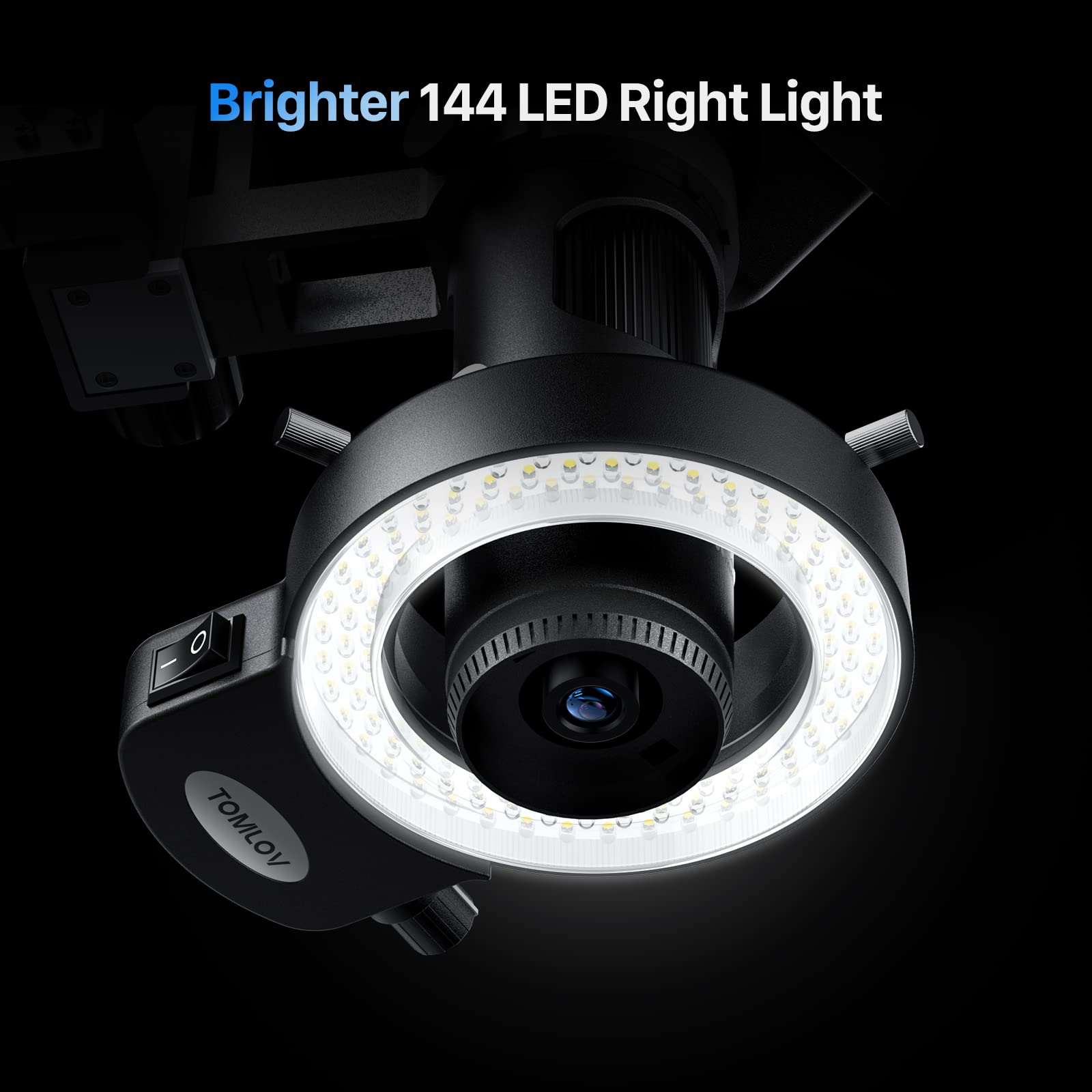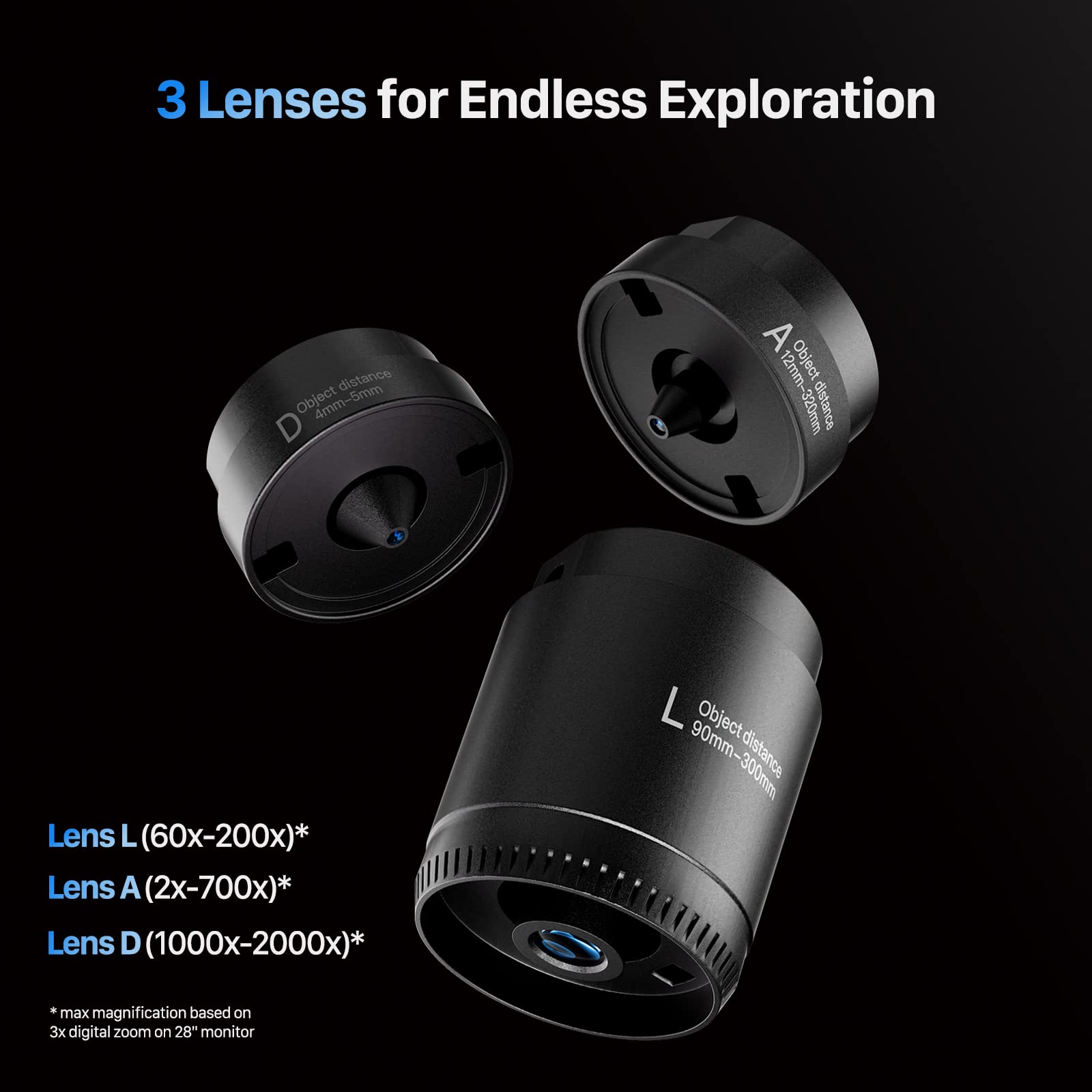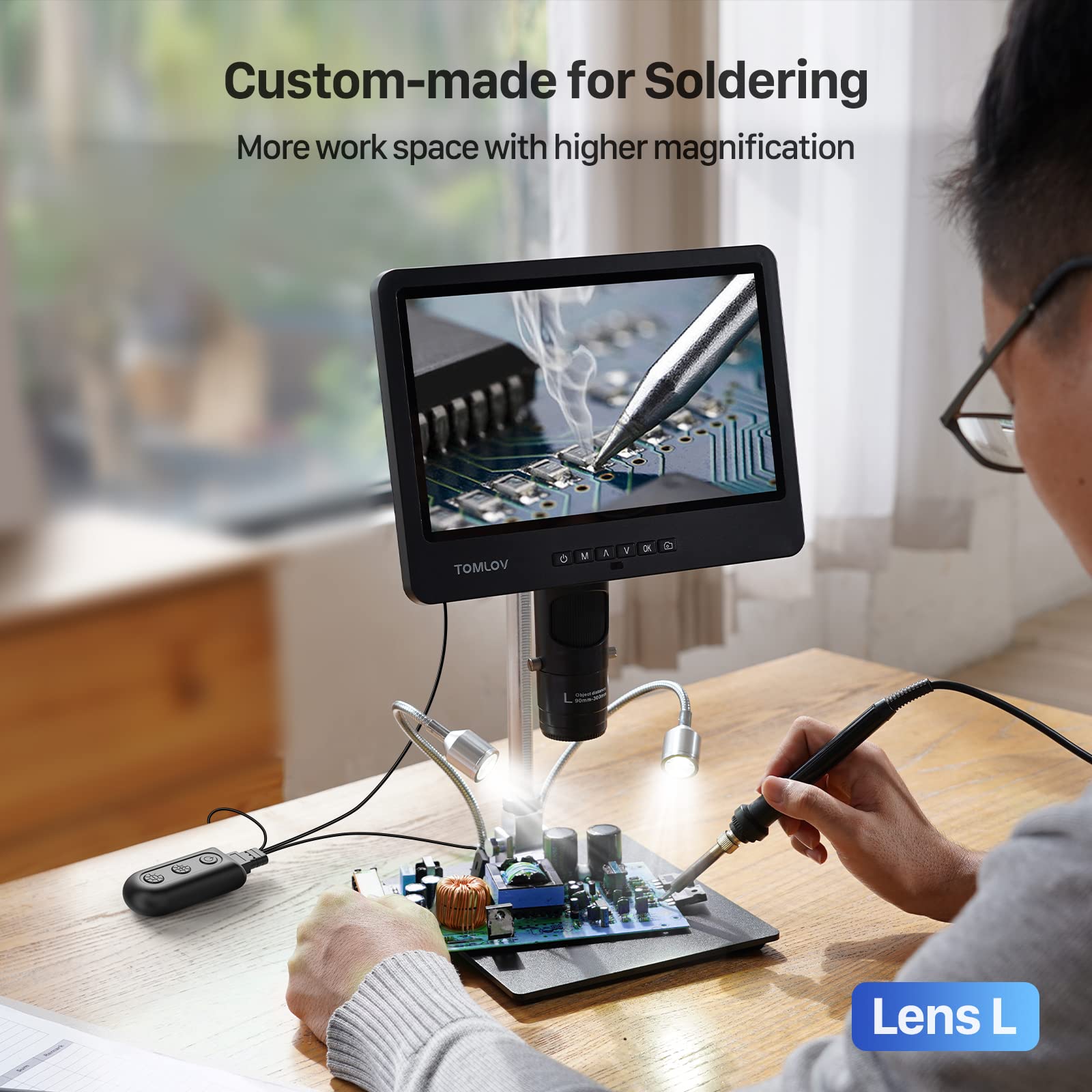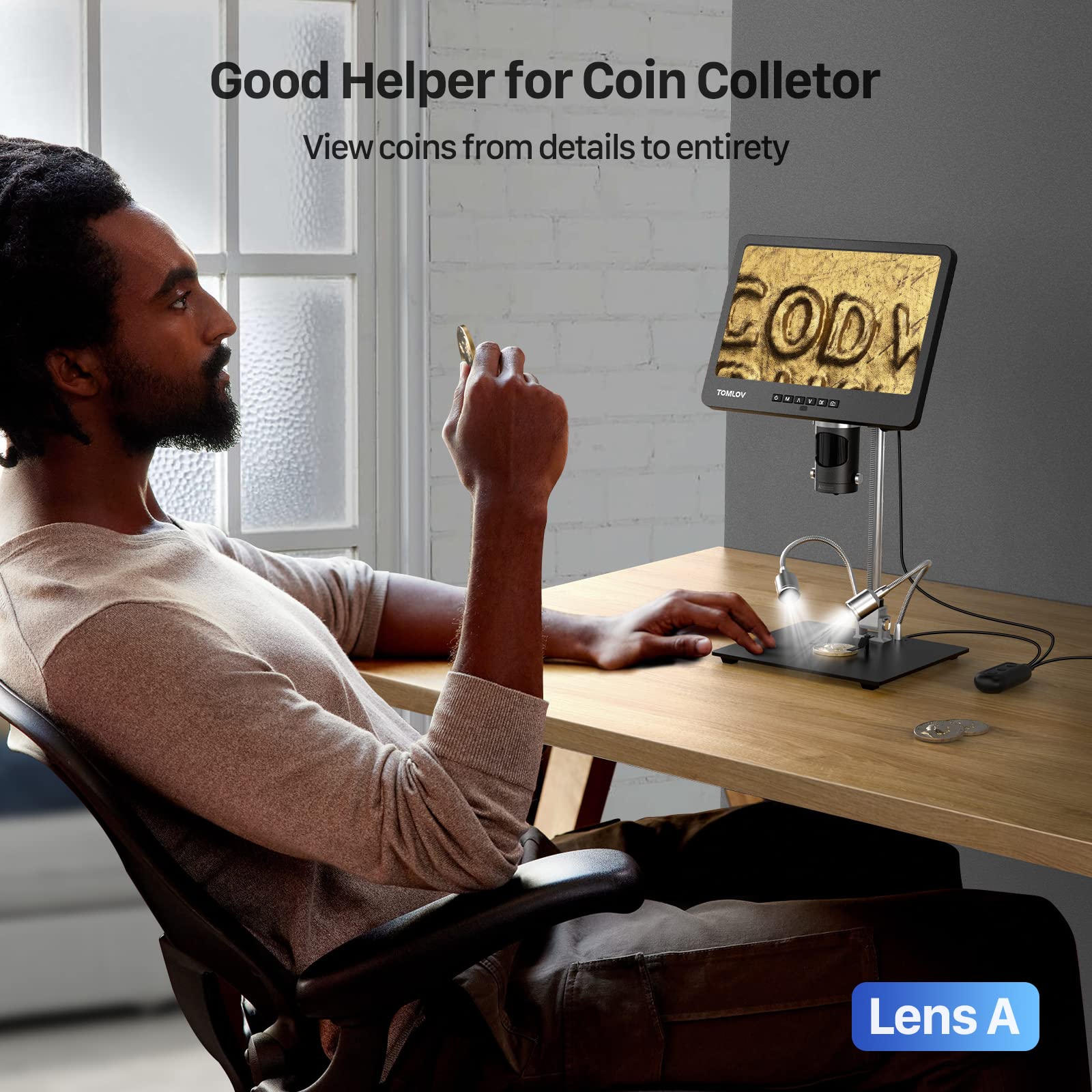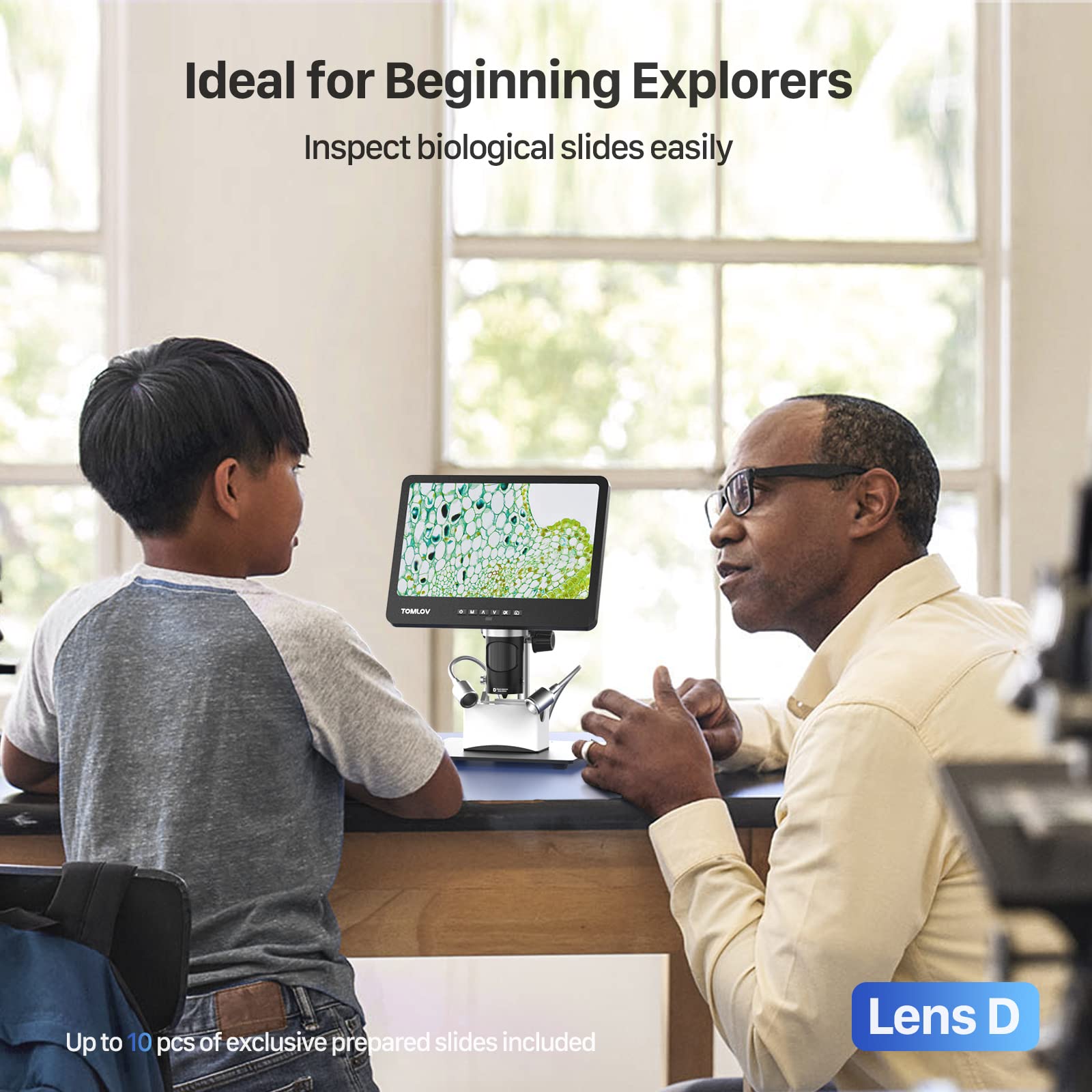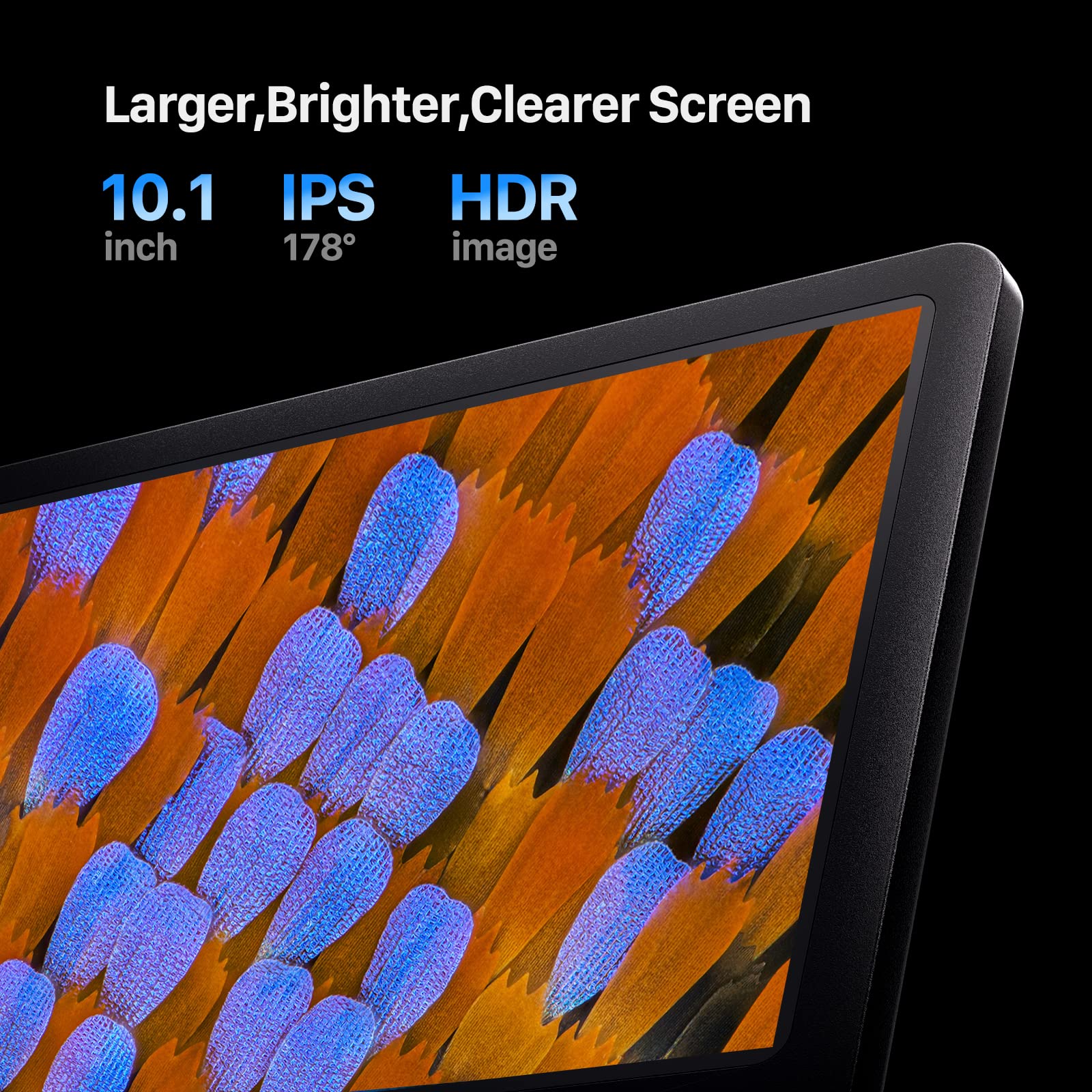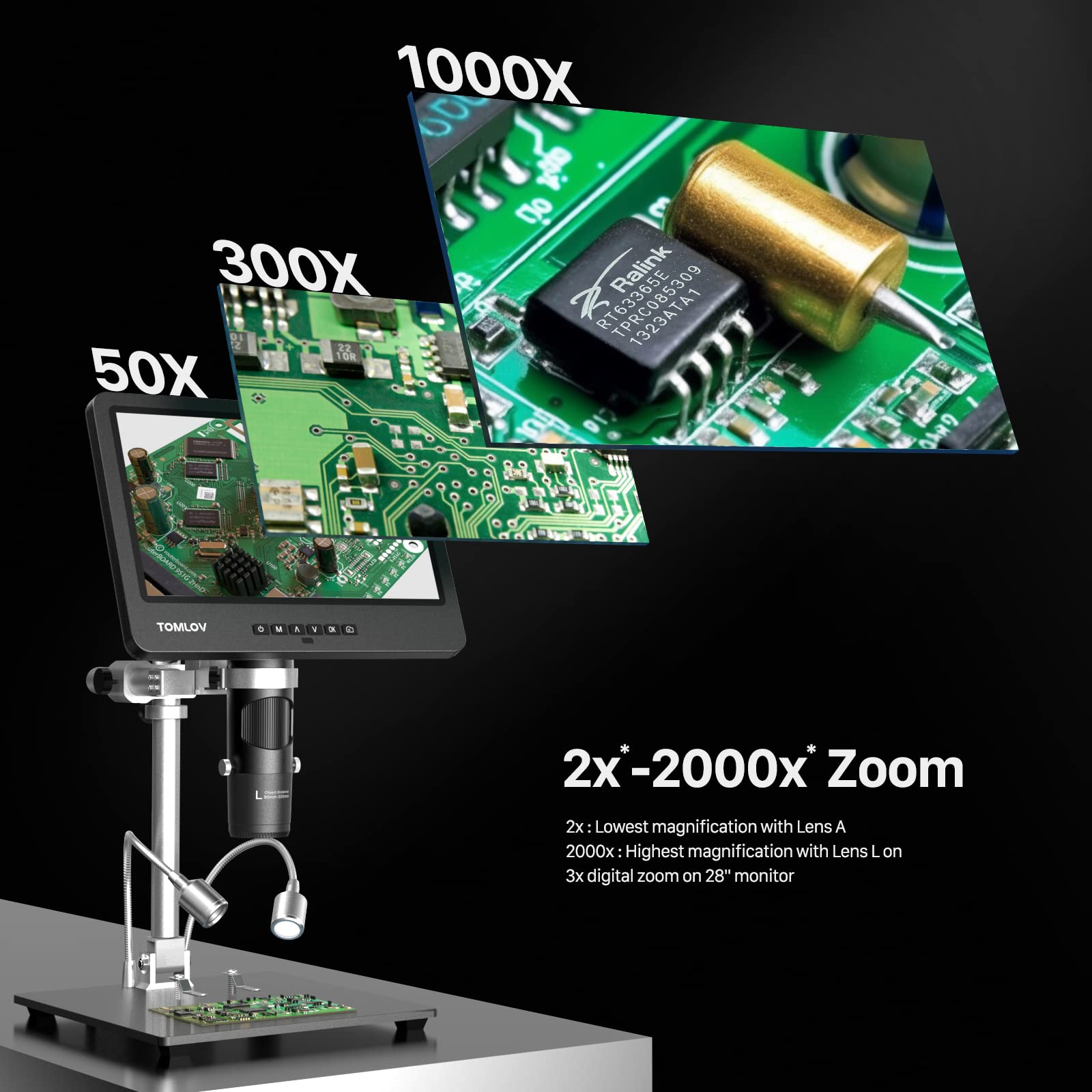 TOMLOV DM602 Pro 10.1 Inch HDMI Digital Microscope 2000X
---
 Upgraded Pro Boom Stand, LCD Soldering Microscope with 3 Lens, Coin Microscope with Ring Light, Biological Slide Microscope, PC Compatible,64G

【Exceptional Illumination with 144-LED Ring Light】Unlike other digital microscope with only 8 LED lights, Tomlov digital microscope for adults boasts a 144-LED ring light for brighter and more even illumination. This powerful light allows you to see even the tiniest details with exceptional clarity and precision, ensuring you can achieve the desired brightness in any lighting situation.

【Upgraded Boom Arm Stand for Maximum Flexibility】Tomlov digital microscope DM602 Pro comes with an upgraded 13-inch boom arm stand that not only adjusts up and down but also back and forth, and left and right for maximum flexibility. This feature allows you to enjoy a wider field of view and examine even larger circuit boards with ease.

【Three Lenses for Endless Exploration】The triple lens design of Tomlov digital microscope 2000x offers endless exploration opportunities. The L lens (60x-200x) provides powerful magnification and ample working space between the lens and circuit board. The A lens (2x-700x) provides clear magnification of a coin, allows for full-view observation of the entire coin. The D lens (1000x-2000x) boasts a maximum magnification of 2000x, enabling clear observation of biological specimens on slides.

【Large 10.1-inch IPS Screen】This soldering microscope boasts a large 10.1-inch IPS screen that offers stunningly clear and vibrant images. With a full 178-degree visual angle and vivid color reproduction, you can easily observe and share your discoveries with others. This feature is perfect for classroom settings or group demonstrations.

【Connect to HDMI/Computer for Easy Sharing】The Tomlov DM602 Pro HDMI microscope features both HDMI output and USB interface, enabling easy connection to your Windows or Mac computer. You can share your fascinating discoveries with others on a larger screen or capture and save images for further analysis or documentation. This feature is perfect for classroom demonstrations or remote learning, making it easy to explore the micro world and share your findings with others.

【Record and Share Your Fascinating Discovery】With the one-button capture and video recording function of the LCD digital microscope, you can easily record and save your fascinating discoveries. And with the included 64GB card, you have ample storage space to transfer and share your images and videos with others. Whether you're a student, teacher, or enthusiast, the Tomlov DM602 Pro is the perfect tool for capturing and sharing the wonders of the micro world.

【Wireless Remote Control for Stable Operation】This USB microscope comes with a wireless remote control that allows for easy operation from a distance. You can use the remote to adjust magnification, focus, and lighting settings without having to physically touch the microscope, reducing the risk of disturbing your sample. This feature is perfect for precision work, circuit board inspections, or for observing delicate specimens without disturbing them.
【User-Friendly Design for Easy Operation】Designed with intuitive controls and a clear user manual, this lab handheld microscope is easy for anyone to operate right out of the box. With easy-to-use features like one-button capture and simple magnification and focus adjustments, exploring the micro world has never been easier. Whether you're a student, teacher, or enthusiast, our digital microscope is the perfect tool for discovering the wonders of the micro world with ease.

【Explore the Micro World with Unlimited Possibilities】With Tomlov DM602 Pro video microscope, the micro world is your playground. Whether you're a student, teacher, or enthusiast, the possibilities for exploration are endless. Use it for circuit board inspection to troubleshoot electronics, or for coin and jewelry examination. With its powerful magnification and high-quality lenses, the DM602 Pro is also perfect for observing biological specimens on slides.